10 Steps for Getting Marketing Localization Right
Are you controlling who is translating your creative content and how they are doing it? If not, your brand is likely at risk. You have to maintain your brand — your intent, style, voice and tone — as much as possible, but your content also needs to resonate in each target market. The process of getting this highly-branded, inventive content localized correctly — what we call marketing localization — has become a lot more sophisticated over the past few years. Here are the 10 steps that in our experience lead to successful marketing localization.
Core marketing content — website content, catalogs, advertisements, newsletters, and eBooks — is normally designed to evoke specific reactions or emotions from the buyer. Yet the marketing approach that resonates with one market may flop with buyers in another culture or locale. Creatively adapting original marketing content so that it will be impactful for each new market is not optional if you want to inspire your target buyer's connection with your brand, and ultimately get them to purchase.
Definitions of marketing translation abound, but defining it does not mean it is done properly. Let's explore the two keys to achieving effective marketing localization: appropriate resourcing and a specific process.
Who are your resources?
Professional marketing translators are uniquely qualified linguistic resources. They are:
Bilingual linguists, which means they intimately understand the source material before trying to render it into their native languages.
Bi-cultural to understand what a conceptual parallel would be for a new market.
Located in-country, so as to have in-depth knowledge of current behaviors and preferences in the target countries.
Specialists in marketing localization, bringing the right level of training and education to the process.
Experts in the usage of style guides, branding guidelines and creative briefs to know how to handle these types of reference materials.
College-educated in translation, marketing or copywriting.
Creative people with the confidence to use their judgment to interpret the brand as they work.
It's important to note that marketing translators are more challenging to source than "regular" translators because of their deep expertise and years of experience, and they are likely more expensive.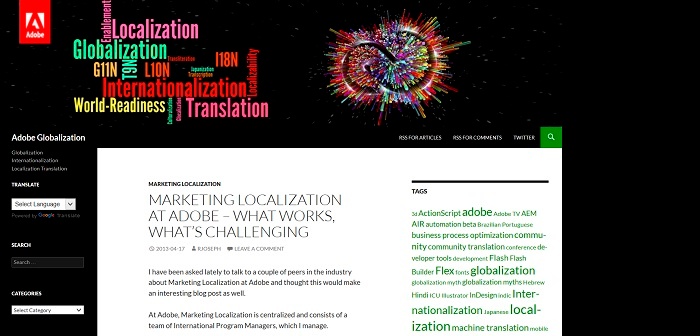 From Adobe's Blog: Marketing Localization at Adobe – What works, what's challenging
What is the process?
The marketing localization process is more complex and lengthy than a regular translation project (i.e., the translation of user materials or FAQ content). In the way we do it here at Moravia, there are 10 steps.
Recruit exceptional localization talent. This includes extensive tests which will be evaluated by senior marketing translators. Résumés and tests can also be reviewed by the client's marketing department.
Organize an all-hands training with the client. This should include a brand deep dive so that assigned linguists understand how to replicate the company's unique voice, and should cover target demographics and buyer behavior.
Provide product training so there is complete clarity about what the business is trying to sell and what the unique differentiators are.
Translate. Only then do you perform creative, adaptive translation, changing the slang, cultural references, idioms, humor, and images to be perfectly relevant to the target market. The process also addresses concerns about cultural gaps, market suitability, etc.
Incorporate client feedback. Create a specific review process to generate clear, objective and timely feedback on all deliverables to not only capture comments, but to arbitrate when there is disagreement, and to implement the agreed changes into the deliverables.
After the first few translations, update and revise training materials, glossaries and style guides as needed in order to hone translations and benefit from experience.
Test and prove the process. The first few projects can serve as a pilot phase, allowing teams to apply knowledge while conducting extended reviews to make sure the process and resources are on point.
Assess voice of the market. As appropriate, market feedback (through in-country user surveys) helps assess content effectiveness.
Ongoing monitoring. Continue to review the process and output against your quality metrics to ensure that your team and process are producing marketing translations of the highest caliber.
In order to create inspirational, behavior-changing materials in-market, specific resources and processes must be engaged. Yet sometimes the above highly-focused process might not be enough: an even deeper adaptation — called transcreation — is necessary to localize taglines, slogans, ad copy, product names and other highly-branded content.
For a cheat sheet on the differences between transcreation and marketing translation, click here.
{{cta('0c9436ea-6ddc-4a00-a409-c55ccd4483d9')}}
Comments