14 Must Dos for Successful Global Social Media Campaigns
It's not a question anymore of whether businesses need to take advantage of online social conversations through media channels like Facebook and Twitter. The questions now are how and when. For companies who do this incorrectly, their social media efforts can fall flat. There is no use putting content out there into the cloud if no one reads it. For those who succeed, social channels can increase click-through rates, create brand ambassadors, lower support costs, and increase product sales.
A Spredfast research report (completed by Forrester), called The 2014 State of Enterprise Social Marketing, talks about how the world's largest companies organize, plan, and execute social marketing efforts. This report has some invaluable insights, and here we also provide our own.
1. Get to know your audience.
First, know what they bring to the online public. What topics are they talking about? What problems are they trying to solve? Then figure where they are hanging out — which differs per market. Go talk about those things on the same social networks they use. Don't bother with content in places where your target customers never go.
2. Treat social media tactics as a brand initiative.
Spredfast notes that the top objectives for social media are brand awareness and brand preference, and that most enterprises' social media efforts fall squarely under marketing budget. Align your social media strategy with your marketing plan. Don't miss the opportunity to connect people to the tone/vibe/feel emotion behind your product each time they interact with your content. Take care to craft content that embodies your brand.
3. Determine your goal.
Activities around social media can be more focused when the goal is clear and specific:
Is it audience involvement? Starting conversations, getting a lot of likes, growing the number of followers and blog subscribers who comment on your posts.
Is it the creation of brand advocates? Developing a subset of your community who regularly provide or share positive content on your products.
Is it brand awareness? Putting out content that clarifies what your company stands for and what your products hope to achieve.
Is it to drive leads and increase sales?
Is it all of the above?
4. Put your social media activities on the daily calendar.
Publish your tweets, Facebook posts, LinkedIn updates, and Pinterest pins, at defined and regular intervals. Establish a process by which to achieve high publishing targets (e.g., 4 blogs per week). If you don't plan it, you won't do it.
5. Optimize your timing.
Tweet when most of your users are online. At the highest point, approximately 6.5% of any enterprises are online, which means only 6,500 of 100,000 followers could possibly see a tweet. According to reports, the best day to release a blog is Thursday.
6. Make sure everyone gets with the plan.
You need to establish owners to write your blog and social media channels, respond to comments, and own business analytics and measurement. If you don't have enough staff to handle these duties, get the budget to hire the right people.
7. Post original content that is fresh and relevant.
Keep on top of industry trends, customer goals, and news in the industry and write your social content on those topics. Remember to post different types of content via different channels. A Facebook update may have the same content as a tweet, but you would pin something different.
8. Reuse excellent content.
You can benefit from the well-written content of others. Review channels of information related to your brand or industry — e.g., competitor websites, news sources — and when you find something, retweet, share your views on it, and enter that conversation. There are about 15 websites I review once a week, searching for keywords related to my interests and industry, looking for relevant and interesting stuff. For example, Pam Dyer's Pamorama web site on customer engagement was another inspirational source for this post.
9. Make sure your user community behaves.
It's not a given that everyone entering into your conversation will be a nice person or a happy customer. Assign someone to respond to comments, reviews, and feedback. A moderator should review content before it goes live, including rejecting inappropriate comment. The moderator should also be able to contact users directly to give them kudos, rewards, or feedback.
10. Measure.
To provide you with insights to enable good business decisions you can measure things like this:
Engagement metrics such as number of comments, reviews, shares, or members. These indicate level of interest and interaction.
Sentiment. Use a sentiment analysis tool to understand whether your users feel favorably or negatively about your brand.
Conversions (referrals, purchases).
Velocity. How fast does someone tweet or re-pin your stuff?
Conversion metrics. Spredfast reports that the top two metrics being measured are volume (76%) and engagement (73%). Conversions account for 43%.
11. Decide on your KPIs.
Right alongside measurement, decide what metrics mean you have succeeded. These are your Key Performance Indicators (KPIs). Is it an increase in blog subscribers by 20% per year? Is it receiving 100 reviews per quarter on each product?
12. Evolve your tactical strategies.
Is no one reading your blog or retweeting your content? Look for new topics or consider a change in format.
13. Encourage top members of your online community.
Recognize them. You can send them an email when their review is "liked" by another user, showing them their effort has been appreciated. Give them perks like coupons; people like to be rewarded for their contribution.
14. Translate!
Provide your content to your users in their language. If there isn't budget to translate it all, develop a language strategy to determine what content to translate for which markets. How can your global consumers engage if content is not in their language? Consider a machine translation / light post-editing process when top quality isn't required.
Cisco provides a good example of a well-executed social media strategy. Content is posted on four channels: YouTube, Facebook, Twitter, and Google Plus. They also have blog, and a community you can join. They are posting content frequently and regularly: On their social media homepage, I see 8 tweets, 2 blogs, and 4 Facebook posts in the past 18 hours. They also shared 5 videos in the last week. They have over 700,000 followers on Facebook. Clearly, there is a team behind this because, while growth can gain organic momentum once started, a social media plan is about beginning those online conversations.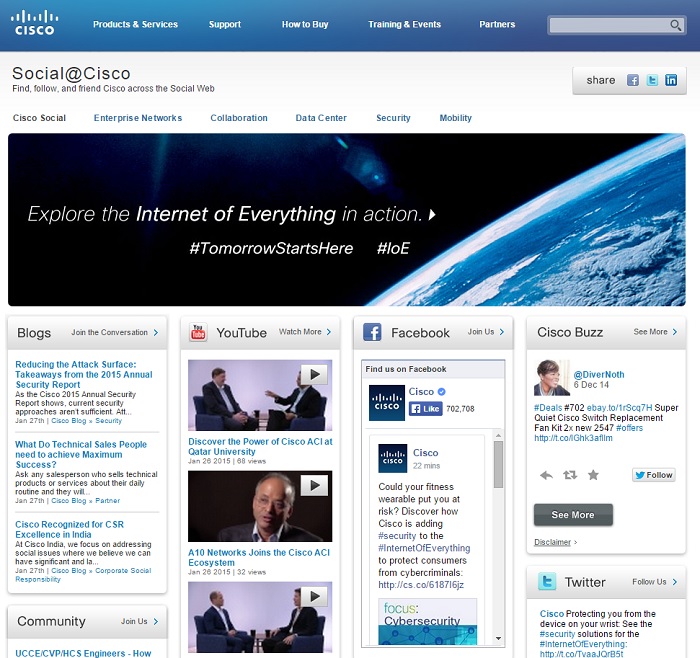 Of the 14 must-do tasks above, which ones are you already doing or what would you add? Share in the section below!
Comments