22 Million Words Later — Translators without Borders Builds for the Future
Years ago a friend of mine challenged me to define the year gone by with one word. At Translators without Borders we usually think in thousands, or even millions of words, like the 800,000 words we translate every month, or the 22 million words we have translated since we developed the TWB Workspace almost three years ago. But never one to shy away from a challenge, I would sum up 2014 for Translators without Borders with the word Build.
Translators without Borders was incorporated in the U.S. in 2011, after 18 years as a French entity created by Lori Thicke and Ros Smith Thomas. In the non-profit charity world, we are comparably a quite small and young organization. Often categorized as a "volunteer and technical community," TWB started out as completely volunteer, energized by the hard work of thousands. We are proud of our heritage and remain true to our roots of volunteerism.
I often tell people that we are small but mighty: There are billions of people who need access to information in the right language around the world, and we want to reach every one of them. And in my role, I work closely with other "volunteer and technical communities," many of which do not have boards, are not legal entities, and do not have any staff to oversee the great work of their volunteers. Our mission is big — we must be strong enough to meet it.
So in 2014, we focused on Build.
That January, we built a crisis relief management team to oversee the Words of Relief translation crisis relief network that we are piloting in Kenya. For the first time, we were able to test the concept of rapid response translation during a crisis, one of my personal goals and a truly critical path to achieving our mission. Later in the year, we tested pieces of the network when we responded directly to the Ebola crisis in West Africa. In doing so, we provided translation of critical prevention information into seven local languages, even training community translators to help with less accessible languages.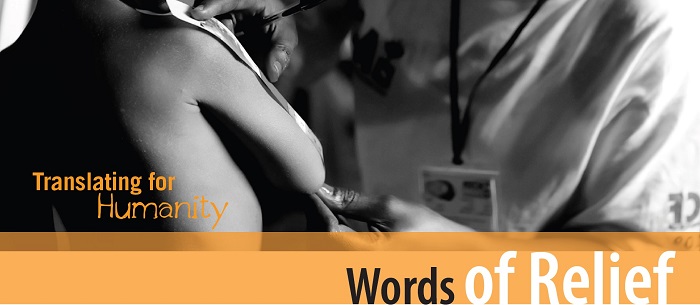 Even while responding to crises, we did not neglect our ongoing work for our non-profit partners. We translated millions of educational, health, and beneficiary information via our TWB Workspace. The volunteers — who translate into more than 100 language pairs — worked very hard to increase access to knowledge around the world. They are truly the heroes of our operation, and we are working hard to enhance the Workspace for them and our partners.
In 2014 we built the first API for the Workspace, allowing some of our key partners, especially in crisis, direct and immediate access to the Workspace. We also enhanced many pieces of the communications and feedback mechanisms in the Workspace, and continue to work toward editing and "junior" translator components.
Our board also recognized early on that to truly meet our mission and reach toward our vision of a world where knowledge knows no language barriers, we must Build a sustainable organization with structure and governance. So in 2014 our board embarked on a governance reset to help us foster stability for the future, developing a board chair position for the first time and setting a six month period of evaluation.
All together, it was a great year of building for the future. There is still much more to come. We ended the year with an exciting holiday giving campaign in which generous donors, including Moravia, offered to match donations dollar for dollar. With the help of donors, volunteers, and staff, Translators without Borders continues to Build. We are looking forward to making an even a greater impact through translation in 2015.