3 Globalization Lessons from Facebook's Global Economic Impact Report
With the publication of its annual report, Facebook received praise and critique from all sides. The company's claim to have added $227 billion to the world's economy and to be responsible for 4.5 million jobs in 2014 was a bone of contention, generating some particularly sharp-tongued commentary from the likes of the Guardian and the Wall Street Journal.
While the report draws its share of love and hate in fairly equal measure each year, Facebook's success in driving consumer engagement is undeniable and remains a considerable source of marketing inspiration for brands worldwide.
No surprise then that the report titled "Facebook's Global Economic Impact," commissioned by Facebook and prepared by the consulting firm Deloitte, has plenty of lessons for globalization managers interested in mimicking the company's marketing success for their own brands. Here's just three:
1. Be the Indispensable Tool
For a publication meant to promote Facebook, the report never wavers from the position that the company's success is part and parcel of the success of the other businesses that use it. "Facebook's business model focuses on tools that allow businesses to reach new and existing customers," says the report.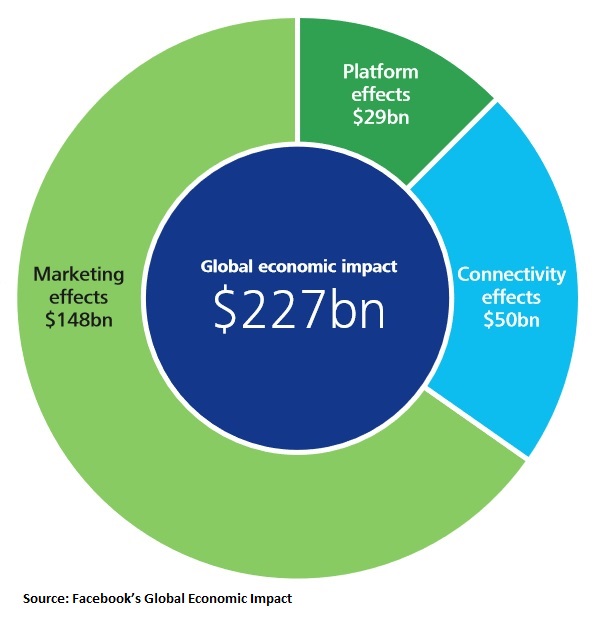 "As of June 2014, more than 30 million small and medium-sized businesses have established a Facebook Page, and more than 1.5 million companies actively use Facebook's targeted advertising." Notably, that number of active advertisers represents a growth of 50 percent over the previous year.
The lesson for globalization managers, of course, is that creating value for third-party users — being the tool by which they connect when, where, and with whom they want to — will increase their investment in your company.
2. Be a Data Miner
Social sharing has been the defining element of the platform since its founding in 2004, and Facebook does not neglect to emphasize its monetary value. The report even includes a nod to last year's viral spread of the "ice bucket challenge," a charity fundraiser that raised more than $100 million for ALS medical research.
Nevertheless, Facebook Pages and targeted advertising have both become stable second and third columns of its revenue model. With so much demand from corporate executives on marketing professionals to show the ROI of social media investment, Facebook knew to provide tools to make that possible.
These include cross-platform compatibility, aggregated data insights, and fine-tuning tools that allow campaigners to target based on consumer demographics, geography, platform behavior, search, and more. The report notes, "The cost-effectiveness of advertising for businesses is derived from the ability to target the relevant audience."
The message for globalization managers is that the better we are at identifying and targeting our social media marketing effort the better we will be at understanding the impact of of our efforts and prioritizing marketing spend.
3. Be a Sharer
Providing the means for the growth of other businesses has pushed Facebook far beyond the likes of Myspace, Friendster, and other early competitors in the social media space. Moreover, its aggressive innovation in that market has given birth to the development of a wide-array of new tools in other sectors — apps, services, and products that also serve Facebook's 890 million daily.
Not to be left out of the revenue generated by these other markets, Facebook has capitalized on the value of its user base by allowing other producers a chance to interact with them on their own platforms and to create for Facebook's marketplace.
According to the report, for example, "Over 80 percent and 90 percent of top grossing apps in the United States on iOS and Android respectively are integrated with Facebook." Tools like Facebook Open Graph, its suite of social plugins (including Facebook Comments), and its App Center all extend the giant's already impressive reach.
The message for globalization managers here is that by creating opportunities for third parties to access and interact with your customers — especially via channels and tools you create — you can extend the power and reach of your own brand.
We may not yet have Facebook's success strategies down to a science and, considering the critics, there is far more to be discussed about how effective they truly are. But, in the meantime, there is plenty to be gained by applying even these lessons to our own globalization "think."
Have you read the report? What's your take on Facebook's globalization strategy and its relevance to your own? Share in the comments section below.