After Earthquake Shakes Already Fragile Nepal, One Language Team Gives Back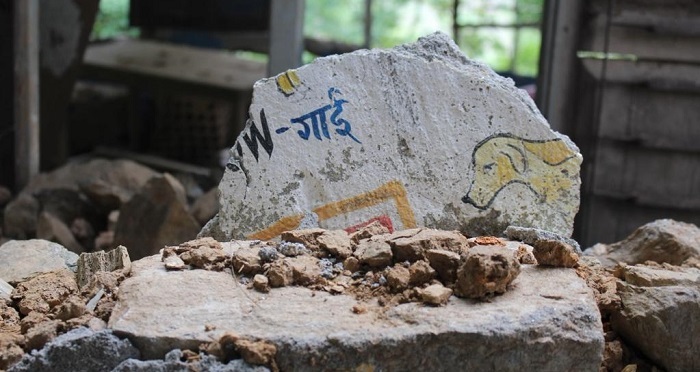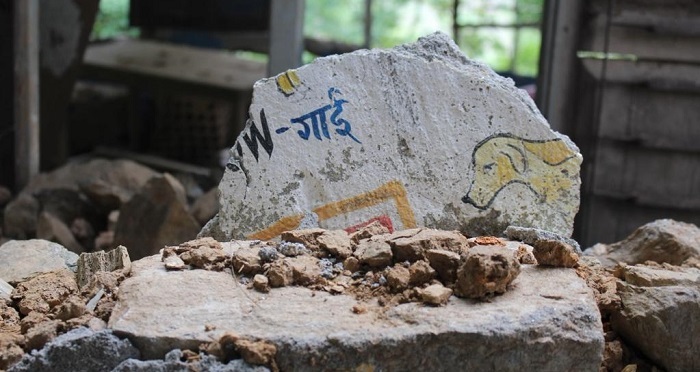 On 25 April 2015, a magnitude 7.8 earthquake ripped through Nepal, killing nearly 9,000, injuring 23,000, and displacing an estimated 450,000. Among those responding with support and expertise internationally was a team of Nepali language experts, who have been partnering with government, global businesses, and international aid organizations since the quake and the many aftershocks. We spoke with linguist and anthropologist Mark Turin about his projects in the region, his collaborations with communities in Nepal, and what is still to come.

Obviously things in the region have changed quite dramatically since April. Tell us about yourself and about your work before the earthquake.
Mark: I'm an anthropologist, a linguist, and also a BBC Radio presenter. I'm currently associate professor at the University of British Columbia in Vancouver and I chair the First Nations and Endangered Languages Program. I've lived and worked in the Himalayas for much of the last 25 years.
Over that quarter of a century, I've been involved in a number of different research and education partnerships in Nepal. My first experience of Asia and of Nepal was working as a volunteer English conversation teacher in a government school in 1991. It completely transformed me and opened up a whole new set of ideas and interests.
I returned to university to study anthropology instead of modern languages — which had been my first choice — and then focused my studies (and later my research interests) on language documentation. Nepal is home to well over 100 different distinct languages, most of which are endangered. These languages hail from four different language families, making Nepal one of the most linguistically diverse countries on earth. For my doctoral research, I had the privilege of working with speakers of an under-documented and endangered language known as Thami or Thangmi, as the community prefer to call themselves. That 10-year research partnership resulted in a grammar and dictionary of their language, and many other creative partnerships.
I've also long been interested in technology and its social impact. Fifteen years ago, I helped found an international and interdisciplinary research collaboration with colleagues in Cambridge that we called Digital Himalaya. The project is a platform for the digitization and dissemination of historical collections — maps, photographs, films, books, publications, and census data — from the region back to the region, using the web. Through this, I've become ever more interested in how technology supports the revitalization of cultural and linguistic traditions and how collections that are held in university museums and collections in the West — through colonization, exploration, and conquest — can reconnect with communities of origin where they are enriched and better understood through a process of return.
I'm also quite involved in policy and applied work, particularly around issues of language education and mother tongue instruction. After the end of Nepal's civil war, I was asked to establish and direct the translation and interpretation unit in the UN mission in Nepal. This was a wonderful, if challenging, experience. It was a pleasure to work so closely with some of Nepal's most creative translators, linguists, journalists, and writers. Together, we helped to ensure that all substantive and administrative documents produced by the UN mission — as well as the Interim Constitution of Nepal — were accurately and carefully translated.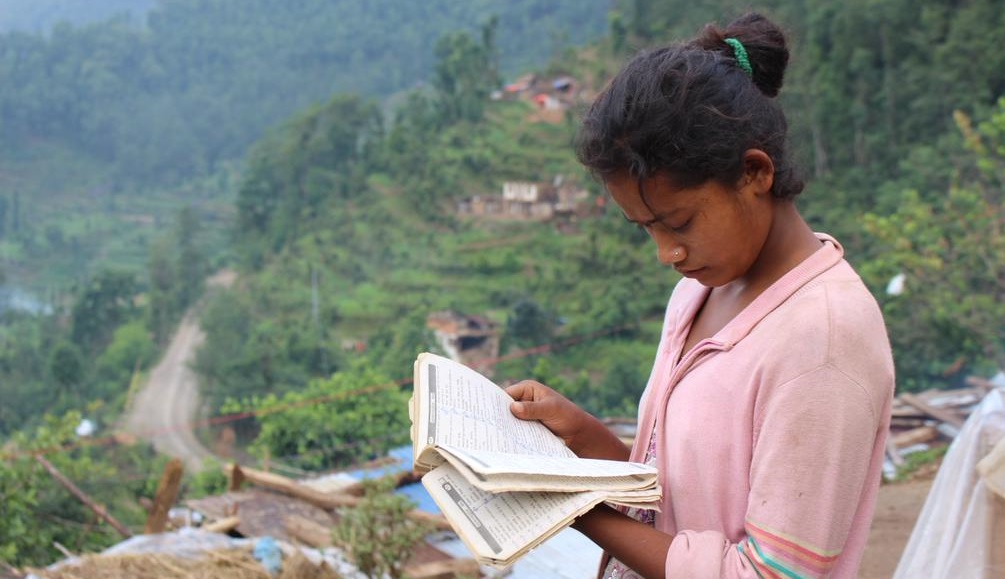 It must have, then, been fairly shocking for you in April when, literally, the ground is shaking under your project's feet.
Mark: On 25 April, my wife and I woke up here in Vancouver to a slew of text messages, missed calls, Facebook posts, and emails that had flooded in overnight. The time difference meant that we were some of the last people on the planet to hear of the earthquake. That Saturday was also the day we were moving house, so my wife Sara and I, as well as our two children (who grew up in Nepal), were already in a state of some anxiety!
Nepal lies in a very seismically active part of the world, and its citizens have been expecting a major earthquake for some years now. The last major earthquake that devastated the country was over 80 years ago — and I have spoken with some of the survivors who remember the terror to this day. As it happens, Vancouver is also situated along a major fault line, and our son's school is scheduled for a seismic upgrade in the coming years. One feels so powerless after a natural calamity of this kind.
How did this shape your work with your Nepali colleagues, your Digital Himalaya project, and all the initiatives you already have invested so much in?
Mark: Our immediate focus was on our friends, adopted family, and long-term research partners in the village where we've had the pleasure of staying for all these years. Thanks to platforms like Facebook — but also through the phone and other social media — we learned, pretty quickly, that our closest friends and colleagues had survived. Our relief at their survival was tempered by media reports of thousands of deaths and injuries across Nepal.
We soon learned that the villages in which we'd lived were entirely destroyed and the households in which we'd slept for over a decade were totally levelled. Simply put, both Sara and I felt a responsibility to do what we could to support Nepal and its citizens during this natural disaster, both through raising funds and by focusing on getting the story out. When I began to receive calls from radio, TV, and newspapers here in Canada and abroad, I realised that we had been presented with an opportunity to try and tell the story of what was happening on the ground and keep the international media attention, often so fickle and fleeting, on Nepal.
At first, as is so often the case, the media interest was on Everest — on the foreign climbers, trekkers and tourists. We tried to focus the attention on compelling stories of Nepali citizens, who were dealing with great trauma, adversity, and pain, and demonstrating remarkable resilience — supporting one another, sharing resources, and salvaging what they could. Many of our friends were living in fear of a second earthquake, unsure when and how to move back into their compromised buildings. For the Thangmi community of Dolakha district, the 12 May aftershock was even more devastating than the 25 April earthquake that preceded it.
Friends, family, and colleagues around the world were calling us, asking "Where do I donate?" The Canadian Government, to its credit, offered to match any funding that Canadian citizens gave to registered charities. This provided a strong incentive, at least in the first days, to focus on giving money to big international organizations. But we also knew that many of these organizations didn't have an established footprint in Nepal, speak the language, or have local contacts and staff — all factors that would impact how effective they could be and how fast they could deploy in country.
After discussing the issue with Nepali colleagues, we encouraged people who wanted to donate to split their gifts, focusing some on the larger registered international relief organizations and other funds straight to local villages, who would know best what their immediate and local needs were.
In a recent interview for UBC News, you spoke about the Nepali localization of Safety Check, Facebook's disaster alert tool. How did this project come about?
Mark: Through a colleague, I was contacted and asked if I could assist. I responded that I couldn't do it single-handedly, of course, but that I was willing to consider finding a way.
There are now so many incredibly educated, highly skilled, brilliant, and creative young Nepali citizens abroad, studying and working in the States, Canada, Europe — all over the world, in fact. And many expatriate Nepalis were trying to work out what they could do, and how they could help, apart from simply sending money. How do you support your country and family from afar? Do you help from abroad? Do you get on a plane and fly back home? Or can you do something practical from a distance?
The Safety Check project provided a great outlet for the creative energy and talents of 13 Nepalis, with me trying to coordinate the work. Most of the volunteer translators were former students and colleagues: we were a group who already knew one another well, and had established relationships of trust and mutual respect. I did contact a few of the best interpreters and translators that I knew in Kathmandu, but they had far more important and pressing things on their minds, such as trying to find food and accommodation for themselves and their families in the wake of the quake.
By translating the Safety Check into Nepali, we believed that we could focus our energies on something practical, tangible, and perhaps even useful to Nepal's citizens at this time. There are now millions of Facebook users in Nepal, and while many of them interact with the network in English, others have opted to post and write through Nepali. The work that we took on was time-sensitive and also remunerated, providing a great way for all of us to raise funds for relief work since the entire translation team had committed to pledging all "pay" to a registered and well-respected nonprofit that has been working in Nepal for over 25 years.
The partnership worked very well. People worked incredibly hard, through the night in fact. Our collaboration was emotional, intense, and yet very respectful. We implemented different layers of verification and checking, and some back translation. For the most part, we used Google Docs to share information with each other in real time. One person would start a translation and another person would verify it, checking that we'd used the standardized terminology that we had agreed upon at the outset. I would do the final check and then import the verified strings into the tool. Our collaboration, across four different time zones, was mediated and facilitated by the very technology that we were localizing, and would have been unthinkable without the digital backbone to which we have access in North America and Europe.
On reflection, I don't think it would have worked so well to put out a call asking, "Anybody out there interested to help translate into Nepali?" We simply wouldn't have had the relationships of trust that were needed to work so intensely and without ego, nor would I have had the confidence that the team had the necessary skill set.
Now that the project is done, what is next, in terms of long-term priorities?
Mark: Some of the group, the group of Nepali students at Yale, have gotten a real appetite for translation. They are concerned that many of the international organizations are not putting out documents in Nepali and that translation is not being taken seriously. Some of them are exploring setting up a translation unit in Kathmandu, using machine-assisted technology if possible. Many of the volunteer translators are now back in Nepal, finding ways to be of use and assistance to their communities. I find their dedication inspiring.
I also had the opportunity to visit Nepal for the last two weeks of May. I was in two minds about the trip: while of course I wanted to go and see our friends and understand what was happening (and how I might help), on the other hand, I was reluctant to be just another person in the way, another mouth to feed, another foreigner asking questions! An opportunity presented itself to travel with a Swedish organization that had made a substantial pledge to support Nepal in the aftermath of the earthquakes. They were looking for someone who could advise them on the ground and connect them with inspiring Nepalis and effective locally-run organizations delivering relief supplies.
This provided a structured way to travel to Nepal and serve as a kind cultural (and linguistic) intermediary and adviser. After the international team returned to Europe, I immediately set off to the Thangmi villages in Dolakha district, east of the capital city Kathmandu, where I went to visit our friends and adopted family whose houses were destroyed and lives entirely disrupted by this natural disaster.
It was a very humbling and emotional experience being back in Dolakha. I do believe that it was good to have gone. When I asked him whether it was appropriate to visit him at this time, Bir Bahadur, my research partner and language teacher, replied, "people who choose to come when it's dangerous and the conditions are rough are real friends … welcome home."
Now that I am back in Vancouver, it's somewhat disconcerting and uncomfortable to wake up every day in a comfortable bed and think of one's friends living in temporary shelter with poor access to sanitation, limited food, and an insurmountable feeling of uncertainty and foreboding.
What would you recommend to those who, reading your story, want to get more engaged in your work or in what's happening in Nepal right now?
Mark: What Nepal really needs now is sustained international interest and money. While money is the least personal thing to give, it is the most empowering for communities who can then decide when, how, and where to use the funds to best effect. That's why my wife and I are working closely with a terrific Canadian charity called CORE International who support local communities to bring both much needed relief and supplies, but also capacity-building and skills training, to some of the most affected villages in Dolakha.
The needs of every village and every household are different. Some have lost their entire home, but could salvage the wood, while others can reuse the roofing. In some hamlets, all the domestic animals were killed in the earthquake, while in others, the livestock have survived but the school is destroyed. Some villagers are already moving towards rebuilding while others are still very much in relief mode. This variation is incredibly important to acknowledge and makes the story more complex and more nuanced than a 20-second media spot will allow. Coming up with a one-size-fits-all rebuilding plan for an entire village, let alone a district, is simply not viable.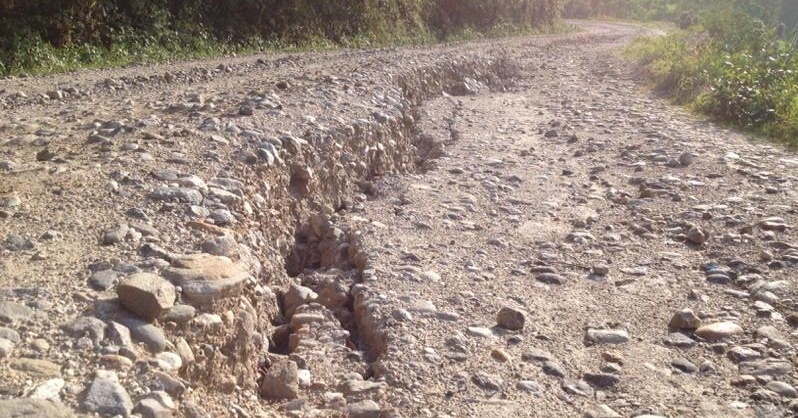 Perhaps because so many people from around the world have visited Nepal and have happy memories of their times there, the earthquakes galvanised a massive international citizen response. In the first weeks, I witnessed an outpouring of support for and interest in Nepal on air, online, and in print. My son, who spent his first four years in Nepal, has been selling origami that he has been folding on the street outside our house and has raised well over $100. Some of his school friends organized a very successful bake sales. But attention spans are short and the media cycle is shorter still, and sadly — and quite predictably — other global emergencies take the limelight.
We have to keep the funds flowing to Nepal — and preferably at the most grassroots level where communities have agency and control over how the money is used. We have to keep the story active and focus on long term reconstruction and mitigation, just as important but somewhat less sexy and much more expensive than immediate relief and aid. Organizations like CORE International and ETC-Nepal, both of whom have decades of experience working in Nepal, are registered NGOs in Canada and the US respectively that we have chosen to support because of their excellent work, the quality of their engagement and their culture of transparency.

If there are language professionals who have interesting technology solutions for less commonly used languages, or platforms that may be effective for building a machine assisted translation tool and working with a large corpus, there are brilliant scholars, scientists, coders and translators in Nepal who may be really interested in what you've got. If you've got services or tools to share, I would be very happy to put you in touch with organizations in Nepal. There is a real interest in leveraging technology effectively and in ensuring smooth and effective communication. The earthquakes that ravaged Nepal were very local, but the response has been global. We need international partnerships and networks to be effective.
Our thanks to Mark Turin and his team for their critical work in Nepal. Are you ready to lend your own support to their Nepali localization and aid efforts? Write to him at mark.turin@ubc.ca.