App Usage and Indian Languages: A Report
Reverie Language Technologies from Bengaluru recently released a report on Indian-language app use by smartphone users in India. The report is based on usage data compiled from the Swalekh Flip app—an Indic keyboard provided by Reverie—between January and June 2017. Here, we share some key data points from the report. And we couldn't help but notice this is the second such report on Indian languages to come out in the space of a few months. Go figure.
A note on the format and terminology of the report
The Reverie report (PDF) categorizes language use by word count and app session count. The word count parameter is understandable; the data was collected thanks to a keyboard app. Going forward, as voice usage in Indian languages increases, this parameter may prove to be incomprehensive or even unnecessary.
As for "session count", the report does not clarify whether it's the number of sessions recorded per language or the duration of those sessions (that is, which language recorded the longest durations per session). Most likely, it is the number of sessions per language.
Reverie terms the languages Dogri, Kashmiri, Konkani, Maithili, Manipuri, Nepali, Sanskrit, and Santhali as endangered, though it's not clear why. All these languages, apart from Sanskrit, have speakers in the millions. Perhaps it means that the digital population of these speakers is minuscule or, simply, that these are the long-tail languages of India.
The report also does not provide any data on the sample size or its demography.
Top Indian languages by app session and word count
The top five languages by session are Hindi, Telugu, Marathi, Gujarati, and Bengali. The top five by word count are the same, though in a slightly different order.
Three of these—Hindi, Marathi, and Bengali—coincide with the Google-KPMG report's list of languages that will drive the growth of Indian-language internet users.
Among apps, the usual suspects and the humble phone book
WhatsApp and Facebook are the first and second most-used apps in terms of sessions by Indians in their local languages. But the surprise comes from third place: it's the phone book app.
The Google Search bar comes in fourth place. We'll wait and see if this app gains in popularity in the coming months since Google Search's repertoire of Indian languages increased by eight just recently.
Among apps used for watching and downloading videos, you would, of course, expect YouTube to be on the list—and you wouldn't be wrong. But sharing space with YouTube is also the little-known app Nemo Vidmate, which is not even available in the Android app store.
The top languages according to app categories roughly follow the same order as the overall top list, except for gaming—in which the only language available is Hindi. Speakers of the other four top languages are lapping up entertainment, messaging, and social network apps, so Indian game developers should move quickly to take advantage of this big gap in coverage.
Have in-language app, will use
What does the chart below tell you?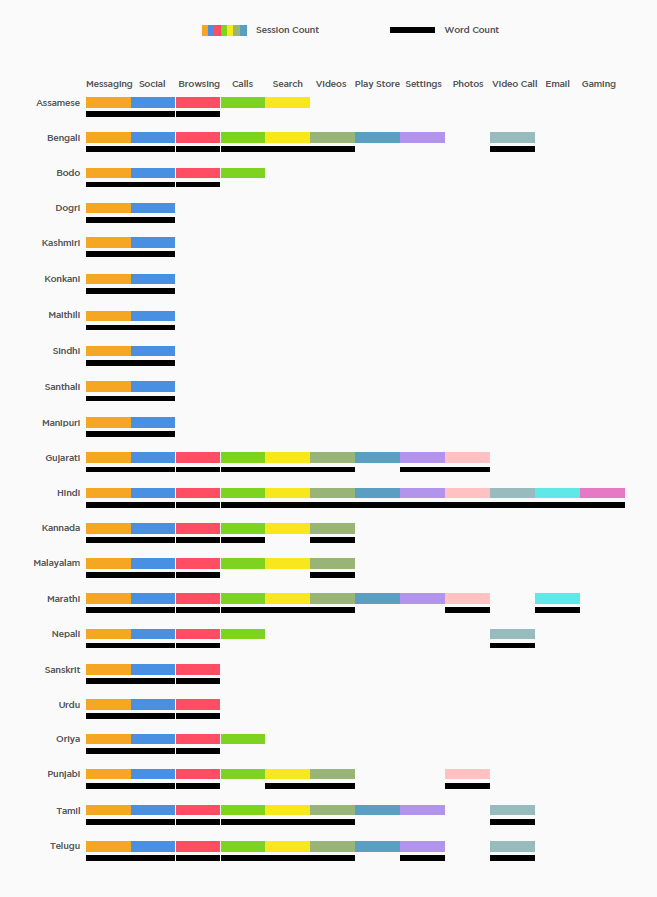 Source: The Reverie report
Simply this: When a particular service or app is available in the local language, users embrace it. By not localizing for these languages, you could potentially be leaving money on the table.
And one last thing before you go: Messaging, social network, browser, video, and gaming apps show high engagement rates from Indian users. If you intend to operate in any of these app verticals, localization in Indian languages is a must.
Comments