Avoiding Mobilegeddon on Your Localized Sites
For nearly two months, webmasters, SEO specialists, site owners and web marketers have been buzzing in anticipation of April 21, 2015, now commonly known as "Mobilegeddon," or the day Google began considering a site's mobile-friendliness in its search rankings.
On February 26th, Google announced this monumental shift by highlighting the global impact: "This change will affect mobile searches in all languages worldwide and will have a significant impact in our search results."
So what does this change mean for localized websites? How can you ensure your multilingual sites are highly ranked on Google?
We've been warned…
As search has shifted from desktops to mobile devices, Google has worked steadily to optimize users' experience with mobile search. Back in June 2013, Google introduced a penalty for sites that were providing a bad mobile search experience. Sites generating errors for mobile users were penalized with lower visibility in search engine results pages (SERPs) on mobiles.
Then, in late 2014, Google introduced the "mobile-friendly" labels in mobile search results, making it easier for mobile users to choose results that were better suited to their devices.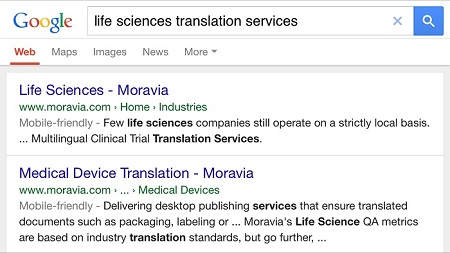 So the writing was clearly on the wall that Google would eventually update the search algorithm to prioritize mobile-ready pages. It's just another step in improving the overall search experience for mobile users.
Tools to check for mobile-friendliness
Since April 21 was the target date of the implementation, it's only now that we are beginning to see the impact — and Google has made a number of useful tools available to help.
The Mobile-Friendly Test provides an immediate sanity check and shows how Google "sees" the given page in the mobile view. As such, it gives an indication if your rank will suffer as a result of the change. For a wider perspective, the Mobile Usability Report in the Google Webmaster Tools helps identify a full list of possible mobile usability issues across your site.
For example, Xiaomi, the fast-growing smartphone producer, and recently hailed as the "most valuable tech startup," relies on sales online, yet its main page is a good example why pages so often fail the mobile-friendliness test:

So what are some of the ways you can ensure your multilingual websites are mobile-friendly?
1) Remember this is page-specific, not domain-specific
Companies often assume the mobile-friendliness concerns domains, but in reality, Google evaluates each page individually. This means it is necessary to optimize entire sites, and a mobile-friendly home page is no guarantee your whole site will rank high.
The fact is that many websites today are complex. And while the content may be hosted under one domain, it may be maintained by different departments or even various country offices in organizations. As such, different Web Content Management Systems (WCMS) may be used and disparate web designs and templates deployed for various parts of a website. This means that even if the main domain and home page may pass Google's mobile-friendliness test, other pages may not and will suffer in mobile search results.
A frequent split we see is between marketing content and the after-sales support content online — each maintained by a different part of an organization.
2) Take stock of all your multilingual online assets
Some organizations manage their multilingual online content centrally, while others rely on their in-country offices to provide and publish their country-specific content directly. While the locale-specific angle and relevancy are important, this multiplies the efforts and the mobile-friendliness is one such area. Check if your localized sites use a shared web template and the same approach, or if individual languages use their own.
3) Speed matters in the mobile space
While mobile connection speeds skyrocket worldwide, speed still matters and your site needs to be designed so that it loads quickly. Having to wait for a page to load on mobile devices is frustrating for users and many choose to go elsewhere rather than wait.
Google has made available PageSpeed Insights, a tool that analyzes the content of web pages and shows suggestions to make them load faster, comparing their performance on mobile devices and desktop devices.
In fact, the recent update of this tool focuses on mobile experience, with the recommendation that a page should render in under a second on a mobile network.
Importantly, PageSpeed Insights only considers the network-independent aspects of page performance, so it disregards factors such as the network speed, the country where a given site is hosted as well as the location of visitors.
4) Some languages may pose challenges
Companies may essentially choose from three different approaches to optimizing their websites for mobile:
Responsive Web Design (RWD)
Dynamic Serving
Separate URLs to a mobile-specific site
Of the three, the responsive design is the preferred and recommended option. But while it's a path well-trodden, some languages, especially a number of double-byte and bidirectional languages, may pose some challenges and may need some extra attention and careful planning to ensure seamless rendering on mobile devices.
In China, for instance, there really aren't many native responsive sites, and the preferred way is using separate websites for different devices. This is, partly, due to the fact that a growing number of Chinese companies build their web presence on the mobile experience first and desktop is not really a priority.
5) This is a Google thing, but…
While this recent algorithm change concerns Google, the trend towards mobile search is universal and all major search engines make provisions for mobile users.
China is again a good example. Mobile use there has outpaced desktop use, and the same is true across most of Asia. As a result, mobile-friendly sites are mandatory for success in China.
In fact, Baidu, the dominant search engine in China, with some 80% of the mobile search market, has taken a similar path to Google's. Baidu's mobile algorithm penalizes sites that offer poor experience on mobile devices. Titled "Baidu Ice Bucket," this update introduced in 2014 focused on the frequent features of Chinese sites such as full-screen popup ads, which stretch over the main content, or login walls before displaying content — both of which provide a terrible mobile experience.
Bing is another example — along with the recent complete redesign of its mobile home page, Bing has also started to label mobile-friendly pages in its search results pages.
Even though the Google algorithm change had been advertised for some time, some companies were caught off guard, or were too slow to react, and as a result their ranking may suffer. The good news is that even if you see a direct impact now, this is not permanent, and optimizing your website for mobile experience will again help improve your ranking.
{{cta('664cfa1e-10c8-4c55-abd6-ffa0d80a61b0')}}