Behind the Scenes at MultiLingual
The first thing I do when I get to the MultiLingual office is take my shoes off, so I can pad around all day in wool socks, so I can cross my legs at my desk and work on my flexibility as I type. I work buttressed in by raw-brick walls and shelves of books, green plants by the window. I keep a jar of coconut oil on my desk, as a catch-all hand moisturizer and energy booster.
I feel like the cartoon cutout of a hipster professional, but I don't care. It's too nice a place to work to mind.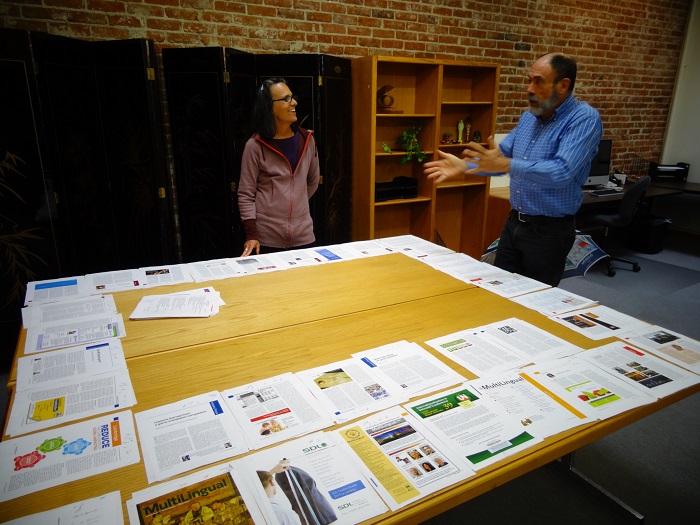 Designers Darlene Dibble and Doug Jones discuss layout
Over the tops of the shelves, Doug and Darlene are working on laying out the latest issue. I can hear them, and sometimes I eavesdrop, just to make sure we're all on the same page. Sort of literally. We work in the same room because it's easier to just ask: hey, is this the right photo? Hey, this one isn't coming out well.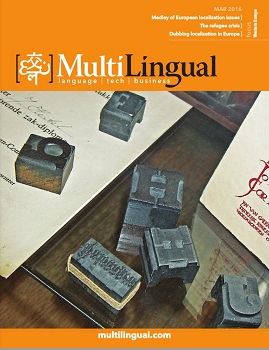 Can you ask for another one? We've set things up to work remotely, and I take advantage, but in many cases it's easier to just point to the screen, gesture, collaborate.
Everyone else is spread out in the small maze of our building, so when I carry physical files around for sign-off — we always print things towards the end of the production cycle because they look different on paper than on the screen — I get to stretch my legs. Bernie proofs, Bonnie proofs, Donna looks things over and makes suggestions, Kevin checks that the ads are correct.
Things are a little more hectic than normal now because we've just completed a website and magazine redesign — total re-branding, and we're still battening down the loose details. Our first rebranded issue featured a Dutch image and an orange color stripe, not even coordinated as being pro-Holland, though Marjolein, our resident Nederlander, was quite pleased with the result.
As of now, we've put out over 170 issues (including our annual resource directories) and have subscribers in over 80 countries. Subscription has never been better, either — and with any luck, the new look will encourage the rest of the visually-inspired world to read long-form articles again.
People: Advertising director Jennifer Del Carlo works with her dog Maisie at her feet
---
MultiLingual at a glance
MultiLingual Computing, Inc. is the leading source of information for the language industry and businesses with global communications needs.
Originating as a buyer's guide in 1987, the magazine is distributed in print and digital format nine times a year to readers in 82 countries.
The corporate office is located in North Idaho in the Selkirk Mountains.
MultiLingual partners with The Localization Institute to produce LocWorld, the leading conference for international business, translation, localization and global website management.
Get your sample issue here.
Get more information at www.multilingual.com.
---
Comments