McDonald's eats humble pie over Hmong slogan translation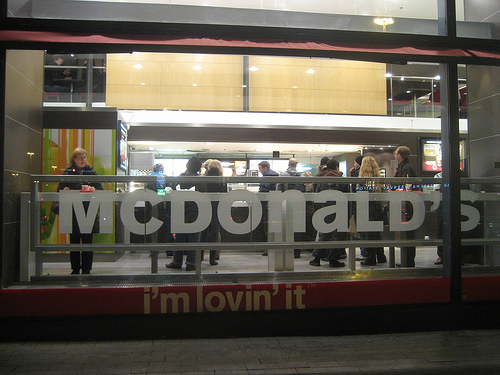 It started out with a good idea. A McDonald's franchise wanted to advertise to the estimated 64,000 Hmong-Americans in St. Paul, Minnesota, so it produced a billboard with the breakfast slogan "Coffee gets you up, breakfast gets you going" in the Southeast Asian language.
Unfortunately, as the Pioneer Press reported, the slogan was badly translated and printed with unusual wording. It was so mangled, one resident said it didn't make sense at all.
But it did make a good story. AP picked it up, and soon there were headlines all over the country; one even read: "Do you want a translator with that?"
While it might seem easy to localize in your own country, it isn't so simple. McDonald's worldwide success in localization is almost legendary (McCafes in France, vegetarian restaurants in India), but here at home it ended up with egg on its face. If McDonald's can mess up, anyone can.
Sometimes, Americans forget the U.S. is a nation of immigrants, with many languages and customs. Sure, the vast majority of Americans speak English, but 20% speak a language other than English at home, according to the 2010 U.S. Census. And there are large pockets of ethnic communities, like the Hmong-Americans in St. Paul or Armenian-Americans in Los Angeles.
Then, there's the U.S.'s largest and fastest growing ethnic demographic much coveted by marketers: Latinos. Hispanics have been part of America since it began, yet, despite their long history and importance to advertisers, U.S. companies still manage to bungle efforts to cater to U.S. Latinos.
In one particularly bad case, Fox News Latino reported that the Hartford Courant is using Google Translate for the Spanish section of its newspaper. While Google Translate is great for some things, this is not one of them. Needless to say, the Courant's Spanish section is very difficult to read.
The Courant can't possibly hope to attract many Hispanic readers, much less advertisers, with this approach. Truly, if you want to serve an ethnic community, getting the language right is just the first step. You also have to localize your content.
For a good example, you don't have to look farther than Fox News Latino itself. The website caters to English-speaking Latinos, who are the majority of U.S. Hispanics. While it doesn't need to bother with translation, Fox News Latino does localize its content for its audience, covering topics such as Mexican elections and U.S. immigration policy debates. And as NPR noted, it has a very different tone than the Fox News Channel. Can you imagine if they just ran conservative pundit Bill O'Reilly through Google Translate?
There's a lesson here for McDonald's as well. Within a day of the Hmong story breaking, McDonald's apologized and promised new billboards. It will be interesting to see if the company fixes more than the ad's language because apparently Hmong-Americans don't usually drink coffee. They drink tea.
Comments