Hot smartphone market drives mobile app boom in China, worldwide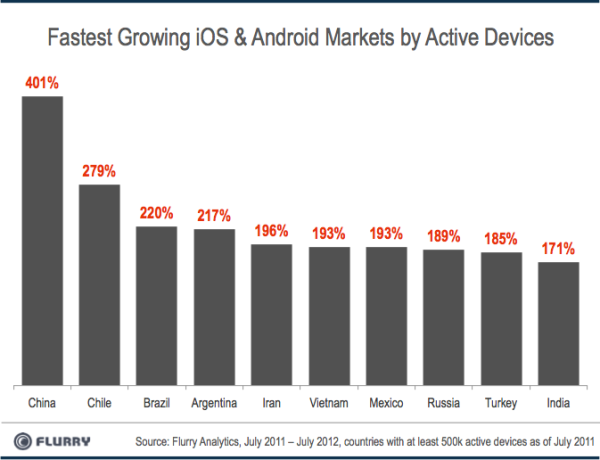 Smartphones are everywhere. The mobile analytics company Flurry recently reported that adoption of iOS and Android mobile devices is moving at a rate 10 times faster than the 1980s PC revolution and two times as fast as the 1990s Internet boom.
And this boom goes well beyond the U.S. and Europe. With 125 million active devices, China is second in terms of number of active devices, and it's expected to overtake the U.S.'s top spot around the end of this year.
China's mobile device adoption rate grew by an astounding 401% between July 2011 and July 2012, but the world's most populous country isn't the only one with explosive mobile growth.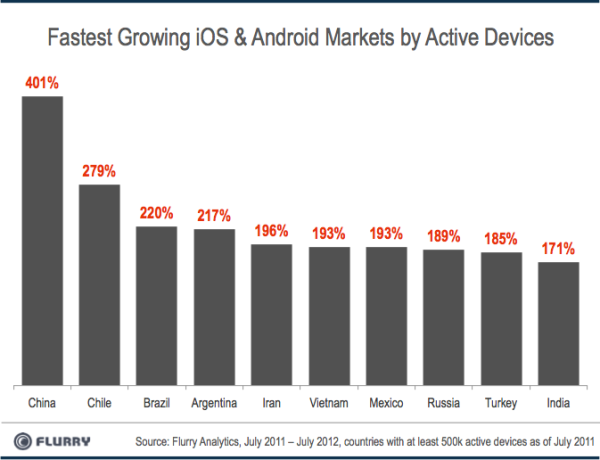 The top ten fastest growers also include Chile, Argentina, Iran, Vietnam, and Turkey as well as all four BRIC countries (Brazil, Russia, India and China)—the developing countries deemed to be at the next stage of economic growth.
The smart money is in smartphones and in everything that goes with them. In other words, this boom is not just about the phones but the entire mobile device "ecosystem." For smartphones to work, you need device makers, chip makers, operating system providers, retailers to sell the phones, and carriers to send the signal. And you need content: namely, mobile apps.
Naturally, the big players are already in the hottest growth markets for apps. Bloomberg recently reported that Google, which has struggled with its search engine in China, has managed to come out on top with mobile app advertising. Microsoft, which lags behind Apple's iOS and Google's Android, recently held an app creation campaign in India called "I Unlock the Joy." The deal: create and publish three apps on the Windows Phone Marketplace and you get a free Windows phone. A Microsoft India exec told ZDNet, the company "literally had to pull the shutters down" because of the volume of the response.
Truly, the explosion in smart devices also means an explosion in apps. But innovation in high growth markets will not be limited to giant U.S.-based companies. As the popular Guardian tech blogger Stuart Dredge said "the bonanza may well come from startups and developers based in those countries who understand the markets and the business models required for success."
While I certainly don't disagree with that sentiment—locals usually know the local market the best—I would argue that any savvy developer willing to invest time and money in translation and localization will not be limited by their home country's borders.
Just look at some of the popular game apps out there already: Angry Birds originally flew in from Finland. Cut The Rope? Russian developers. Parking Frenzy, which is popular in the U.K and the U.S.—developed in India. And where are the people playing those games? Worldwide.