IKEA catalog for Saudia Arabia is sexism, not cultural sensitivity declares, well, IKEA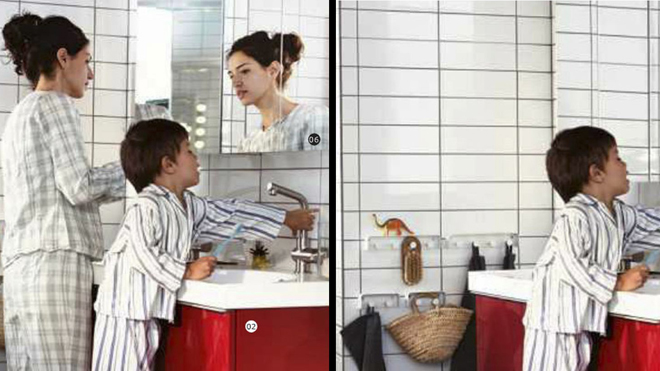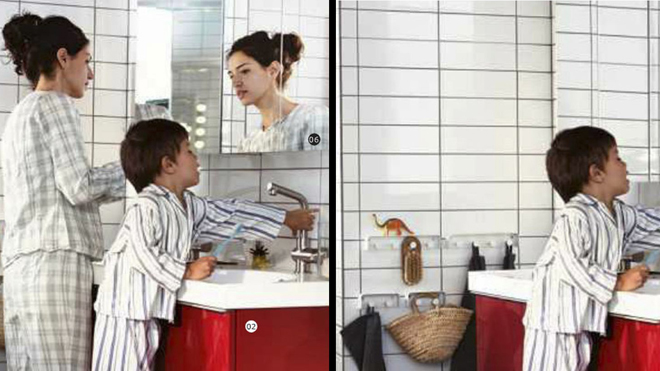 Oh, IKEA. We love your furniture. Your Nandors. Your Skogabys. We even dig the thought of wrapping ourselves up in designer Saralisas. And we appreciate how far you'll go to try to get things right for a local market, like you did for Thai consumers when you managed to make sure that the word for plant (Jättebra) was scuttled for something less like a crude come-on.
So, hey, weren't we just as surprised as everyone else to hear that all the women disappeared from the IKEA Saudi Arabia catalog!
Free Swedish mag Metro got the scoop yesterday, but publications worldwide quickly piled on. The BBC. CNN. The Wall Street Journal. Even Fox News — the news program that placed Egypt on a whole new continent — weighed in on the matter. At issue, says Metro, is the gross difference between the Swedish and Saudi versions of the catalog. While no man or child was left behind, every woman had been airbrushed from the Saudi publication's images, including the profile of a female IKEA designer for one of the home furnishing lines.
Of course, all of this attention may be about the timing. Just earlier this week, Saudi Arabia was facing worldwide outrage for refusing entry to more than 1,000 Nigerian pilgrims who were on their way to Mecca. Because these pilgrims were women, however, Saudi Arabia asked "where are your men?" and, when none appeared, restricted them to King Abdulaziz International Airport for 5 days until they could ship them back to Nigeria.
We jest. Sort of.
As a localization company, we understand that this is one of many examples in which global players have felt compelled to compromise for the delicate sensibilities of Saudi Arabia's Sharia-abiding ruling family. We also know that this matter is not just one for conservative Islam. Remember when the orthodox Jewish newspaper Di Tzeitung edited Hilary Clinton from a Bin Laden situation room photo last May? We do.
This is no time for "my orthodox is better than yours." IKEA has stated unequivocally that the exclusion of women from the catalog was "in conflict with IKEA Group values," but as Anne-Marie Colliander Lind — who managed the localization project for one of the first IKEA catalogs in Arabic in the early 1990s and also on later versions — tells us: "While the discussion about the depiction of women has taken a life of its own, this practice has been in place from the first catalogs printed for the Middle East, 20 years ago. But other changes are not so easily observed, like the size of refrigerators in the American catalog being twice as large as the European ones. I think it is a good business decision to adapt content to local markets."
All that corporate marketing and localization industry representatives worldwide can do is thank IKEA for bringing the conversation about cultural adaptations to the forefront.
Women matter, and not just in Sweden.
Wrap yourself up in the warmth and comfort of that and an Eivor, on sale for just $19.99.
Comments