This Christmas season, Gangnam Style goes to Washington
In the news today is that South Korean K-pop star Psy, of viral hit Gangnam Style fame, will be performing before President Barack Obama and other U.S. dignitaries as the big closing number for TNT's "Christmas in Washington." The soon-to-be-televised annual holiday special, scheduled for broadcast on December 21, is a fundraiser for the city's Children's National Medical Center.
We're long overdue for our own commentary on the international power of Gangnam Style, so while the president gets his dance moves ready, let's review why people worldwide are ponying up for the same.
The Psychology of Gangnam Style
Gangnam Style is not Psy's first hit in his native South Korea, but after debuting at number one on the charts there in June, it is the first track of his 12-year career to enjoy so much attention abroad. According to Wikipedia, the song has enjoyed astronomical success — reaching number one on the music charts in more than 30 countries worldwide.
The song — a cheeky poke at the Beverly-Hills-like glamour and popular attractions of the Gangnam district of Seoul — has everything you could want in a pop song, including cheesy boy-meets-girl lyrics. (Thanks to Business Insider for doing the heavy lifting on the translation for us.)
A girl who is warm and humanly during the day
A classy girl who know how to enjoy the freedom of a cup of coffee
A girl whose heart gets hotter when night comes
A girl with that kind of twist
I'm a guy
A guy who is as warm as you during the day
A guy who one-shots his coffee before it even cools down
A guy whose heart bursts when night comes
That kind of guy
But it's really the over-the-topness of the video that has driven Psy's moment in the international spotlight. A 7-year-old Michael Jackson imitator. Lassoing ladies in white. Disco-dancing seniors on a bus. Explosions. Parking garage dance battles. Cameo appearances from South Korea's kings and queens of pop and comedy. And, of course, the signature horse-riding dance moves of the 34-year-old bow-tied Psy himself.
And that's in just a little more than 4 minutes playing time.
About to hit 1 billion views on YouTube
YouTube reported in their Trends Blog on November 24th that the video had become the channel's most viewed video of all time, eclipsing the success of Justin Bieber's "Baby" in both raw numbers and velocity. "It's been a massive hit at a global level unlike anything we've ever seen before," writes Kevin Allocca for YouTube. "Each day, 'Gangnam Style' is still being watched between 7 and 10 million times." (See Kevin's cool chart on that below.)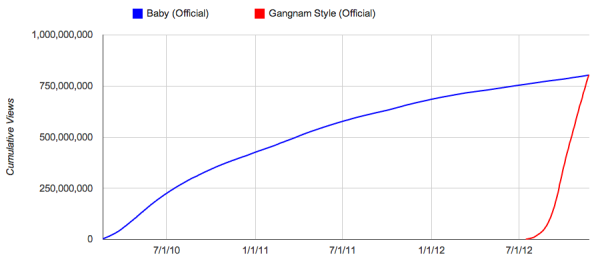 Moreover, the video has inspired a seemingly endless number of parodies, flash mobs, and mash-ups from France to Peru, from London to Jakarta. And in a number of languages, including Klingon.
The language dimension
But there is a language dimension to this phenomenon, too. There are very few pop hits that would make it big globally in a local language rather than (at least some sort of) English. Gangnam Style has, and is very cool about that. The few precious examples from the past include smash hits like Los Lobos's version of La Bamba, Nena's 99 Luftballons, or Falco's Der Kommissar, even though — alles klar — English still serves as the lingua franca of pop music.
South Korea is a nation of exporters. Very few of us aren't using one of their products on a daily basis. As a rule, these products are very well localized, and often in the true sense of the word. Just think of the Hyundais or KIAs sold in Europe: designed by Europeans, manufactured in Europe, and perfectly matching European tastes. Until now, most South Korean companies typically wouldn't extol their brand identity and national origins, unlike their rivals building on the concepts encapsulated in Made in Japan or Made in Germany.
Gangnam Style may have changed that forever. South Korean companies are starting to wake up to the global commercial potential of this pop phenomenon. Psy, for instance, has signed the advertising contract with Samsung to promote their fridges.
Will K-pop drive South Korean brands further into the international spotlight? It is certainly the hope of many in its government, or as Ma Young-sam, the ambassador for public diplomacy at South Korea's foreign ministry, said:
"As foreigners pay more attention to the singers, slowly they develop a liking for Korea … and if they like Korea, they will buy more Korean things. This is what we're trying to promote."
The universal appeal
There doesn't appear to be a world leader who hasn't commented on or been expected to know the video.
In an election-day radio interview, President Obama said to New Hampshire's WZID that he could try out Psy's dance moves with First Lady Michelle Obama … privately, of course, adding that it wasn't quite ready for January's inaugural ball.
The Belfast Telegraph reported that United Nations Secretary General Ban Ki-moon, also of South Korea, has also "tried a few of Psy's dance moves." He goes on to say,
"There are no languages required in the musical world. That is the power of music, that is the power of the heart. Through this promotion of arts we can better understand the culture and civilisations of other people. In this era of instability and intolerance we need to promote better understanding through the power of music."
Dance on, peacemakers. See you in Washington.
{{cta('1a665564-4c54-4b91-ba3f-1e4cdc7a3224')}}