Safety First. Why Speaking the Wrong Language is Dangerous for Business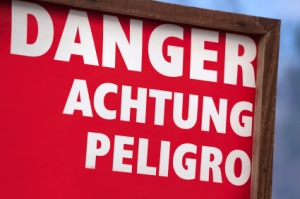 "Far from the shining cathedral of science depicted in Union Carbide adverts, the Bhopal factory more closely resembled a farmyard." (The Guardian, 3 December 2009)
The Bhopal disaster remains an example, albeit a toxic one, of what can happen when a company neglects safety concerns. While various factors led to the disaster at the Bhopal chemical manufacturing plant in India that took the lives of thousands including shoddy equipment, there was also a language barrier that contributed to the event. According to The Guardian report referenced above, "Safety training was reduced from six months to two weeks — reduced in effect to slogans — but as the slogans were in English, the workers couldn't understand them."
Occupational Accidents and Language
Iza, the nonprofit German Institute Future of Work, published a report in June of 2012 titled "Immigrants in Risky Occupations" (PDF). It concluded that "Limited proficiency in the host country language appears to play an important role in immigrants' higher occupational risk."
What does occupational risk look like? The U.S. Centers for Disease Control and Prevention recently reported:
On June 27, 2011, a worker at a poultry processing plant in Arkansas began to pour sodium hypochlorite into a 55-gallon drum that contained residual acidic antimicrobial solution. When the sodium hypochlorite reacted with the solution, greenish-yellow chlorine gas was released into the small room where the drum was located and then spread into the plant, where approximately 600 workers were present.

Of the 600 workers, 195 sought medical treatment, 152 were hospitalized, 5 were placed in intensive care, and 3 developed reactive airways dysfunction syndrome.
Yet, this accident may have been preventable. The label that housed the dangerous chemical was "labeled only in English. The worker who mixed the sodium hypochlorite with the leftover acidic solution told investigators he knew such a mixture was dangerous but did not recognize the drum and could not read the label …When interviewed, the worker was unable to respond in English and required a Spanish translator."
According to the Associated Press, "a Mexican worker is four times more likely to die than the average U.S.-born worker." The report concluded that "these accidental deaths are almost always preventable and often gruesome: Workers are impaled, shredded in machinery, buried alive." The report also acknowledged that many immigrants are "thrown into jobs without training or safety equipment. Their objections may be silent if they speak no English."
Investigators may be hampered when they try to determine how many of these incidents were related to language barriers since, according to the AP report, "only a few Spanish-speaking investigators work in regions with hundreds of thousands of recent arrivals and often can't reach the most vulnerable Mexican workers." Because many immigrant workers may be undocumented, they are also less likely to make any reports on their own behalf.
Native Language in the Workplace
Around the world, governments and responsible companies are addressing the issue of workplace safety and language. Japan-based Sony, for example, is concerned with safety and native language. "Safety training is provided in employees' native languages, while announcements to employees in the event of an accident are made in several languages," they report.
UK-based Intellect affirms, "Employers have a further duty imposed by the Health and Safety (First Aid) Regulations 1981 to post notices in English and in any other language in common use at the place of work, giving the location of first aid equipment and facilities and the name(s) and location(s) of first aid personnel."
In the U.S., the Occupational Safety and Health Administration recommends "that an employer must instruct its employees using both a language and vocabulary that the employees can understand."
One Language Only? It'll Cost You.
In both the labor and government sectors, there are those that call for official-language or English-only workplaces and support policy change to that end. This is hardly a U.S. problem though. Other countries try to head off the multilingual problem right from the get-go.
For instance, Canadian immigrants must demonstrate required language ability in either French or English before qualifying for citizenship. In Japan, foreigners seeking employment in various sectors must also demonstrate language proficiency: "After on-the-job training, they have to pass Japan's official tests to qualify as nurses and caregivers to work here. However, their success rate has remained low due chiefly to language barriers," according to The Japan Times.
Of course, when companies don't publish policies and procedures in the languages applicable to the people they hire, they open the floodgates for potential lawsuits. HR Morning reported this:  "Here's a case that illustrates why an "English-only" policy just doesn't work in today's workplace. A regional medical center in California recently agreed to pay $975,000 to settle a lawsuit filed on behalf of a class of approximately 70 Filipino-American hospital workers."
How much does it cost to hire a professional translation service to translate your company's employee handbook and its safety procedures? A fraction of lawsuit expenses like this — it's probably safe to say.