Translation Tech Roundup – July 2013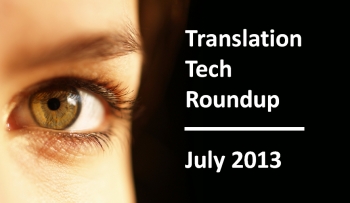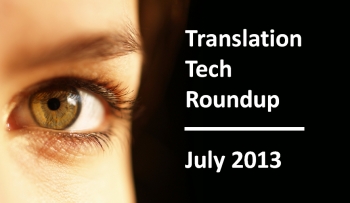 Putting interpreters in the palm of your hand and translating research chat on-the-fly — we've got a fun mish mash of technology tidbits to share with you.
First Language Aid
NPR's All Tech Considered profiled ELSA, or Enabling Language Service Anywhere, a hand-held, mobile-technology-based device that provides on-demand connections betweeen interpreters and police, paramedics, and other first responders. The device is the brainchild of Charles Howerton of Minnesota, who launched his company, RTT Mobile, after struggling to communicate with Spanish-speaking workers at his former construction company. He's looking to roll out another version of the device for the general public with crowdfunding support via Kickstarter later this summer. Listen to the interview with Howerton at Translation, Please: Hand-Held Device Bridges Language Gap, National Public Radio, 26 June 2013.
Soon In Your Strange Accent
AT&T Translator— the real-time, clound-computing-backed speech translation system — is now enjoying pilot testing by some of the company's biggest teleconferencing clients. The prototype is the result of more than 20 years of research in speech recognition, speech synthesis, and natural language processing, says Mazin Gilbert, assistant vice president for technical research at AT&T Labs–Research. The development team pledges some innovative features down the line,
One of the things we're working on is to make the (translated) voice sound like the speaker speaking in a different language. Intonation [voice quality] carries a lot of information . . . and you want to take and convey that to the listener. That is our goal: that it will sound like you.
It's currently translating between English, French, Italian, German, Spanish, Chinese, Japanese, and Korean. Read more at "How AT&T Can Translate Your Speech in Real Time," Popular Mechanics, 2 July 2013.
Research in Plain English … and German, French, and …
20|20 Research, a market research technology and services company, has added a machine-translation tool to its online multinational research suite. The product, QualTranslate, is an add-on to the company's QualBoard online bulletin board and qualitative research system. With QualTranslate, the platform promises seamless translations of discussions in more than 20 languages within 60 seconds of publication. No surprise, a premium service backed by human post-translation teams is also available. Read more "20│20 Research Launches New Technology Expected to Significantly Affect International Research," Business Wire, 17 June 2013.
Ich Spreche Twitter
As AllThingsD reported and confirmed, Twitter has quietly rolled out machine translation of tweets for select markets and users. The feature, backed by Microsoft's Bing Translator, should "make it easier for people around the world to connect with each other," says a Twitter spokeswoman. No surprise, it's also being tested on Twitter's app for Windows Mobile Phone. From "Twitter Testing Bing-Powered Translation Feature," AllThingsD, 1 July 2013.
More Tools for the Little Green Guy
Google has rolled out a couple of great features to its Android mobile operating sytem. First, Phrasebook, the browser-based option that let's Google Translate users save translated text for later referencing, is now also available on the go. Moreover, as CNet reports, Chrome 28 beta for Android now includes the same per-page Google Translate options as the desktop browser. When users load a web page that is published in a foreign-language, a box appears at the bottom of the screen asking if a translation is wanted. As to the accuracy of those translations, Google spokeswoman Roya Soleimani quipped, "It's better than no translation." From "Google Translate says 'Hola!' to Chrome," CNET, 24 May 2013.
More Ways to Say "You're Too Late On That Patent"
Patent Translate, the free machine translation service of the European Patent Office, announced that its on-the-fly translation platform now includes Bulgarian, Czech, Icelandic, Romania, Slovak, and Slovenien. That's now 21 languages from and into English for the vast collection of patent documents available on the EPO website. The platform is targeting coverage of all 28 languages of the EPO's 38 member states by the end of 2014. "Six new languages added to Patent Translate," European Patent Office, 26 June 2013.
{{cta('1a665564-4c54-4b91-ba3f-1e4cdc7a3224')}}
Comments