Moravia Leaders: Tomas Kratochvil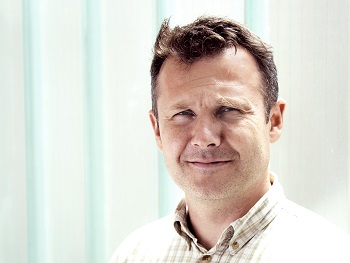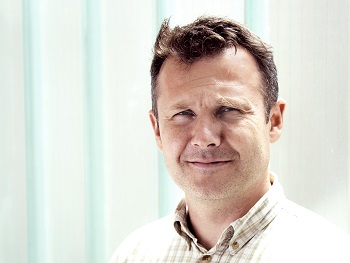 We are starting a blog series to introduce our readers to the 'people behind the production' in Moravia. To begin, I interviewed our CEO, Tomas Kratochvil.
Tomas has been with Moravia for 17 years. He currently holds the position of CEO and has been working in that capacity for more than three years. Tomas says that his most important work is 'talking to people'. His main responsibility is connecting with his employees and clients. This brings him the information and connectedness he needs to drive the business.
Tomas came to Moravia when a friend asked him to join the company as an engineer to help to onboard a new client: Microsoft. That was 1996.
Could you tell us a little about yourself: where do you live? Do you have children? Pets?
Tomas: I live in Brno in an apartment building with my wife and three kids. We had a pet, really a fourth 'kid', an American cocker spaniel. It is unfortunately our second summer without him. He spent 14 years with us and was our oldest kid.
It's so hard to lose a pet. What did you study in college?
Tomas: I studied cybernetics and the theory of system control at the Brno University of Technology.
(Side note: cybernetics is the 'science of communications and automatic control systems in both machines and living things', and it is one of many technical or engineering degrees that you can get at Brno University of technology. It is one of the Czech Republic's leading research and development and engineering universities.)
I could never have succeeded in those classes. I had to look up 'cybernetics'. What do you do when you are not working?
Tomas: I take care of our yard and garden. I play soccer, take walking or cycling trips with my kids, or watch sports on TV. I relax with my wife and drink wine.
Well that sounds incredibly nice! What are your plans for this summer?
Tomas: I'm going with my family in summer to West Coast National Park tour. I was planning that for years, waiting for my kids to get older. This July is the time! Yellowstone, Yosemite, Sequoia and the others!
I have never done that trip and I actually live near those parks. I'm envious. How many languages do you speak? Which ones?
Tomas: I speak English and my mother language, and as many in the country, I speak Slovak, the language of our "brothers". In the past I spoke German and Russian but they became dormant over 20 years not using it.
I can relate! Any unused skill will go to sleep like that. What is your most treasured possession?
Tomas: My three kids who are 9, 11, and 13 years old.
What is your favorite book or movie?
Tomas: Two Czech movies adapted from the books of Ota Pavel: "Death of Beautiful Deer" and "How I Met Fish". Ota is a Czech writer and journalist. He wrote books about nature and people and about people and sport. Great story teller.
I will have to check that out! What is the most interesting thing you have learned recently?
Tomas: That scientists copy nano structures from nature and it works the way it works in nature; for example the "sticking legs" of insects which gives them the ability to walk on roof or walls.
That is fascinating, that scientists study nature and take a lesson from it. Tell us what a workday looks like for you?
Tomas: Talking to people is my workday.
Well, that would never be boring! What do you like best about our industry?
Tomas: The people are very interesting, clever, intelligent, and human.
They are, with no doubt. What would you say to someone who is just starting to work in the localization industry? What are the keys to professional success?
Tomas: Seek to be relevant for your clients. Always innovate your approach towards improvement of your service to your clients. Understand your key clients. This also applies if they are internal 'clients.'
If you weren't in the localization industry, what would be your dream job?
Tomas: I'd be the head coach for an ice hockey team.
Prior to becoming Moravia's CEO in 2010, Tomas served as the company's Managing Director, with responsibility for revenue producing units including operations, sales and marketing. Prior to that, he directed Moravia's operations for many years. Tomas was instrumental in architecting the company's production capabilities, organizational structure and service offerings.
{{cta('1a665564-4c54-4b91-ba3f-1e4cdc7a3224')}}