Microblogging: Do Twitter and Weibo Deliver Off-Page SEO Value for Global Brands?
Presenter Jon Ritzdorf is Moravia's Solutions Architect and a global SEO expert. He also teaches translation technologies and localization fundamentals at New York University, the Monterey Institute of International Studies, and the University of Chicago. In his webinar, "Steps to Effective Global SEO: Off-Page Factors," Jon discussed the challenges of multilingual content management for brands working in global markets with an eye to best practices that improve site ranking.
Remember where Facebook was back in 2008/2009, when it was just one of many social networks out there? That's where microblogging is today: it's still maturing globally.
No Universal Phenomenon
In the United States, it's easy to think microblogging must be a universal phenomenon. But it's not. There are some people who just aren't into microblogging. While, no doubt, Twitter is growing tremendously, it's still not really dominant everywhere. Instead, there are a lot of local, smaller microblogging platforms and certain countries where it's popular.
China loves it. Although Twitter has been banned, Sina Weibo has more than 500 million registered users, and is one of the country's main platforms. The other main one in China is Tencent Weibo. (The term "weibo" just means microblogging in Chinese.)
Other countries like Vietnam are just starting out with microblogging, primarily on a platform called Mimo. Italy has one called Meemi. You probably don't recognize the names: that's because these markets just don't have a single dominant microblogging platform yet.
Twitter Is No Facebook …
If we look at Twitter specifically — and for multilingual SEO you want to see what's happening with Twitter worldwide — you'll find that Twitter's global reach is a little funny in terms of where it is reaching. I have in-laws who live in Indonesia, so I visit them pretty often. Because I have a basic understanding of Indonesian, I can say to you that microblogging and social media there is insanely huge. That's exactly what this graph shows with Twitter's global reach.
Source: Onavo (www.onavo.com)
However, you will notice that the countries that are heavily using Twitter are just a limited set. If we looked to most of the Western European countries, we'd see that although Facebook is dominant there, they're just not into Twitter. Gigom.com said that "… despite Germany being the largest European economy, Twitter's not doing brilliantly there."
One comment on the thread suggested that German is just too long to express anything useful in 140 characters. Others said they just don't like the constant noise. The notion that Twitter is just "noise" reveals a strikingly different perspective on the phenomenon.
… But Twitter Does Have Reach
Nonetheless, microblogging for SEO purposes is a good idea in some countries. In my earlier webinar on on-page global SEO I talked about bagels and how you might market them in Southeast Asia. In that segment, I showed a post from a local Indonesian newspaper. If you look closely, there's a tweet button there. Because Twitter is big in Indonesia, it makes sense that the local newspaper ad included that.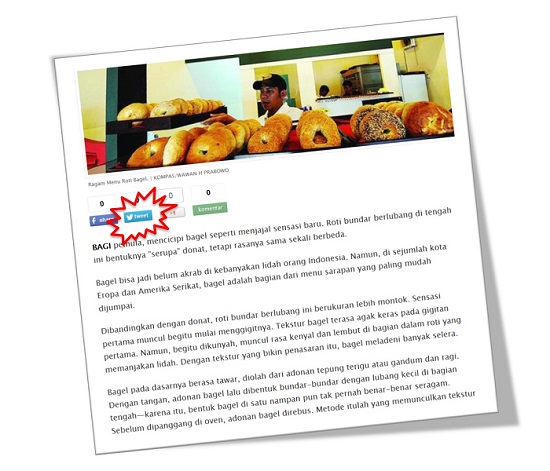 For multilingual SEO for global markets, you have to really understand the locale. That means its languages, the buyer demographics, local social media behavior, and the market's favorite platforms. Only then can you determine whether your off-page SEO strategies will deliver greater sales of your products and services.
{{cta('25adeeda-1d79-4b90-abb3-cd2523b019c6′)}}
{{cta('1a665564-4c54-4b91-ba3f-1e4cdc7a3224')}}
Comments