WhatsApp: Key Facts on Acquisition and Localization (Global Mobile)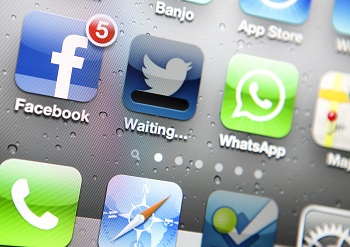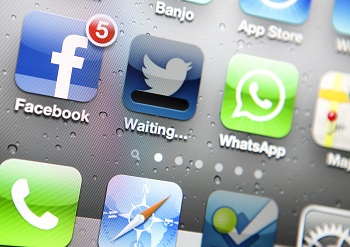 Facebook, the global social media behemoth, rocked the tech and business spheres with news that it had laid down a record $19 billion USD to acquire WhatsApp, a giant in the mobile messaging space. With both players now joined in their pursuit of the world's mobile marketplaces, it's time for a quick roundup on WhatsApp — what it is, what it offers, why it is essential for Facebook's global market strategy, and how they went about localizing their app into 35 languages.
WhatsApp at a glance
Founded: 2009 by Jan Koum and Brian Acton
Headquarters: Mountain View, California
Description: IP-based mobile messaging for Apple iOS, Android, Windows Phone, BlackBerry, and Nokia phones
Features: ad-free, paid app (after 12 months); text and voice messaging; photo and video sharing
App languages: 35, crowdsourced translations via http://translate.whatsapp.com/
Employees: 55
Users/capacity: 450 million monthly active users worldwide; 50 billion messages daily
Largest markets: Mexico, Germany, India, and Spain (30 million active users in each market)
Global competitors: WeChat (China), Line (South Korea), Viber (Israel/Japan)
Facebook acquisition price: Facebook shares worth about $12bn, and $4bn in cash upfront, and $3 billion in restricted stock units vesting over four years

Media commentary
"WhatsApp's growth has been explosive. The company, founded in 2009, says that about a fifth of its users, or 100 million of its 450 million subscribers, have joined in the last four months. More than 55 percent of its users are from Western Europe, Mexico, India, Brazil and the United States, according to App Annie." – New York Times, Facebook Looks to Become Big Fish in Another Big Pond
"With 450 million monthly users and a million more signing up each day, WhatsApp was just too far ahead in the international mobile messaging race for Facebook to catch up, as you can see in the chart above that we made last year. Facebook either had to surrender the linchpin to mobile social networking abroad, or pony up and acquire WhatsApp before it got any bigger. It chose the latter." – Tech Crunch, Why Facebook Dropped $19B On WhatsApp: Reach Into Europe, Emerging Markets
"The social messaging market is growing rapidly, with messaging volumes expected to reach 69 trillion with subscribers growing to 1.8 billion by the end of 2014, according to Ovum forecasts. An immediate benefit to Facebook in the WhatsApp acquisition is that it has enabled two strong social messaging players to be on the same team. WhatsApp is a force to be reckoned with. It has over 450 million monthly active users worldwide and over 320 million daily active users. It claims to be adding 1 million new registered accounts per day." – Ovum, Analyst View: Facebook acquires WhatsApp
"Instant-messaging service operators that compete with WhatsApp Inc. fell in Asia trading today after Facebook Inc. (FB) said it would pay as much as $19 billion for the startup. Tencent Holdings Ltd. (700), the Shenzhen, China-based owner of WeChat, declined 3.1 percent in Hong Kong trading. Naver Corp., the owner of Line, slumped 8.1 percent in Seoul for its biggest decline since December 2011. Rakuten Inc. (4755), which last week paid $900 million for messaging app Viber, fell 4.8 percent in Tokyo." – Bloomberg, WhatsApp's Asia Competitors Drop After Facebook Deal
"Facebook needed to purchase WhatsApp if the company didn't want to abandon any hope of achieving a strong mobile presence overseas. WhatsApp was already too well adopted before Messenger became a decent enough app to act as a real contender. And Facebook stepping in for the buy keeps the acquisition out of Google's (NASDAQ: GOOG) hands, which also helps keep Gmail's line below Facebook Messenger on that chart at the top of the page." – Motley Fool, WhatsApp In It For Facebook?
It's all about the numbers
WhatsApp has managed to achieve a massive scale, with its 450 million users, and has become a top-selling app on iPhone, Android and BlackBerry in many markets worldwide. And even better, without virtually any money spent on promotion or advertising. Some 70 percent of users — over 320 million — send messages on WhatsApp every day and they share 500m photos a day — an engagement rate even higher than Facebook's.
Check out this chart, which shows WhatsApp's rank on the Apple App Store around the world as of February 19, 2014, according to apptweak.com.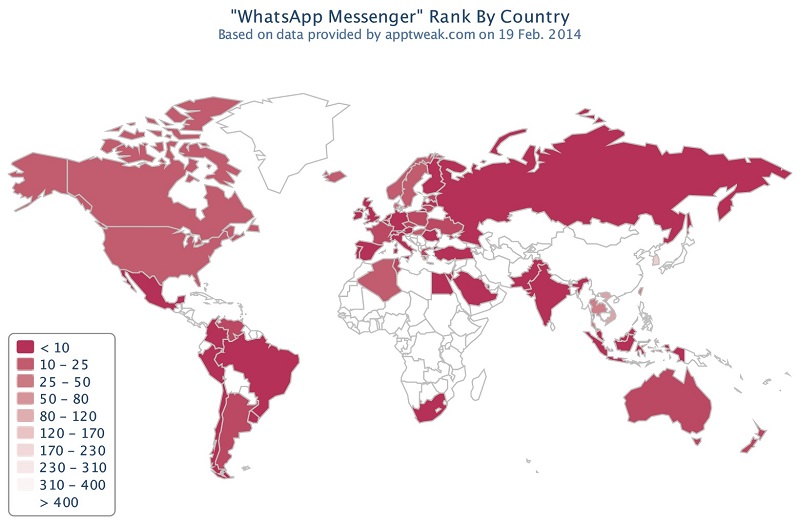 This is the age of land grab for customers, and by acquiring WhatsApp and its 450 million users, Facebook extends its current base of 1.23 billion users (minus the overlap). And this complements Facebook's other recent acquisition, the photo-sharing app Instagram, as well as its recently launched app, Paper, for showing off the Facebook news feed. With these three — plus Facebook Messenger — Facebook is firmly embedded in the mobile phone home screen.
But this is equally about getting established in the developing world, where much of the next "billion mobile users" will come from, and where WhatsApp has been strong, and more popular than Facebook's Messenger.
…and the wisdom of the crowd
Language, of course, is the core enabler behind the global success of these apps. WhatsApp is currently available in 35+ languages, depending on the platform. This compares well with Facebook Messenger's 28, Viber's 34, WeChat's 19, or Line's 16 (Source: Apple App Store).
WhatsApp has arrived at this level of localization using a crowdsourced model, making it very easy for everyone to register and contribute:
The environment for localizing the app's interface for individual platforms, as well as their website, is very simple. It allows anyone to translate any string, to view existing translations, and to vote on the best translations. WhatsApp's developers provide useful comments on the strings, and also show application screenshots for translators to see translations in context.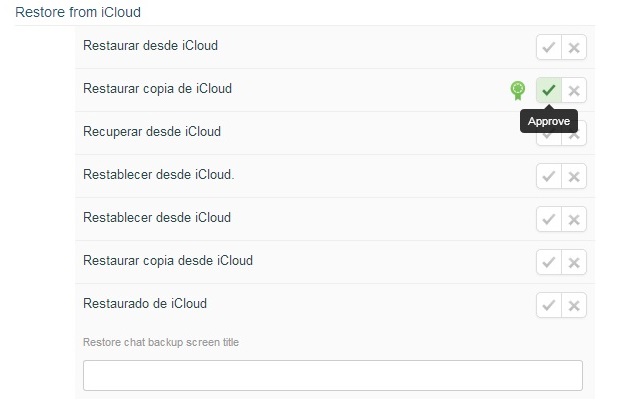 This is a pure crowdsourced translation model, made possible by the app's mass of worldwide users, its popularity, the natural incentive to support an app that is free or almost free, and the app UI's very small word count. The translation environment as such is currently set up for 67 languages, so we should soon see WhatsApp available in many more languages, and on more platforms.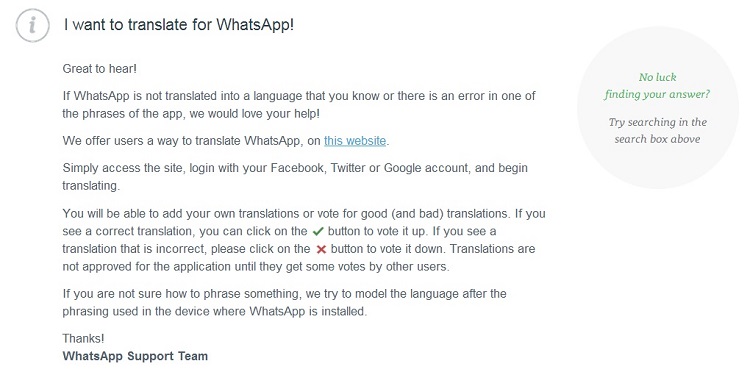 Next we take…. Barcelona
Facebook and WhatsApp are set to be some of the biggest draws at next week's Mobile World Congress in Barcelona, with both Facebook's Mark Zuckerberg and WhatsApp's Jan Koum holding their keynote sessions. We'll be in Barcelona as well (but no, we don't deliver any keynote), so if you plan on attending Mobile World Congress, this is certainly one topic we can discuss there.
In the meantime, have your own thoughts to share on the impact of the WhatsApp acquisition on multilingual mobile? Share it in the comments!
{{cta('99bd8eec-5e28-44e5-9c6c-2eedf10224ec')}}
{{cta('1a665564-4c54-4b91-ba3f-1e4cdc7a3224')}}