Translation Tech Roundup, March 2014 Edition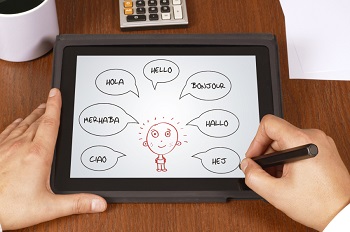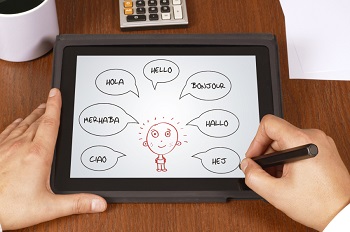 Facebook's grab of WhatsApp was really the hottest tech news of the month for those mindful of the role that mobile development is having on multilingual communication. Click here to read our write up on the details and its impact on the language industry. But there's more to multilingual tech developments than Facebook. Google's back, of course, with more additions to its own multilingual tools. Microsoft makes sure there's no Bing left behind. Then there's nation-specific initiatives making the language tech news.
It's all below, so jump on in!

Google Translate App Extends Handwriting
Makeuseof.com: "Google Translate now supports seven new languages, bringing the total to 80. You can see the complete list on the Google Translate App Store page. As usual, you can get your translations in audio, star favorite translations for quick offline access, and also check dictionary results for words. Handwriting input comes to Arabic, Esperanto, Gujarati, Hebrew, Javanese, Maltese, Maori, Marathi, Persian, Punjabi, Telugu, and Zulu. Handwriting recognition arrived on Google Translate last year in September, and this is the first incremental improvement to the feature." – Google Translate 2.1 Shows Up With Native iOS 7 Keyboard & More Language Support
Bing Lets Users Picture This
WinBeta.org: "Bing Translator app has been bumped to version 2.9.0.0 and features the addition of a wide live tile, camera translation for Czech, Greek, Hungarian, Polish and Turkish, as well as offline translation for Polish and Turkish, and online translation for Maltese and Welsh." – Microsoft's Bing News and Translator apps for Windows Phone 8 receive new updates
Speak South African
Enca.com: "One of the reasons for coming up with Aweza was: what are the socio-economic impacts of having 11 official South African languages to a country, how does that affect us in situations such as hospitals, or on the streets, or any sort of situation, really. And what can we do to change that, to aid the situation, to improve things?" said Speak Mobile's chief technical officer Glenn Stein. – Multilingual app sets tongues wagging
Google Android Hosts Indian Languages Hackathon
Ndtv.com: "The aim is to promote regional languages and develop applications for Internet users who communicate and understand only their native language with a view to encouraging more users to come online, Google said in a statement. 'The next 300 million Internet users in India won't use English. That's why we're working on enabling the Internet in Indian languages, which is the key to driving growth,' Google India Managing Director Rajan Anandan said." – Bangalore: Google to host hackathon to promote Indian language apps
Facebook Rocks Paper
TechCrunch.com: "Users can also now 'Create stories in languages that use multi-stage input, including Chinese, Japanese and Korean.' For now, Paper is only available in the United States, but these options could make the app more appealing to residents who speak those languages." – Facebook Paper Update Pushes Virality By Sending Download Links With Articles You Privately Share
Machine Translation Coming to Firefox
Ghacks.net: "The Firefox web browser does not have that [translate this page] feature. Add-ons are available for the browser that you can use instead, such as Google Translator for Firefox, but most are not as comfortable to use as Chrome's native implementation. That's one of the reasons why Intellego is currently being developed, a machine translation project that the developers assigned to the project plan to integrate into the Firefox web browser, and make available to third-parties in form of an open API." – Mozilla's Intellego to power machine translation in Firefox and L10n:MozillaMT
India Localizes Its Own Wikipedia
Zdnet.com: "The Indian government has rolled out an online information guide called Vikaspedia, inspired by Wikipedia, focusing on localized data and in local languages, according to PTI. … For a start, the portal can be accessed in five languages including English and has information on health, agriculture, education, social welfare, energy and e-governance. Its scope will gradually be expanded and will eventually be accessible in all 22 official Indian languages." – India launches own Wikipedia in local languages
Comments