Motivational Monday: The Art of Translating What Needs No Translation
Last year, an article started circulating among translation and language circles about words that defy simple English translation. It included words like the German term schadenfreude, an idea that enjoys so much play in U.S. news reporting that it stands tall, untranslatable, on its own two feet.
A picture is worth a thousand words, as the saying goes. So New Zealand-based graphic designer Anjana Iyer set out to visually translate the untranslatable. Anjana's "Found in Translation" graphic design series is a bold and color-rich statement on the linguistic riches of our world. Although largely completed in 2013, the series recently won the attention of the Huffington Post, where the article on her work garnered more than 20,000 Facebook likes and more than 6,000 shares and drew more than 31,000 visits to her profile on graphic design portal Behance.
For today's Motivational Monday, I invited Anjana to talk about the series and being catapulted into the hands of so many language lovers worldwide.
Q: First, tell us a little about you!
Anjana: I am a multidisciplinary designer representing the spirit of Mumbai in Auckland City, New Zealand. I am currently interning as a junior designer at UGP Design. My specialties include graphic design, branding, front-end web design, and Flash animation. When I am not designing, I am either cooking or being a complete foodie. I am also an avid traveler and a polyglot.
Q: What is the 100 Days Project all about and why did you participate?
Anjana: The 100 Days Project is basically choosing one creative exercise, and then repeating it every day for 100 days. It was started 3 years ago by Emma Rogan, who is quite a renowned senior designer in New Zealand. I came across this through one of the creative meetups happening in Auckland every week, and I decided to participate to improve my illustration skills.
I wanted my 100 Days Project to be something compelling enough to do every single day. I have had a fascination with learning new languages for the longest time and I just happen to come across this article about fourteen words with no English equivalent on the Week. It was pretty much putting two and two together after that.
Secondly, when I first came across these words, I could think of one friend or another when it came to certain words. For example, the Yiddish word Shlimazl (which means a chronically unlucky person), reminded me of a classmate who had the worst luck with our professors. And so I picked words which we could all relate to in one way or another and maybe share a laugh or two.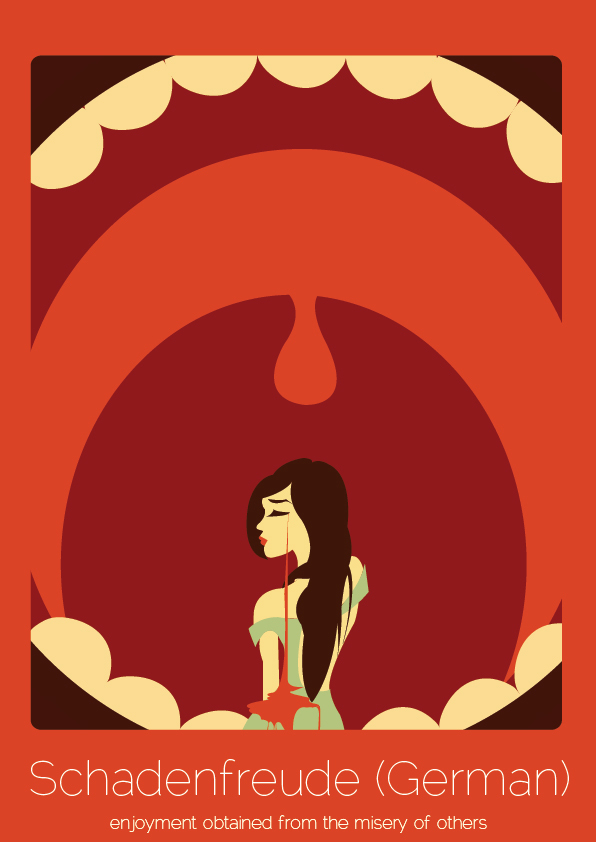 Q: What do you want the viewers to understand about you, as a designer and as a polyglot, from this project?
Anjana: I am very inspired by nature and folklore. In this modern world, where folklore is fading away for 15 seconds of fame, I want my design to bring back the old and integrate with the new. I think I want to bring back as much of folklore as I can. There are such beautiful stories hidden away in Scandinavian, Indian, and Nordic folklores. These stories teach you so much about life and being united as people.
As for languages, my Indian heritage made it mandatory for me to know at least four languages. It made me curious to learn more. I think languages are so much fun to learn. Each language has its own quirks, and it really lets us into what each culture is like — what their stories are, what makes them tick, what makes them happy.
Q: After Microsoft's demo, the translation industry is abuzz with talk about real-time voice translation. What do you think yourself about the potential of machine translation? Help, hindrance, both?
Anjana: I see that there are a lot of advantages to having machine translation, but I don't really know much about it. At the end of the day, I would not want it to take over the need for human interaction to conduct translations.
Q: In the course of publishing your work, what discoveries — shocking, interesting, exhilarating, saddening, or maddening — did you make about translation or the role of graphic imagery in language?
Anjana: It's been an exhausting and creatively satisfying process. Some days are very forgiving when the idea happens at the right time and you are able to execute everything in time. But there are other days when creative block strikes and things don't necessarily look peachy. If anything, this project has reassured my faith in pursuing illustration and design as a career.
Q: What's next for this project and for you?
Anjana: I am really passionate about illustration. I want my design to be a medium for me to connect with my viewers, which is why, now that I have restarted the project, I have been actively seeking word suggestions from my viewers using Twitter.
But I am still trying to decide what I would be doing this year. And a part of me really wants to try my hand at an artistic collaboration with creatives from different industries, so fingers crossed. Besides that, I graduate next week with a diploma in web design and media studies so I am actively seeking a full-time role.
Are you a language lover with your own terms to share with Anjana? Do so in the comments!