Three Lessons of LinkedIn's Approach to China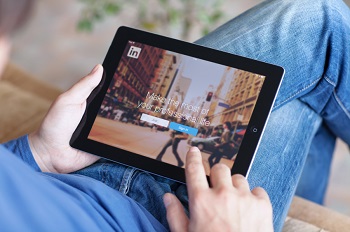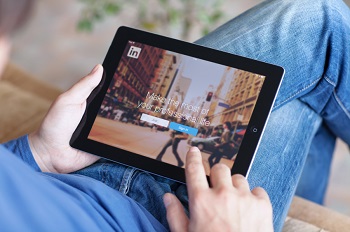 Just last week, LinkedIn announced the availability of its site in Traditional Chinese. This follows the much-publicized February release of its China-specific site in Simplified Chinese, Lingying.com — making the professional networking platform available in 23 languages in total, 8 of which are Asian.
LinkedIn clearly believes the investment in translation/localization is money well spent to secure global market share in the race to own social media's professional users. What lessons can we learn from LinkedIn's focus on China?
Place your money on multilingual.
The NSA-rocked U.S. is not the only country struggling with the dual impacts of privacy and censorship in the social media space. China's policies have long shut out giants like YouTube, Facebook, and Twitter, a factor that has been a boon to domestic players like Sina Weibo and Baidu. China's microblogging giant Sina Weibo has more than 500 million registered users; search engine Baidu is also number one in the market. Market exclusivity has assured their explosive growth, but it has come at a considerable price: namely, a largely monocultural and monolingual user base.
LinkedIn's multicultural and multilingual approach has already proven itself. As reported by TechNode, since its formal launch in February LinkedIn has reportedly drawn in 1 million additional users, raising the in-country total to over 5 million. Many of them are managers (42 percent), living in China's first tier cities (60 percent), and, significantly, working in international businesses (34 percent).
That select profile is not lost on investors. While the company's 5 million users is dwarfed by those of major domestically grown competitor Zhaopin (77 million), LinkedIn China is enjoying the buzz that it is a premiere portal for Chinese nationals who are multilingual and experienced in multinational workforces. According to Ad Age, a research note from BMO Capital Markets "which predicted a 'formal launch' in China in 2014, caused LinkedIn's share price to jump a few percentage points."
Localize your approach.
Facing the China-based incumbents, LinkedIn has adopted a smart approach that combines the best of its global leverage with China-specific strategies. Compare, for instance, the Simplified Chinese home page (still in Beta):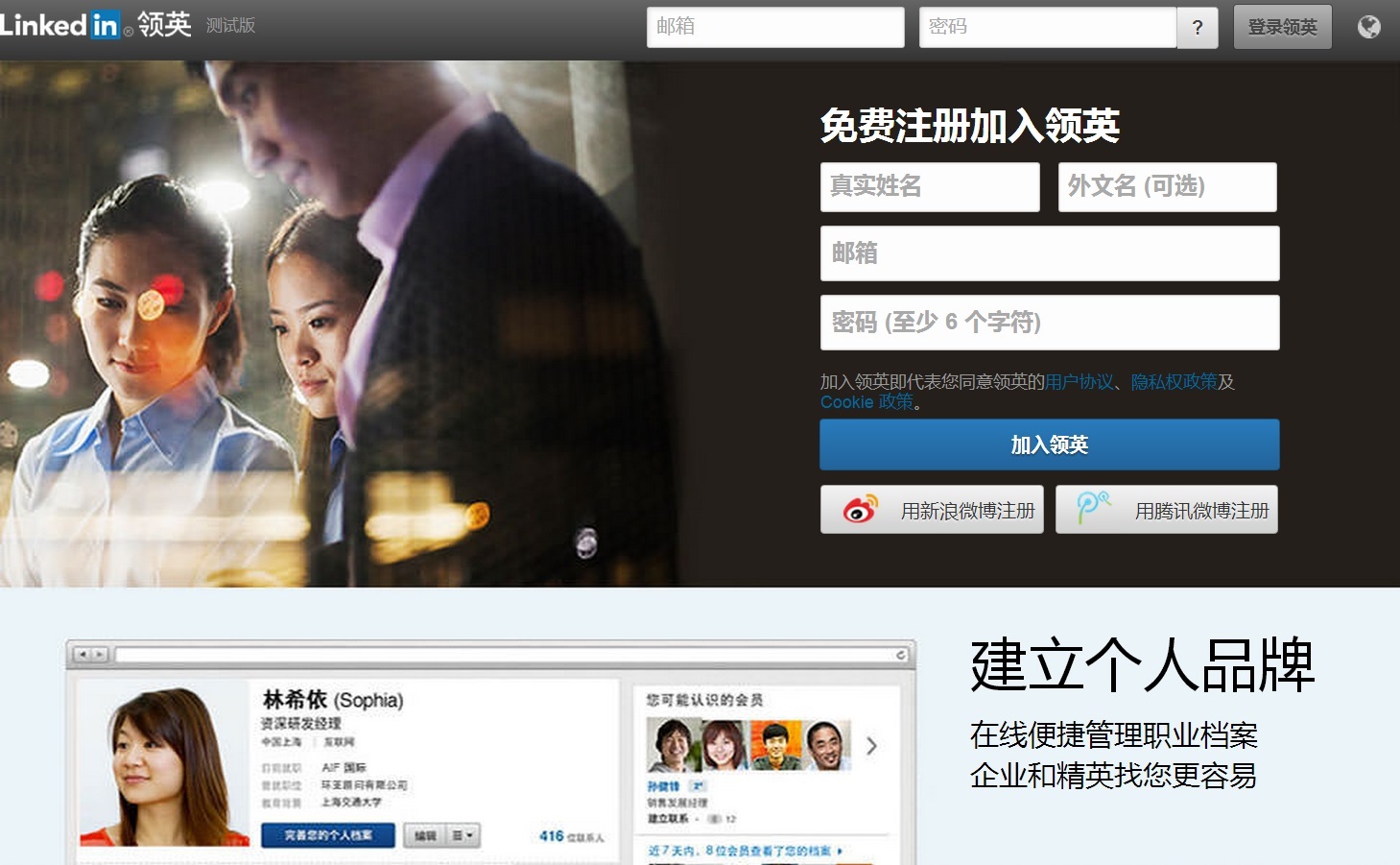 It contains China-specific imagery, rather than the international images used in other locales. LinkedIn has also implemented APIs that allow for working with local providers. In this case, notice the integration with Weibo and QQ, allowing users to share content and invite friends to LinkedIn. At the moment, advertisers can target their campaigns (ads and sponsored updates) for China, but not yet in the Chinese language.
Don't go it alone.
As PandoDaily noted in a 2012 piece on LinkedIn's earliest explorations of the Chinese market, the company is up against some very significant challenges, some due in part to the stark differences between the U.S. and Chinese labor markets. No small part of that is that Chinese business professionals emerged from the economic reforms of the 1980s, far later than their Western counterparts. Human resources professionals, therefore, are also new to the playing field and not especially Internet-savvy, noted Dominic Penaloza, the founder and CEO of LinkedIn China rival Ushi.com. He was frank about LinkedIn China's chances too.
"So far no foreign-headquartered Internet company has ever become number one in its space in China," said Penaloza to PandoDaily. "So LinkedIn will clearly have a shot at it, but if they do they'll be the first in Chinese history to become number one in their segment."
That LinkedIn China sought out and secured local partnerships is then, perhaps, no minor matter in its rapid growth. The company has joint-venture partners Sequoia China and CNC. And it recruited Derek Shen, who served as the head of business development in China for Google and was the founder and CEO of Groupon-like site Nuomi, to serve as LinkedIn China's president.
Take too, for example, LinkedIn China's ties to well-known mobile chat brand, WeChat, the leading "WhatsApp equivalent" in the Chinese market. Like WeChat, LinkedIn is positioning itself as a local essential, especially on mobile phones which, according to the China Internet Network Information Center, bring 500 million Chinese to the Web.
Shen is clear that the goal is to change the way that Chinese professionals find and apply for jobs, whether domestically or abroad — with LinkedIn at the center of their strategy and with local partners helping to carve the way.
With new reports that Facebook is again exploring a stronger presence in China, it's clear that LinkedIn and other social media's giants are willing to navigate China's hurdles for what is ultimately at stake: an exploding market of Chinese Web users that increasingly believe in its promise of an effectively networked world. At least some part of the "how" is, to quote Sherlock, elementary.
Or is it? Let's here from you in the comments.
{{cta('1a665564-4c54-4b91-ba3f-1e4cdc7a3224')}}