3 Absolutely Absurd "Truths" About Viral Content Marketing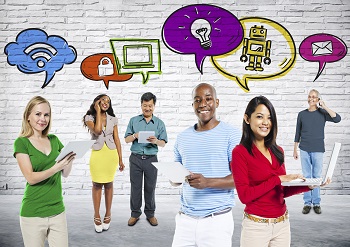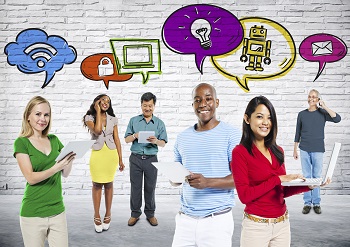 In the wake of the social media revolution, the pace of content publishing has gone from daily to minute-by-minute. By the time the first on-the-ground news has been tweeted from the likes of a Ferguson, a Cairo, or a Kabul, the rest of the formal news publishing world is playing catch up.
The same is true in a dynamic business sector, especially in fields like IT and telecommunications where news of the latest product version — this year's hottest fill-in-the-blank commercial product — will determine this quarter's brand revenues.
So let's say that you don't yet represent one of the big brands in your industry but you want to make a splash with a viral marketing campaign that's uniquely your own. Maybe something with the homespun pull of Will It Blend? But with the comeback-kid kick of Old Spice's The Man Your Man Could Smell Like campaign. But for text, right, because you believe you've got to keep your budget small and you haven't yet read our tips on low-cost video marketing creation.
There's a lot of information out there about what works and what doesn't. And, frankly, most of it is, well, more myth than truth.
Quality Matters … Sort of
The first "truth" of content marketing is that the content that you produce for your brand should be reliably well-written, more than anything else. But, seriously, who believes that the rise of brand stars on, say, Twitter or Facebook, is just the result of the writing quality? Think BuzzFeed lists. Think content curation. Think top 10 lists, "You wouldn't believe what happened next" videos, and practically any controversial article on dieting. Then ask yourself that question again.
In the earliest days of search engine optimization, for example, some online marketing agencies were set on gaming the search engines through so-called black hat techniques. Those days of keyword stuffing are firmly behind us — killed off by changes in Google's algorithm and a maturing search engine sector focused on satisfying search ad buyers. Nevertheless, the whole drive behind search engine marketing is still focused on creating content that people want rather than on some vague and moving target term like quality.
We are still writing for how users actually search and how they share. And while what they share will change from sector to sector, most brands are aware that the pace of content marketing means more and faster rather than fewer and of triple-checked quality.
Facts Matter … Sort of
The second "truth" of content marketing is that reliable, verifiable data matters to telling the best story. Uh huh.
According to Wikipedia, Thomas Jefferson, an early president of the United States predicted the rise of the Internet. In a 1798 speech before fellow representatives of the relatively new U.S. government, Jefferson said "The day will come when a well-networked web of citizens working in concert with modern tools will achieve liberty and justice for all."
Just kidding. I made that all up, from the Wikipedia reference forward. And that's the problem with much of the data distributed in a competitive publishing environment: far too much of it is mis-attributed, made up, or taken out of context to satisfy a specific goal.
Moreover, this "data" is made all the more viral by the addition of photos, videos, charts, and other visual eye-candy meant more to encourage sharing than questions. The rise of infographics in the business sector especially shows both the attraction and the danger of visualized data sharing. While popular U.S. sites like Snopes.com and FactCheck.org are focused exclusively on debunking viral information, even journals like the Guardian feel compelled to comment. (To wit, check out their 16 Useless Infographics collection for the best of "what not to do" when you're considering publishing your own.)
Authority Matters … Sort of
The third "truth" of content marketing is that authority — as represented by a major brand, by a industry leader, or a well-established institution — carries more weight than those without authority. Oh if only that were true!
In November of 2012, The Atlantic, a well-known American magazine that has published for more than 150 years, went so far as to share a piece on LinkedIn entitled "Viral Debunking: A How-To." What they revealed was how they went about establishing their attempts to combat the false viral image content spreading on the effects of and responses to Hurricane Sandy on the eastern seaboard of the United States, and how they, in the process, established their authority as a source of "real" news.
Recognize here this: a well-established journal of note had to establish its authority for real news by countering the "authority" created by fake news images.
What a world.
Thankfully, The Atlantic was rewarded for its efforts with some 23,000 shares on Facebook, an additional 23,000 likes, and tweets and shares on the likes of Google+, LinkedIn, and more.
So What Really Matters?
Does high-quality, fact-based content from well-established brands still carry weight? Of course. But the fevered pace of content marketing for most market players really calls for different truths than those above.
Not highbrow quality content but relevant content that your brand consumers can use
Not raw facts but well-presented data that makes your brand's information easier to comprehend and share
Not established authority but your unique authoritative voice on the issues that matter to your brand's consumers
Have your own tips to share? Add them to the comments.
{{cta('656454be-1ce7-4342-b10b-18e651b08bcb')}}