5 Reasons We Love WordPress and Why Any Language Lover Should
WordPress, the superstar web content management system behind 20 percent of today's web sites, has been published in version 4.0, nicknamed "Benny" for jazz great Benny Goodman. The latest release, led by Helen Hou-Sandí and backed by 275 contributors worldwide, includes among its newest features a simple language selector at installation, foregoing the previous need to manually upload installation files.
WordPress developers and users worldwide have long relied upon the multilingual features of this open source CMS. Although its display default is in U.S. English, the core application offers complete localization in 43 languages — from Arabic to Ukrainian — and the team behind the software has a transparent commitment to complete localization in many more languages.
In addition, WordPress enjoys a strong developer community that regularly releases free and commercial plugins and themes — WordPress-speak for code extensions and design overlays — and organizes user conferences (or WordCamps) in their native languages. Because of this and WordPress's multisite option, many developers have created robust, multilingual and multi-locale web sites.
Below are five examples that show the multilingual power of WordPress and why it's beloved the whole world over.
1. a-ha (Norway)
If you grew up listening to music in the 1980s, you probably did not escape the clutches of "Hunting High and Low," the 1985 debut album of Norwegian band a-ha. (If just by reading that line "Take on Me" and "The Sun Always Shines on TV" started playing in your head, we do hope you forgive us for the ear worms.)
The band enjoyed meteoric success that year and — with some 9 albums and $50 million in sales — the love of fans worldwide for years. Although the band formally disbanded (no pun intended) in 2010 after one last tour around the world, fans continue to flock like seagulls (pun intended) to the band's web site. a-ha's WordPress site features a news blog that is published in 9 languages
Site: http://a-ha.com/news/
Why we love it:
The artists may have disbanded but even as solo musicians they are still working hard at the craft, as recent news on solo gigs, special albums, and fan conventions shows.

Some of us remember the 80s as more than "hits from yesterday."
2. Global Voices (Netherlands)
Well before the late 1990s, when the term "blog" was being born, the concept of citizen journalism — the idea that common citizens could themselves report on the news of the day — was solidly fixed in the public's consciousness. Nevertheless, because blogging tools were becoming popular just as large-scale financial protests were springing up around the globe, blog CMS tools quickly became the foundation of a number of citizen-driven sites for alternative news coverage.
Global Voices was founded in 2005 by Harvard University fellows and journalists Rebecca MacKinnon and Ethan Zuckerman. Although the concept for the site started with an international bloggers' meeting, the project has grown from a simple blog to a full-blown multilingual news site. Backed by WordPress and 500 volunteer translators from around the world, the site publishes curated international news content in 30 languages daily.
Site: http://globalvoicesonline.org/
Why we love it:
We support Translators without Borders so, no surprise, we love actually seeing translators at work on world-defining initiatives.

News in 30 languages. Daily. Nuff said.
3. Sweden.se (Sweden)
Thanks to furniture retailer Ikea, author Stieg Larsson, the music of Abba, and hunky vampire actor Alexander Skarsgård, Sweden has won hearts and minds (and cash) the whole world over. So color us delighted to see the gorgeous fact-laden site Sweden.se.
The WordPress site is publicly funded by Business Sweden, VisitSweden, the Swedish Institute, and the Swedish Government Offices, including the Ministry for Foreign Affairs and the Ministry of Enterprise, Energy and Communications. Its mission is to help site visitors discover facts about the country, as told through stories, videos, infographics, and more. Although the site is in English, you can click the "other languages" menu item for fact-based PDFs in 7 languages. They also publish an Arabic-language WordPress site, a testament to the application's ability to easily handle right-to-left languages.
Site: https://sweden.se/
Why we love it:
Did you know that the average Swede only works 1,644 hours per year? Or that 1,836,000 meatballs are eaten at Ikea each year? We didn't either.

Alexander Skarsgård is mentioned on the film facts page. (Yes, we looked. We're weak.)
4. Black Box Music (Germany)
Berlin enjoys a lot of press, perhaps befitting the capital of the largest economy in Europe. Still, media coverage on Germany-U.S. ties appear to be at an all-time high. Sure, there's that whole NSA matter to account for. But there's also been the reports on its tech startup scene, the curious incident of the white flags on the Brooklyn Bridge (Ist das Kunst oder kann das weg?), and the rumors of the demise of its world-renowned club scene (which we'll simply not dignify with comment).
Club scene opinions aside, Berlin's music scene is undeniably intertwined with the city's character. There are poor and struggling musicians to thank, for sure, but also an infrastructure that can handle the world's biggest talents. To wit, Black Box Music, a company that provides technical support to stage acts like Rammstein, Linkin Park, Cher, and 50 Cent as well as for corporate events for the likes of Coca-Cola, Volkswagen, and Joop!
As a recent German newspaper interview with founder Thio Goos shows, the Ossi's company certainly enjoys contracts with American artists. The company's bilingual German/English WordPress corporate site shows that the web CMS is capable of delivering far more than its blog beginnings could have imagined.
Site: http://www.black-box-music.de/
Why we love it:
Gorgeous implementation of WordPress shows off both design and power of the CMS.

Behind the musicians are the technicians making it happen. Same with translation. Always nice to have a reminder.
5. Frédérique Constant (Switzerland)
With last week's announcement of the Apple Watch came plenty of commentary on the impact it would have on the accessible/mass luxury segment of the wristwatch market. Yes, there were reports of wristwatch companies suffering a stumble on the stock market, but we couldn't put down the Apple Watch analysis written by horologist and Hodinkee executive editor Benjamin Clymer. (Tl;dr: Apple got a lot right, even better than dedicated horologists, but true enthusiasts aren't likely to be persuaded. HT Gizmodo.) Of course, we were curious about what Apple might be up against.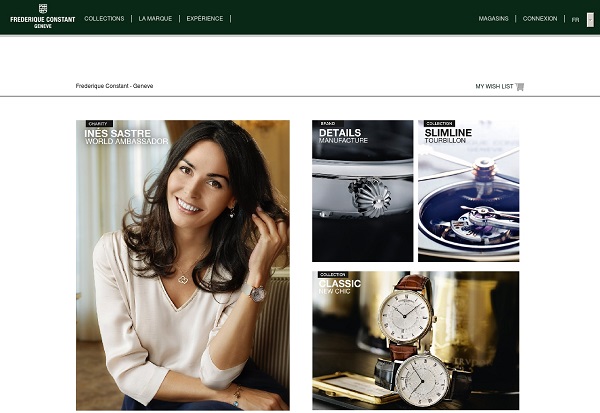 Founded in 1988, Geneva-based Frédérique Constant could be considered another upstart in this segment, except that the brand has already established itself as among the best. Its WordPress web site, while featuring gorgeous, full-screen pictures of its collection, also reveals the challenge of website localization. Which languages should you target? How do you configure headers, copy, and images to create a flawless experience for foreign-language visitors? How do you also structure meta information so that foreign search users can discover your products?
Site: http://www.frederique-constant.com/
What we love:
A new Swiss watch brand goes for the market's gold proving again "no guts, no glory."

Let's fact it, bold and beautiful product pictures speak luxury in any language.
WordPress already backs 20 percent of the world's web sites but there's no signs of it slowing down. It's got a solid hold of about 70 percent of the web CMS user space and there are plans for it to take advantage of the mobile revolution, at least according to Matt Mullenweg — who co-created WordPress with Mike Little and who is now the CEO of Automattic, the company that continues to guide its development.
Whether on via your browser or your phone, expect to see more of WordPress in a little corner of the World Wide Web near you.
{{cta('1a665564-4c54-4b91-ba3f-1e4cdc7a3224')}}