A Visualization of Apple's International Results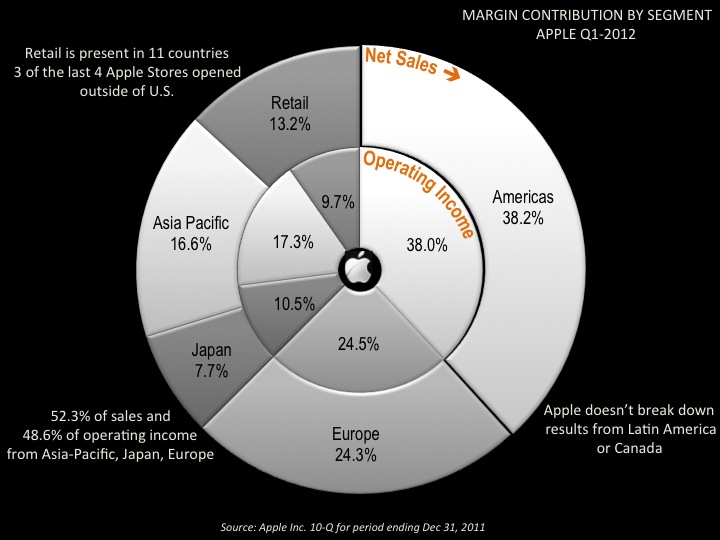 Last week's announcement of Apple Inc.'s record results is still reverberating in the media. As experts and analysts go through the details of the numbers, more fascinating facts of their massive success appear.
As a follow up to our earlier post "Apple Record Revenues Rely on Localization," we have tried to create a visualization of where Apple's profit comes from by segment.
The outer part of the graph below, shows Apple's net sales (revenue) by segment, and the inner part shows their operating income (profit) by segment.
A quick look at the results of the company shows the importance and contribution of international markets to Apple's results. Japan, for example, represented 7.7% of the total revenues for the quarter, while it contributed with 10.5% to the profit margin.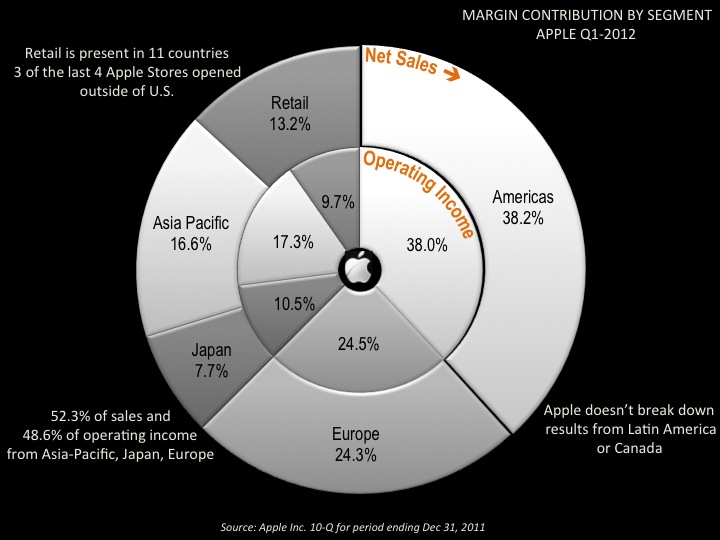 Unfortunately, Apple doesn't report results by country. The Americas segment includes both North and South America. The Europe segment includes European countries, as well as the Middle East and Africa. The Asia-Pacific segment includes Australia and Asian countries, other than Japan. The Retail segment operates Apple retail stores in 11 countries. However, Apple attributed its impressive results primarily to robust sales growth in emerging markets like China, Latin America, Brazil, and the Middle East.
Very impressive numbers, no matter how you look at them!