Fun Facts About St. Patrick's Day
As the holiday's name implies, St. Patrick's Day celebrates Saint Patrick, one of the patron saints of Ireland (there are actually three) and the missionary attributed with bringing Christianity to the Emerald Isle. The date, March 17th, is supposedly when Saint Patrick died (though since it happened way back in 461 AD, no one's really sure).
The holiday now takes on both religious and secular meanings and traditions. It is celebrated by a variety of Christian faiths through church services and lifting restrictions for Lent, such as on fasting and alcohol. Outside of church, it has come to be a celebration of Irish pride and culture. Ironically, celebrating the feast day of Saint Patrick, a Christian bishop, typically involves drinking so much green beer that you start to see leprechauns. But there's a lot more to this holiday, its history and how it's celebrated today. Let's explore the most celebrated national festival in the world.
The man, the myth, the legend
Some say St. Patrick actually wore blue as a bishop, though he's often seen in green to represent Ireland. He's got his bases covered here. [Source]
First, let's talk about Patrick. His birth name was Sucat, and he was actually British. According to Wikipedia, slave traders captured him and forced him to work as a shepherd in Gaelic Ireland. He fled back to Britain where he became a missionary and priest, then later returned to Ireland to preach Christianity to the Celts.
As a bishop, he wore blue, not green; green stuck as the St. Patrick's Day official color more because of Ireland's lush green landscape, tricolor flag and famous shamrocks or clovers. The legend of him banishing all the snakes from Ireland is also just that, a legend; the climate is too cold for them to survive.
And as for clovers, while some say that St. Patrick used them to explain the Holy Trinity (the Christian belief in the Father, the Son and the Holy Spirit) to the masses, there is no evidence of this.
Party like it's 1737
Chicago dyes its river green on this festive holiday [Source]
To further alter your world view about this holiday, the modern-day St. Patrick's Day festivities actually began not in Ireland, but in the US, and not in Boston like many would assume, but in Florida. The first recorded celebration of the holiday dates back to 1600 in the colony town of St. Augustine, with the first parade mentioned one year later. Boston's Irish immigrant communities observed their first St. Patrick's Day in 1737 to retain ties to their heritage.
These days, it's hard not to find St. Patrick's Day celebrations in Ireland, the UK and the US. Dublin and London have plenty of things to do, and practically every town and city in the US becomes Irish for the day through a variety of events including parades, singalongs in the pubs, minty Shamrock Shakes and even sports teams donning themed jerseys.
While it's only an official public holiday in the Republic of Ireland, Northern Ireland, the Canadian province of Newfoundland and Labrador (a day off only for government employees) and Montserrat (which was founded by Irish immigrants in the 1600s), it's gained widespread popularity and is now celebrated around the globe.
Here are a few of the most unique celebrations:
In Moscow, Russia, a military parade is put on jointly by the Moscow government and the Irish embassy.
Chicago, Illinois, in the US, dyes the river green.
The largest celebration in Asia is the St. Patrick's Day Ball in Malaysia.
Among the thousands of community-run parades, the shortest ever took place in an Irish town called Dripsey—it was a mere 23.4-meter (or nearly 77-feet) stagger between the town's two pubs. It ended in 2004 when one of the pubs closed.
Lá Fhéile Pádraig (or, Happy St. Patrick's Day in Irish)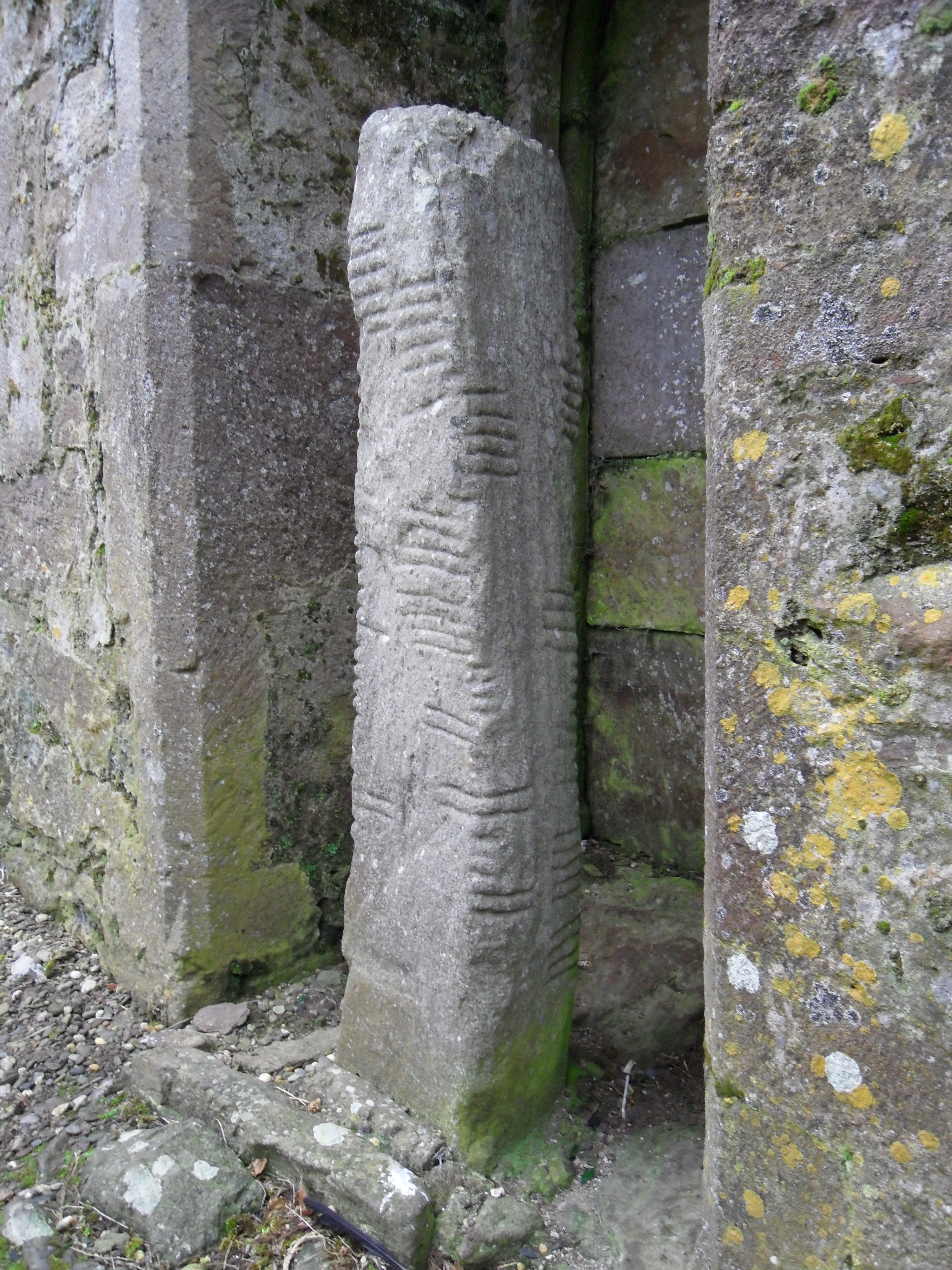 An Ogham stone, depicting a primitive Irish script [Source]
As the popularity of Ireland's largest holiday grew, the Irish began to make more of an effort to promote and highlight their culture and history, including their 16-century-old language, Irish. The public body that oversees promoting Irish, Foras na Gaeilge, now holds an Irish Language Week (or Seachtain na Gaeilge) that actually runs from March 1st through St. Patrick's Day. Events are focused around learning and speaking this native tongue and include coffee socials, discussions, film screenings, quizzes and theater performances.
Irish is definitely making a comeback. In 2001, only 10.4% of the population knew the language; these days, around 41% of the population speaks Irish, according to the festival's website. And while it became an official language of the European Union in 2007, around 10.5% of the Irish-speaking population speak it daily or at least weekly.
Still, it's clear that with the popularity of St. Patrick's Day ever rising both in its country of origin and around the world, more and more people are learning about Irish culture, language, traditions and customs—and that this beautiful island is about much, much more than green beer.
Comments