How to Screen Transcreation and Marketing Translation Specialists
If you think transcreation is the domain of only the trendiest consumer brands, think again: we're seeing a spike in transcreation demand from a number of giants in business-to-business technology and life sciences, let alone consumer sectors like retail and hospitality.
Between the heightened transcreation demand and the evolution of marketing localization in recent years, it's time to share a few insights that should help you identify and source the right talent for your program.
Marketing Translation vs. Transcreation Cheat Sheet
The terms "transcreation" and "marketing translation" were once considered synonymous, but they have evolved to mean two distinct services, as we have covered once or twice in recent years. That said, it's not safe to assume every vendor representative, procurement agent, and global program stakeholder got the memo.
So we offer this handy cheat sheet to help you define terms in sourcing conversations to make sure everyone is talking "apples to apples." Feel free to share it with your translation procurement specialist, your program stakeholders, your branding team, or anyone whose expectations you want to manage during the sourcing process and beyond.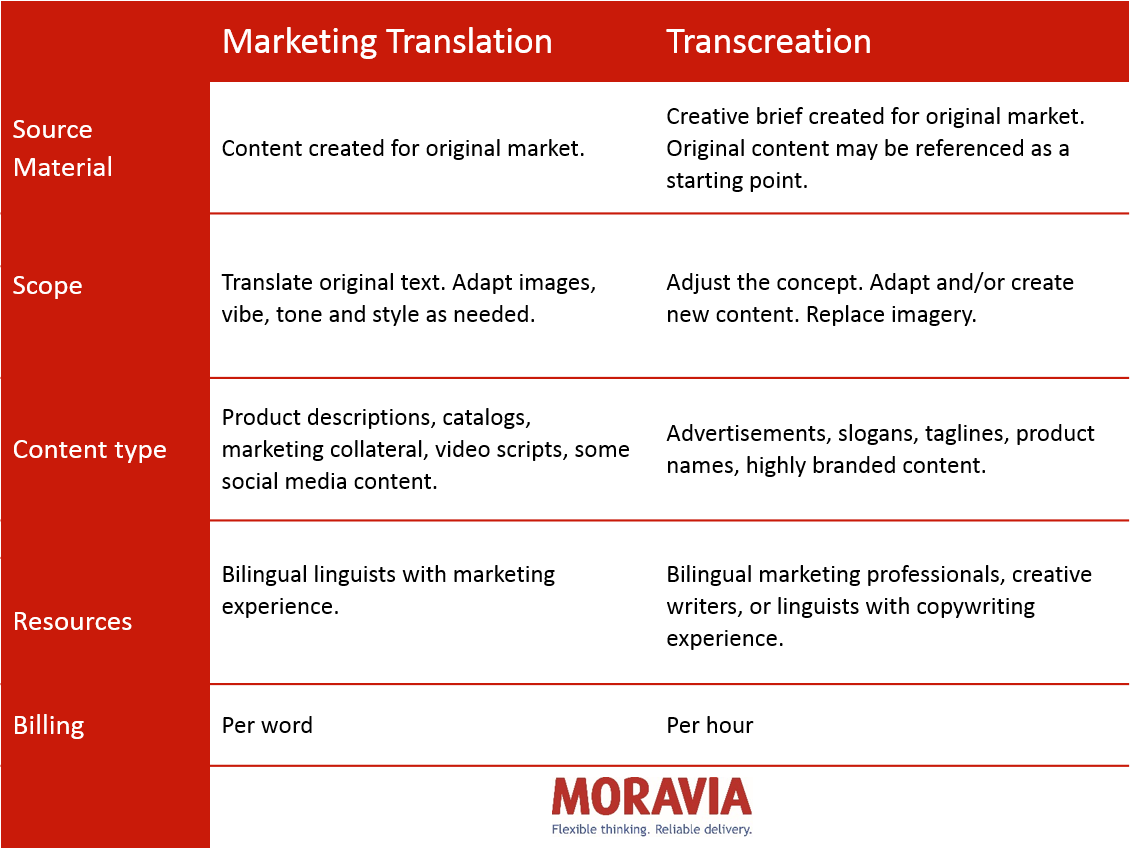 Screening for the Right Talent
As you can see from our cheat sheet, marketing translation starts with professional linguists, where transcreation may use linguists, creative writers, or professional marketers, which are all quite different backgrounds. That said, anyone you hire for marketing translation or transcreation work needs a few core qualities.
Ability to apply stylistic rules
Many localization procurement RFPs include a test translation, but not all supply crucial details on audience, brand voice/tone, or other useful direction commonly found in a style guide. That lack of direction causes two big problems: first, you're missing an opportunity to evaluate how well the team understands and incorporates your direction. Second, the translators or transcreators have to guess what you're looking for. If their assumptions are wrong, test translation results will be skewed, and you won't be evaluating their best work under normal conditions.
Two-way cultural knowledge
Both marketing linguists and transcreators must understand the source culture well enough to identify cultural references — and make the appropriate modifications for the target locale. If you have a campaign that riffs off JFK's famous "Ask not what your country can do for you" quote, include it in your test translation to see whether the team recognizes the reference and how they choose to handle it for the target locale.
Long-term commitment
For both transcreation and marketing translation, resources build up knowledge of your brand and style preferences over time — unless they're unable to commit to your brand long enough to build up knowledge. That's not the sort of thing that shows up in a test translation, so your RFP ought to include a few questions about team retention strategies, attrition rates, and how the vendor handles knowledge transfer.
Screening Transcreators
In the world of localization, it's not uncommon to hand off files to a vendor who completes a "black box" process and hands back finished files. Marketing translators are familiar and comfortable with this process. Their translations stay close to the source material, their linguistic output is often flawless, and when they're done, they're done.
Transcreators expect and require a more iterative process featuring direct communication and feedback with their clients, just as you'd expect in working with a creative ad agency. As a result, your transcreation screening process can't be a carbon copy of your standard test translation process.
Creative range
Depending on your program's mission, you may be looking for a specialist who brings knowledge depth and experience with a particular topic area or content type. Or you may be looking for someone who can adapt across a variety of styles, industries, or target audiences. Make sure you communicate those needs to the vendor, and ask for a portfolio review, since transcreators often keep portfolios of past projects.
Wordsmithing
Expect transcreators to be clever, succinct, and artful in the way they craft a tagline or ad copy — and expect vendors to support transcreators with an additional quality review. Transcreators are not necessarily experts on punctuation and grammar the way marketing linguists are. If your test translations reveal strong creative work but a few language errors, tell your vendor you like the candidate but need stronger linguistic control.
Questions and feedback
Transcreation is inherently iterative. If you supply a test translation and expect transcreators to deliver exactly what you want without that iterative process, you're not actually evaluating transcreation. Structure your test in a way that encourages thoughtful questions from the transcreators. Creative people often have ideas that push boundaries that aren't clearly defined at the beginning of a relationship. If you don't offer a chance to vet ideas, they may play it safe.
Above all, make sure your in-country stakeholders and localization team align to provide clear candidate feedback and direction as part of the screening process. Otherwise, you won't have the opportunity to see how well the candidates adapt their style.
Marketing translation and transcreation are both specialized skills that differ from other types of translation, so your goal should be to cast a spotlight on those skills during vendor selection. Between your RFP questions and your test translation, your screening process needs to assess the skills actually required to serve your brand over time. Be clear on what you're evaluating, and precisely how it applies to your program.
Keep in mind: with transcreation, identifying the right talent is simply the beginning of the process. Buyers must expect to play an active role in the creative process in order to get the desired results.
What are your "lessons learned" and best practices for screening marketing linguists and transcreators?
{{cta('6d6ccf7d-3ca2-4818-ad3c-e731fecf869d')}}