India Gets Serious about Mobile Phone Localization
Recently, the Telecom Regulatory Authority of India (TRAI) came up with a proposal to make Indian language support mandatory on all mobile phones sold in India. TRAI, the independent authority on telephony in India, has said that this proposal will become mandatory six months from now.
It's indeed high time for India to get serious about mobile phone localization. According to research group IDC, it is already one of the fastest-growing smartphone markets in the world, and the second largest overall. India's vast hinterland is smartphone-equipped and hungry for local language content. The communities are cash-rich, and India's e-commerce companies will have to reach out to them in earnest if they want to stay in the game.
TRAI's proposal has two important messages for businesses:
E-commerce companies need to sit up and take notice
For some time now, online retail companies in India have managed to get by with just English or, in some cases, machine-translated Hindi or Tamil. But when the foremost rule maker of the land comes up with a proposal such as this one, it should really be a no-brainer to realize the extent of the demand for local language content. Seriously, if not now, then when?
This is also a good time to note that localization efforts in India should not start with machine translation (MT). MT for Indian languages has still not reached the maturity where it can be used for consumer-facing content. At the very least, it will need post-editing, and even that step seems to be missing from the translation ventures of some e-commerce companies in India.
Also, token translations into just one or two languages like Hindi or Tamil will prove inadequate to serve India's linguistic diversity. A couple of languages are okay to start with, but will seem like half-hearted measures if not expanded on subsequently.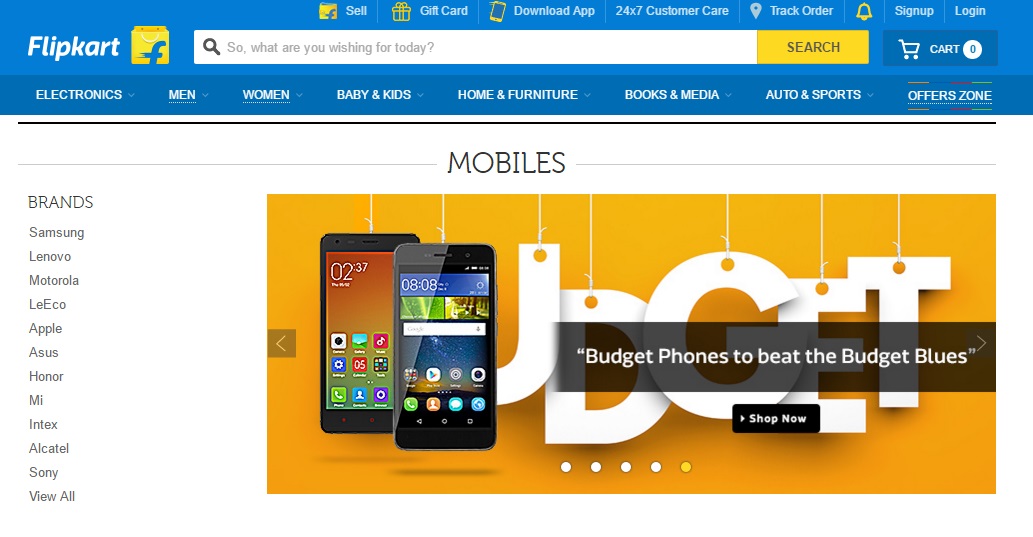 Flipkart, India's largest e-commerce site, is currently available only in English.
More motivation to shift from feature phones to smartphones
India is rapidly switching to smartphones, and local language-friendly mobile phones will only catalyze this move further. Existing feature phones that do not support Indian language fonts will be ditched faster than ever before. More importantly, the increased adoption of smartphones will only mean that more content is going to be consumed — and it better be in-language.
There are also two issues that this proposal raises which will have to be addressed by TRAI:
Third local language: which one is it going to be?
In its statement, TRAI says that devices would be required to support all 22 official languages, but input capability will be mandatory only for three languages: English, Hindi and one local language. It all sounds fine until you consider the highly mobile nature of India's population. Not everyone who lives in the southern state of Karnataka, for instance, may speak Kannada, the official language of that state. Hence, TRAI will have to make sure that people can access phones that provide complete support for the language of their choice, irrespective of where they live in the country.
Tread carefully with standards
While the move to bring in standards is a well-intentioned one, TRAI has to be especially careful here. The reason being that standards already exist for Indian language input, and are already in use in the most prominent mobile operating systems. So, it really does seem that TRAI may be reinventing the wheel on some things.
Support for India's languages on mobile phones is critical in ensuring that every Indian not only has access to the Internet, but that they can also transact online and live a fulfilling digital life. By extension, it's also a precondition for the ongoing growth of the mobile market there.
Comments