Internet Growth in 2016 More Tightly Tied to Translation
This year's Mary Meeker slides are out. I always love going through them to see what macro Internet trends she has uncovered. But there's another interest, too: I delight in discovering how each new driver of Internet growth is inevitably tied to translation. This year was no different, so I list below four ways in which language can impact or has already impacted the macro Internet trends that Meeker has identified.
1. Internet growth is flat. Or not.
Depends which way you're looking.
The Internet is reaching or has reached near-saturation levels in the developed world. But in India, the story is just beginning. With an Internet growth rate of 40% and coverage of less than half of the population, India is set to power the next wave of growth on the web. But this can only happen if more content is translated into Indian languages.
The Internet has already reached everyone it can reach in India through English; the rest are simply beyond English. Do not for a moment assume that all of this population is illiterate or that they cannot afford your products. The fact that they don't speak English or aren't comfortable enough to transact in English doesn't stop them from participating in the offline economy, does it?
2. The future is voice, yes, but in which language?
Meeker rightly identifies voice-enabled services as the next driver of Internet growth. She lists the benefits of voice as being fast, easy, and personalized. There's yet another benefit: voice will also help new netizens traverse the web easier — provided, of course, voice support is available in their language. (And where do you think multilingual voice services are going to come from? (Machine) Translation, indeed.)
Voice will help the new online generation in much the same way as it'll help all of us, but they'll love it more and with good reason. If they speak a language that's somewhat difficult to type on a small screen, voice is their friend. They may also be illiterate or semi-literate, or those who are simply not used to a lot of typing — voice-enabled computing will be a boon for them.
3. Global Internet leaders are those who see translation as a given
In 2013, there were two Chinese companies on Meeker's list of the top 10 web properties.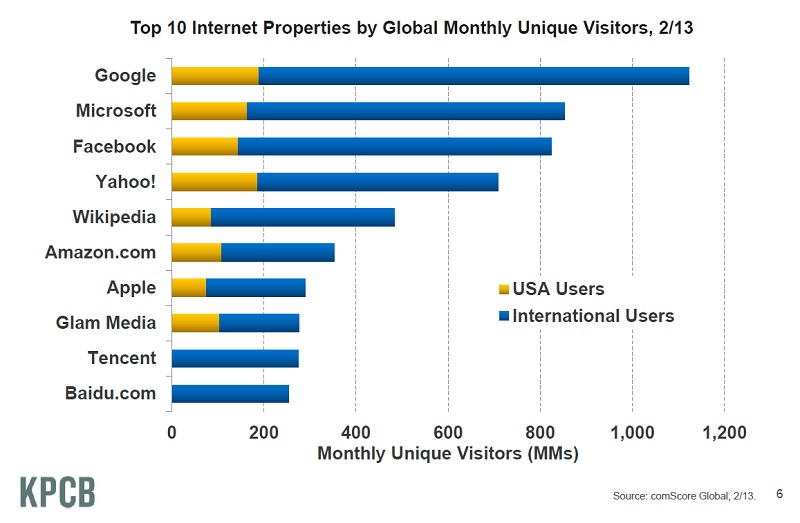 Today, there are four. What hasn't changed, though, is the fact that the user base of American companies has predominantly been outside of the U.S.
One of the important reasons why U.S.-based companies got to the helm was because they recognized long ago that a global audience was their chief source of revenue and catered to it accordingly. This is something that Chinese business leaders trying to buck slow growth in their country would do well to learn from.
4. Three most used apps globally are localized to the core
Google Chrome, Facebook and WhatsApp are the three most used apps in the world. Understandably, they come from companies that invest heavily in not only translation, but also in product localization.
For example, Facebook has a lighter version for developing countries where the Internet speed is not as fast. Chrome can save users up to 70% on data usage with a feature it released recently — again something much appreciated by users who have to shell out heavily for data.
The connection between the expansion of the World Wide Web and language may not be immediately visible to those outside of the language services industry. That's not just because they are not aware of what translation can do; instead, that is the nature of the service.
When present, language is taken for granted, relegated to the background. That is how it should be: language facilitates communication, collaboration, transaction; it doesn't necessarily take center stage. But, hopefully, in the future, Meeker will show to the world how translation has been bringing scores of people to the new, online economy.
Comments