Localize for India—the Numbers Demand It
We've always known it—and now we have the facts to back it up. A just-released report from KPMG and Google on Indian languages provides much-needed critical data to back what we've always said: you need to localize into Indian languages, despite the seemingly all-encompassing English proficiency.
The report also nicely slices and dices the data to present some interesting information on individual Indian languages. Take a look.
First, the numbers
The report, Indian Languages—Defining India's Internet, puts the number of local language speakers who were active on the internet at the end of 2016 at 234 million.
234 million users who speak, read, and understand Indian languages, and who are inarguably most comfortable in their own languages. Take a moment to digest that.
234 million is nearly 70% of India's online population, which stands at 341 million.
234 million is more than 70% of the population of the United States.
If you're still thinking you can get away with an English-only approach in India, understand this: the Indian language user base is growing at a rate of 18%, while it's a mere 3% for English-language users.

Indian internet users (in millions). Source: KPMG
The most important finding of the report is…
…that 68% of internet users in India consider local language content to be more reliable than English content. Now, from the report Can't Read, Won't Buy, we knew about users' preference for their native tongues, but we didn't have it affirmed for speakers of Indian languages specifically.
So, having this data makes a huge impact on all those discussions about whether it's worth localizing for India when everyone seems to speak English.
The report further investigates user preferences when it comes to ecommerce:
44% of users find it difficult to comprehend product descriptions and customer reviews in English.
75% of Tamil and Telugu users show a propensity to access local language-enabled e-tailing websites, compared to 50% of Hindi internet users.
Over 50% of offline shoppers are willing to access e-tailing sites/applications if provided with an end-to-end Indian language interface.
Some languages have more ardent speakers than others
I loved this tidbit from the report: while Hindi, Marathi, and Bengali speakers will drive the volume growth of Indian language internet users, deeper digital engagement will come from Tamil, Kannada, and Telugu speakers. Of these three, currently, Tamil has the highest internet adoption level—42%—followed by Hindi and Kannada.
On the Moravia blog, we've noted Indian consumers' initiatives to demand more products and services in their languages. We now know that Kannada and Tamil users weren't at the forefront of these initiatives by coincidence. Just the other day, Waze's Kannada users made news with their enthusiasm for localizing the app into their language.
This is an important piece of data because:
Hindi usually hogs the limelight when it comes to translation into Indian languages. Most companies erroneously think that because there are so many Hindi users, localizing into Hindi is all they need to do for the Indian market—they couldn't be more wrong.
By highlighting the engagement rates of Tamil, Telugu, and Kannada users, the report hints at where the rupees may actually come from.
It's noteworthy that this report only considers eight Indian languages for its purposes: Hindi, Bengali, Telugu, Marathi, Tamil, Gujarati, Kannada, and Malayalam. The speakers of these languages made up the sample of 7,060 (4,612 urban and 2,448 rural respondents) Indian language internet users.
And some types of content get more engagement than others
The report categorizes content by adoption levels into three groups: mature, growth, and emerging.
Mature content has high adoption levels and includes chat apps and digital entertainment. It should come as no surprise that over 90% of Indian users already access these mediums in their languages, given India's high usage of chat apps in general.
Entertainment and media have always been highly localized domains in India. Jurassic Park was one of the earliest multimedia localization success stories two decades ago. Since then, many television programs, especially those from National Geographic and Discovery, are voraciously consumed in Indian languages. The Jungle Book, a big Hollywood venture that was translated into three Indian languages, was released in India a week before the US release and went on to become the biggest Hollywood grosser of all time in India.
While the growth category has moderate adoption levels and includes social media platforms and digital news, emerging content has yet to see any significant interaction. This includes "digital write-ups," government services, e-tailing, and advertising (the report doesn't clarify what "digital write-ups" means).
The government has been making the right noises with its call for Digital India by making Indian language support mandatory on mobile phones and calling for technical education to be translated. However, as we observed in this post, without collaboration with Language Service Providers (LSPs) or even awareness about their capabilities and functions, it seems there will be much reinventing of the wheel.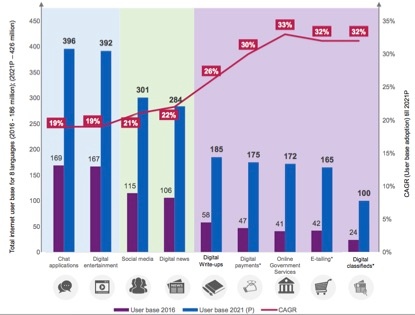 Category-wise Indian language internet users—2016 and 2021P (in millions). Source: KPMG
This report also notes many obstacles to making a local language-enabled internet a reality in India. There's the cost and reliability of internet access, for one. There's also the classic chicken-and-egg situation that I've mentioned before: there was a time when the Indian language consumer was not on the scene. But now that she's here and loudly knocking at the door, the question arises about where the content is for her to consume.
And this is where LSPs need to step in and change the conversation from "content creation" to "translation." It won't be a breeze, but it promises to be a localization gold rush if ever there was one.
Comments