Mobile Retail Data Shows Alibaba, China Lead the Way
The term m-commerce has been around since at least 1997, when the very first Global Mobile Commerce Forum was held in London. The Forum brought together representatives of major mobile telecom service providers, cell phone manufacturers, credit card companies, and retailers to form collaborations for the provision of goods and services sold via wireless technology.
Online retail figures have already topped $1.4 trillion USD and are expected to double by 2018. Mobile commerce is increasingly dominating the picture. According to 2014 research by Criteo, a retail advertising provider, 30 percent of overall e-commerce was specifically m-commerce. And Asia is leading the field when it comes to return on investment in m-commerce, with mobile sales reaching $230 billion USD in 2014, almost half of all global m-commerce.
Is this all about China and the Alibaba story?
Chinese Dominance? Not Exactly.
No country has quite taken to m-commerce like China. China's online marketplace grew in part by the expansion of available products — furniture, pharmaceuticals, and luxury goods that had not previously been sold online. Product availability for buyers in previously underserved rural and secondary markets has also played a role.
But much of China's online sales growth has been fueled by the explosive growth of Chinese m-commerce, taking hold among 1.2 billion mobile subscribers. Some 93.2 percent of Chinese Internet users connected via mobile devices, according to Statista. Mobile transactions in China are expected to top $100 billion USD by 2017.
However, most of that number is the work of one company. Even though China's flash fashion retailer Vipshop reported a whopping 66 percent of its e-commerce sales are happening via mobile devices, it represents just 2.1 percent of the Chinese m-commerce market. The behemoth Alibaba Group, Amazon's competitor in China, captures a whopping 86 percent of all Chinese m-commerce via Taobao.com, according to industry analysts Internet Retailer. Taobao pulled in an estimated $27 billion USD in sales via mobile devices.
Learning from Alibaba's Example
A mobile-first approach to e-commerce site design is not Alibaba's alone, but the company's responsiveness to and priority of mobile commerce are models for all businesses entering today's international m-commerce markets. The numbers themselves are persuasive:
"Mobile is evolving at a speed that is much faster than our expectation," says Zhang Jianfeng, president of retail marketplaces at Alibaba, according to Internet Retailer. "Mobile traffic now accounts for 55 percent of our total traffic, and that number was 25 percent a year ago. We anticipate it will exceed 70 percent by the end of this year."
According to TechCrunch, Alibaba expects to further build its position as one of the world's m-commerce leaders through investment in retail apps for smartphones. No surprise then that the company is also directly investing in smartphone production directly. In February, Forbes reported that Alibaba was backing smartphone vendor Meizu Technology Corporation with $590 million USD. This minority stake in the company further supports a far-reaching strategy well beyond China's borders. With last year's successful IPO as well as e-commerce and m-commerce localization in some 18 languages, Alibaba is getting ready to control the terms of the retail marketplace at home and abroad — wherever consumers may be and in whatever language they speak.
The Amazon Challenge
Alibaba's announcement in March that it plans to open ist first U.S. data center in Silicon Valley comes on the heels of Amazon's announcement last year that it is setting up a facility of its own just outside of Shanghai. The attraction lies with both a predicted $163 billion USD in cross-border shopping by Chinese consumers who are interested in Western goods and services as well as with Chinese-led enterprises that are based in the U.S.
With Amazon.cn, Amazon made it clear that the fight for e-commerce and m-commerce market share within China's borders is far from over. Amazon has shrewdly joined Alibaba's Tmall platform as an additional seller, a move that — as Forbes contributor Doug Young notes — is sure to drive considerable traffic and attention to Amazon China.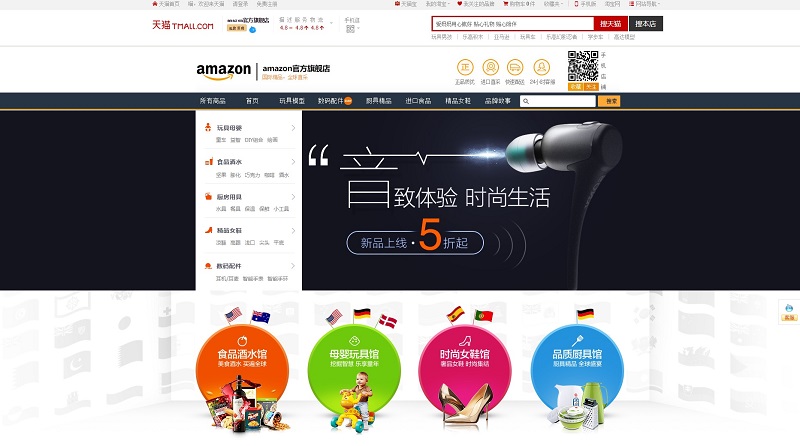 Westward directed, the company also offers Chinese marketplace sellers direct access to localization provider information via its Global Selling portal. Chinese businesses can select from 7 languages and choose whether they want pricing and service information for full human translation or machine translation with post-editing services.
It has been 18 years since that London mobile commerce conference. As technology has advanced, the product and service range has expanded from its simple text-message-based roots to include so much more — mobile banking and electronic money transfers, sales of goods and services, content and information delivery, and location-based services, such as local discounts and weather information.
As mobile apps and mobile Internet browsers become the preferred transaction portals, China and the Alibaba Group will be the examples for mobile-ready retailers worldwide. Is your brand ready?