No Such Thing as a Global Tastebud: Five Successful Product Adaptations
For those of you who have ducked into a local Kentucky Fried Chicken during travels abroad hoping for familiar food, you may have been surprised or even disappointed. Kentucky Fried Chicken, like other brands who have successfully sold their products worldwide, have changed their offerings over the years for new markets — matching local preferences and, in doing so, deviating substantially from the original.
Iconic western brands are carving out good market share in the global market. But along the way they may have found that their product, successful in the home market, doesn't sell in a new country. A market flop is a quick, blunt and expensive lesson teaching that success in emerging markets requires adaptation to local tastes, attitudes and values.
Five companies that have successfully adapted their products include Heinz, the aforementioned Kentucky Fried Chicken, Procter & Gamble (P&G), Coca-Cola and a luxury ice cream brand.
Heinz
Heinz, arguably the world's most iconic brand of the ubiquitous red tomato condiment, sells 650 million bottles every year; it holds the number 1 or number 2 market share in over 50 countries. Heinz's success can be attributed not only to aggressive and clever marketing and brand development, but also to the adaption of their product with spices and flavors that cater to local preferences. (Interestingly, the original ketchup was created in the 1690's from a recipe of pickled fish sauces.)
Kentucky Fried Chicken (KFC)
Kentucky Fried Chicken, with 18,875 stores in 118 countries and territories around the world, changed their recipe (most notably, the spiciness) for various regions. Even within China, the spiciness varies from region to region. Their menu changed also; for example, in Shanghai, KFC serves porridge for breakfast and Peking Duck burgers for lunch.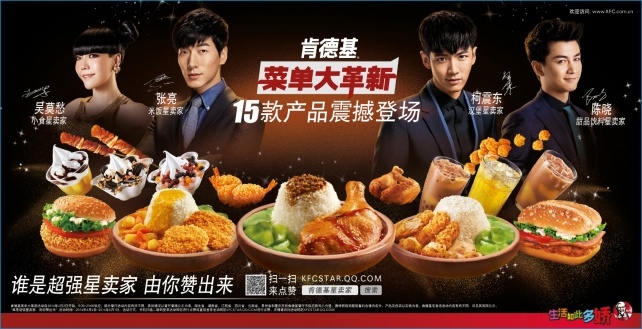 KFC's digital campaign uses Chinese stars to represent new additions to its local menu. Credits: Advertising Age
Coca-Cola
Coca-Cola, with 6 billion consumers worldwide, gets more than 60% of their business from emerging and developing markets. If you have had a Coke in another country, it may not taste exactly like your favorite soda at home. Not only has the product been adapted for local tastes and preferences, but the sources of some of the ingredients (sugar, for example) may be different from region to region, causing the taste to change.
Specialty Ice Cream Brand
This interesting example comes from Laura Delaney who runs Chicago-based GlobeTrade.com, helping businesses market their products globally. Her client manufactured a decadent ice cream that was very popular in the United States. Demand was so great that the company assumed that international markets would feel the same way. The company settled on Japan as the overseas entry point, yet they failed to do due diligence about consumer preferences there.
So, their first release in the country was a major flop. Firstly, the company packed the ice cream in gallon containers as is common in the U.S. This was in contradiction to the Japanese preference for small, compact things, especially appliances and individual products. The second problem was the ice cream itself: the Japanese prefer their treats less sweet than in the U.S. Having decided to give it another try, this ice cream enterprise packaged a reduced-sugar ice cream in individual-sized containers and began to realize success in Japan.
Yet, product adaptation is not always about taste or recipe changes. There can also be practical considerations.
Procter & Gamble (P&G)
Procter & Gamble is another major world brand who has experienced growth by expansion into developing markets. They sell 38% of their products in developing nations. Through market research, they found that consumers in those markets didn't have enough cash to buy enough shampoo to last three months. Also, local stores didn't have shelf space to carry large bottles. P&G wisely created smaller packaging options in less expensive volumes to adapt to those retail constraints.
In order to expand into new markets, the best opportunity may be to rework recipes, resize packaging, or target a different demographic. Making the decision to create a new product to enter a market is one that requires thoughtful analysis. This decision requires a lot of market and cultural research, understanding the costs involved in manufacturing a new product, the projection of sales in the country to generate ROI, pilots and product testing, and other factors.
It is not uncommon for enterprises to struggle with adapting a product — with many flops along the way at great expense. Yet, inarguably product adaptation can lead to the greatest reward.
Note: The inspiration for this post and some of the examples come from an excellent Lynda.com training by Doug Ladd on International Marketing Fundamentals.
{{cta('b4f5ea00-cca5-4520-a957-ba748c0f72b6')}}
Comments