Now That LinkedIn Speaks Arabic, What Can We Expect?
LinkedIn has added Arabic to its platform, becoming the latest of the major social media players to make a stronger bid for users in the Middle East and North Africa (MENA). Arabic boasts 295 million native speakers and it's one of the six official languages of the United Nations.
LinkedIn is not the world's largest social media platform, but it is the world's largest platform for its niche users: professionals. Every part of the platform is geared towards bringing the advantages of social media to professional networking: from its focus on users' professional and educational backgrounds to its recommendation engine model, by which users are encouraged to tag their network members based on their professional skills set.
What can we expect of LinkedIn's MENA expansion?
More Arabic-Speaking Members
LinkedIn is well versed in the market rush related to its language localization efforts. When the company announced its entry into the Chinese market in February 2014, 1 million additional Chinese professionals joined the already 4 million using the platform. The opening of its first regional headquarters in Dubai in 2012, even without Arabic language localization, contributed to growth from 5 million to 14 million today. Arabic is now the 24th language in which LinkedIn is available, and the first bi-directional language there.
Although 40 percent of LinkedIn's Arabic-speaking users are located outside of the MENA region, language localization will bring LinkedIn front and center in the professional markets of the Arab-speaking world. Current users can now switch their platform language to Arabic; new users can sign up in Arabic directly.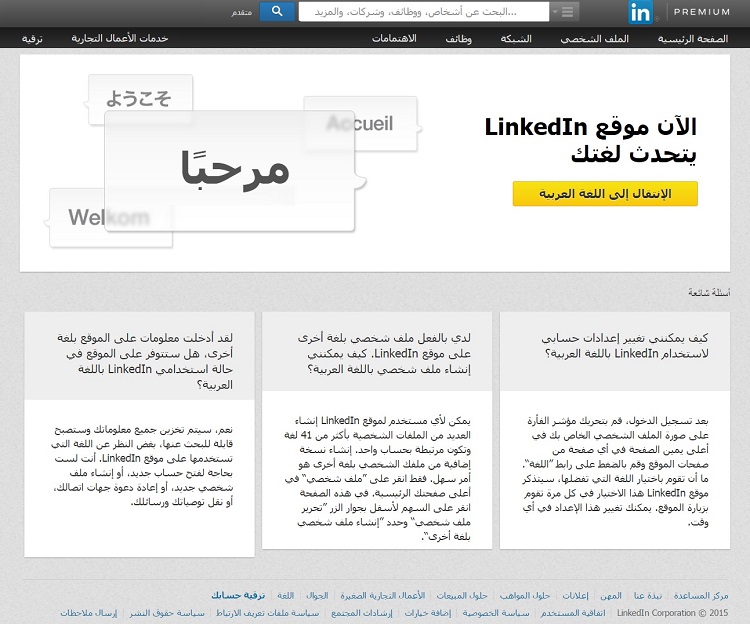 Image: LinkedIn Arabic Welcome Page
Ali Matar, who became LinkedIn's first hire in the region back in 2012, says, "The launch of LinkedIn in Arabic will allow hundreds of millions of Arabic speaking professionals to connect to people, knowledge, and opportunities around the world."
More Arabic Content
When LinkedIn made the official announcement of the Arabic website, it made sure to do it at its Dubai headquarters and to invite Noura Al Kaabi, the CEO of twofour54, the UAE-backed organization and tax-free Abu Dhabi media zone that is driving Arabic media and entertainment content development. More than 300 twofour54 employees are on LinkedIn, and its business page on the site is already followed by nearly 12,000 LinkedIn users.
Visible too is Taghreedat, the regional and international Arabic digital content community building initiative that has its headquarters at twofour54. Taghreedat, which boasts over 9,000 Arabic translators, editors, and writers from 20 Arab countries and 15 others across the globe, is the group behind Arabization projects at Twitter, Wikipedia, Storify, and TED.
In neighboring Qatar, the Qatar Computing Research Institute (QCRI) lists the promotion of Arabic language in the information age as central to its mission and is undertaking a major effort to improve machine translation technology for Arabic to increase access to news distributed over the web. QCRI regularly pushes content to LinkedIn.
"It is our duty to be proactive," said Al Kaabi to Gulf Business, "to collaborate and strengthen the content available online in our language, and to initiate new sites and platforms, such as LinkedIn Arabic, that will cater for Arab youth and the generations to come."
Bringing more Arabic content to the web — whether original content or translated content — will be as vital to LinkedIn's relevance in the MENA region as it is to LinkedIn's strategy in the West. LinkedIn members post 40,000 pieces of content each week, says the company, no doubt aided by platform improvements that the company rolled out in December that made each user's homepage work more like a Facebook feed — boosting content sharing and visibility.
LinkedIn also acquired Pulse in 2013, to profile-target new content based on member news feeds. LinkedIn's reason for laying down stock and cash on Pulse's $90 million price tag: "[We want to] be the definitive professional publishing platform – where all professionals come to consume content and where publishers come to share their content."
More MENA Influencers
LinkedIn made headlines in 2014 when it expanded its by-invitation-only Influencer program to allow any member to publish via the platform. Originally launched in 2012 with 500 high-profile members that included Richard Branson, Martha Stewart, and Bill Gates, the Influencer platform's initial expansion to another 25,000 members — who had to apply for the privilege — resulted in a flood of content as well as news coverage on how Influencer content contributes to brand engagement.
While the application is no longer available and the LinkedIn Influencer label is again restricted to high-profile leaders who have been directly invited by LinkedIn, we can expect that LinkedIn will continue to use this model of inviting especially notable and influential leaders to leverage additional business participation in the MENA region. Jordanian Fadi Ghandour, co-founder and vice chairman of Aramex, is a LinkedIn Influencer, according to Arab News. So too is HH Sheikh Mohammed bin Rashid Al Maktoum, the Vice President and Prime Minister of the United Arab Emirates (UAE), and the constitutional monarch of Dubai.
Influence, content growth, and a growing member base can do nothing less than strengthen LinkedIn's position in the Arab-speaking world and in the fight for social media advertising spend. Marhaba, LinkedIn!