Oh, The Places You'll Go: Transcreation Lessons From Dr. Seuss
This week, Theodore Geisel's estate has released "What Pet Should I Get?" — much to the delight of kids and parents the world over who've fallen in love with the characteristic sing-song nonsense style.
Translated into 20 languages, Dr. Seuss is more than just a reading primer for children: it's a lesson in extreme transcreation. Is your campaign a nonsense jingle that falls on deaf ears, or will it permeate an entire culture? Global brands can tear a page from Dr. Seuss, and not just for the "Sam I Am" sales methodology.
A Most Beloved Brand
In 1937, Theodore Geisel published his first book under the Dr. Seuss pseudonym, "And to Think That I Saw It on Mulberry Street," quickly followed by hits like "Green Eggs and Ham," forever abandoning mainstream Dick and Jane primers on the trash-heap of children's literary history.
The new manuscript was stored in a cardboard box on loose sheets with the unmistakable artwork of Mr. Geisel and taped, typed text affixed to each page. Miraculously, Geisel's graphic designer was still alive and well able to complete the book in "Seuss" fashion.
The characteristic Seuss sing-song nonsense verse has taught kids the world over not only how to read, but also the beauty and cadence of language. His fantastical world spurs imaginations across dozens of cultures and languages.
Beyond Translation
Let's get something straight: there is no way to translate Dr. Seuss. The magic of Dr. Seuss lies not in the individual words, but in the rhythms, the rhymes, the imagination, and the freedom to play with language. Skillful transcreation by someone who understands and appreciates the original source content is the only way to share the magic across linguistic and cultural boundaries.
Transcreation Requires Prioritization
Sometimes it's tough to preserve every element of the original source. Linguistic cadence — the precise rhythm of the syllables in each line — is paramount in the original Dr. Seuss books, but sometimes target languages don't cooperate.
For example, "One fish, two fish, red fish, blue fish" is a very simple and straightforward translation into Spanish, aside from the fact that the singular and plural forms of "fish" are the same in English. In Spanish, there is a plural ending for "pez" that changes the syllabic structure from one syllable to the two syllables of "peces." We are left to choose between adding an additional syllable or the more awkward and unwieldy explanation of "a second fish," or "un segundo pez." Which element of the Dr. Seuss style is more important – meaning, or cadence? These are the types of questions your transcreators will struggle with, so be prepared to negotiate priorities and periodically reevaluate them. .
Invent What You Need
Dr. Seuss was never afraid of inventing a word with the right sound and syllables to fit the line or the mental image. So when translation isn't working, don't be afraid to invent something that does. Consider Coca-Cola's willingness to adapt its iconic script – or not – depending on the target market and the writing system.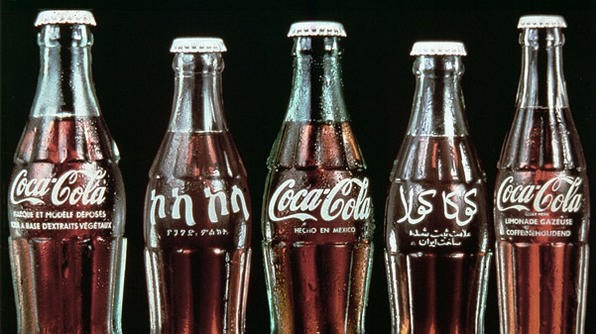 (Image: The Coca-Cola Company.)
As technology advances, new terms and processes are created to describe that technology. In developing countries this can lead to a terminology gap: it may be appropriate to borrow terms. I once worked on an oil and gas project that required the incorporation or Turkish terms into an Azeri text, because the Azeris had adopted the Turkish terminology as their own. Many of our clients crowdsource translation of current terminology to ensure terms are accurate and culturally relevant.
For more on Dr. Seuss in localization, my colleague, Lee Densmer, wrote a great piece on machine translation and Dr. Seuss, highlighting the subtleties that can affect meaning even when the translation is "technically" accurate.
Comments