The Case for Localization as a Shared Service
Often, even when executive buy-in for translation exists, the significance of centralizing the function is somewhat lost on stakeholders. They understand the importance of translation in their global marketing efforts, but they fail to connect the dots between a centralized translation function and improved quality and productivity.
In our experience, many of the core localization issues, like those below, stem from the absence of a centralized program:
Quality inconsistencies. Not all types of content that you produce retain the brand voice; nor do they have uniform levels of quality.
Scalability. Content re-use lags behind industry standards, and the number of internal customers and stakeholders keeps increasing.
Vendor management. You now have multiple LSPs to manage the huge content machine, creating the need for a dedicated strategy to manage vendors.
Too many and complex workflows. It's not the same as when you created content in one language and then translated into just a handful of other languages. Now there are more languages, more content types, more stakeholders and more platforms on which you need to publish.
Un-integrated translation technologies. You have invested in various translation tools, but you find yourself locked down to proprietary technologies that may be getting obsolete, or you are otherwise unable to integrate into one coherent workflow.
Centralization of the localization function is one of the indicators of higher maturity in the CSA Localization Maturity Model (LMM). Importantly, this goes hand in hand with a similar trend that affects other key corporate functions, such as procurement or business intelligence.
From our conversations with buyers of localization services, we often see a centralized program, such as a Localization Center of Excellence, working toward solving many of the above issues in the following ways:
But what exactly does a Localization Center of Excellence look like? What functions must it include? Which roles should you be hiring for? Normally, the localization program should consist of at least three essential divisions:
Production
Support infrastructure
International brand oversight
The figure below specifies the roles you need to hire for and their respective responsibilities.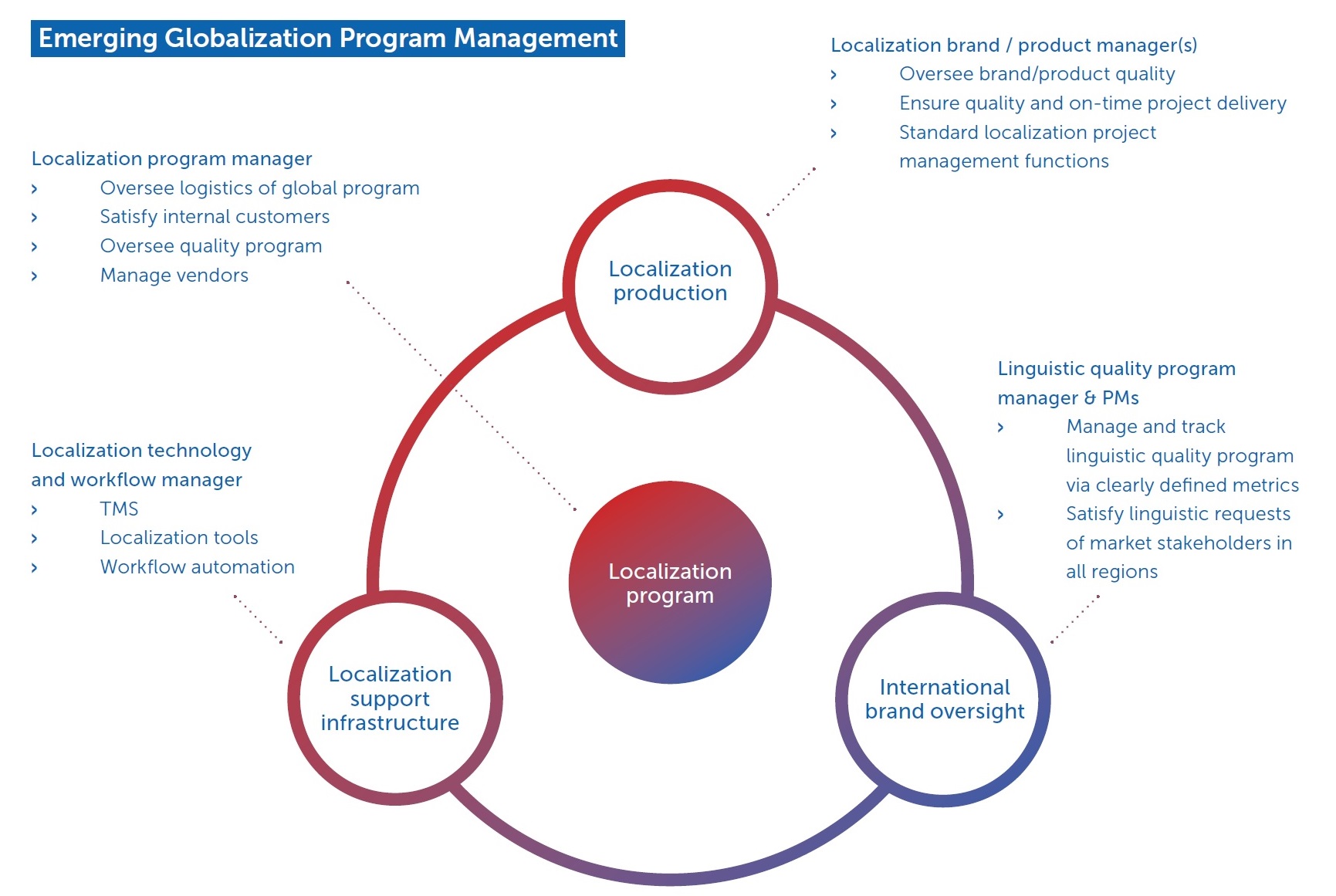 Often, you can hire for these roles from your internal staff. There probably already are people in various groups who have been handling translation. Bringing them together will help you inventory existing knowledge, pain points and possible resolutions that some groups have worked out. You can also consult language service providers (LSPs) on the various localization job profiles and processes to put in place for the localization program.
Veteran global brands clearly see translation as a mainstream business process and as such do not deal with it in an ad hoc manner. So, while your tentative steps in global marketing may be to add languages, you mature as a localization buyer only by recognizing translation as a utility managed by a core group.
Comments