The Coming of Age of the Indian Mobile Gaming Market
Sometime between 2014 and 2016, India became one of the top five countries in the world to download the highest number of mobile game apps, according to App Annie. Given India's growing smartphone population, this development should be of potential interest to anyone working in game localization.
What do you need to know about Indian gamers? What are the opportunities? We dig up some highlights from App Annie's latest report on the Indian mobile gaming market.
Game downloads peak, monetization begins to pick up
According to the report, game downloads in India more than doubled between Q2 2014 and Q2 2016, with Google Play generating 13 times more downloads than iOS. While monetization is nowhere near those same levels, game publishers should note that app store revenue from games did grow by 80% in the same period. And even though iOS constituted less than a tenth of game downloads, iOS gamers contributed around 70% of the combined iOS and Google Play store revenue in Q2 2014.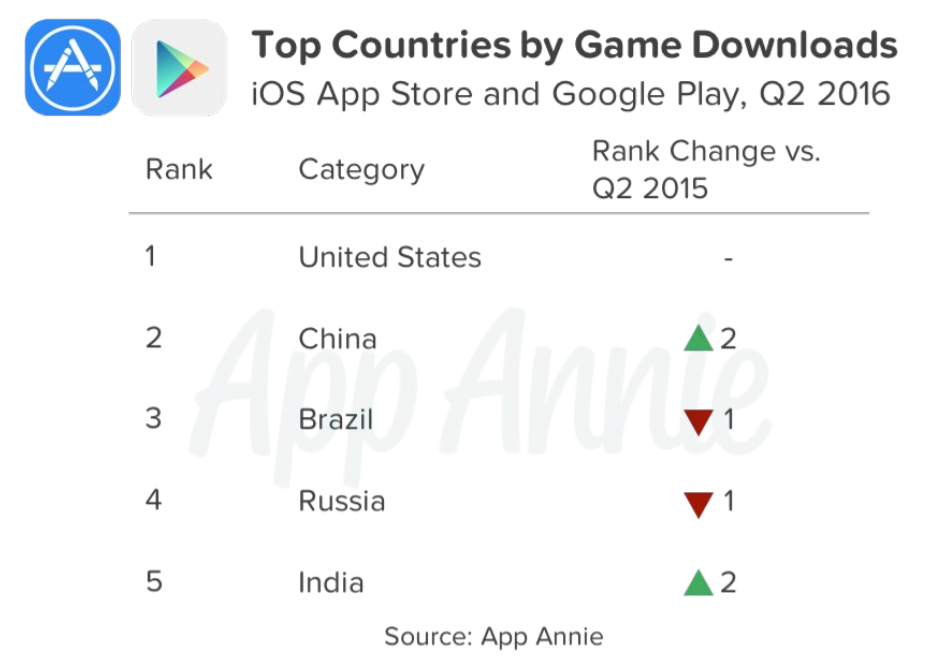 Top countries by game downloads. Source: App Annie
Improvements in wireless network coverage and affordability of telecommunications services, coupled with continued initiatives to extend direct carrier billing, are bound to result in an increase in game purchases in India.
App store tweaks for India have helped
The launch of Google Play prepaid vouchers and the lowering of the minimum price for apps and in-app purchases from Rs 50 to Rs 10 (approximately US $0.15) in 2015 seemed to have played their part in driving app revenue. Prepaid vouchers are hugely popular in India where there is an entire telecommunications economy built on prepaid. It lets users control their spend and is especially beneficial to gaming, where many users may be young adults or teens who need to manage their pocket money.
Global as well as local publishers have room to grow
Top 5 games by downloads, time spent, and revenue in India. Source: App Annie
Although mainstream favorites such as Candy Crush Saga rule in India, there's ample opportunity for domestic publishers. One example of a successful locally published game is Train Simulator 2016. Released in March 2016 by Timuz, it's an endless runner game mixed with familiar themes and settings from India's railway network, which is one of the most extensive in the world.
Teen Patti by Octro in the social card genre is another example. Though it doesn't figure in the top games by download, it ranks high on the list of apps by time spent and revenue. Teen Patti is a three-card game traditionally enjoyed as a social activity in India. It is localized in Hindi, Marathi, and Gujarati.
Some mainstream trends yet to be tapped
App Annie has rightly noted some gaps in exploiting the potential of the gaming market in India. Celebrity-themed games, for instance, are yet to catch up. Publishers such as 99Games have seen success in this genre with titles like Dhoom:3 The Game, Fan: The Game, and Sultan: The Game. All three were based on blockbuster movies. While Fan broke into the top 10 game rankings by downloads, Sultan was more popular, adapted as it was from a much more successful Hindi film.
India's cricket craze also opens up many possibilities for publishers. Games like World Cricket Championship 2 clicked despite the absence of licensed teams and players. There's much more that can be done with sport-based game apps localized for India.
When it comes to game localization, it's not just the language we're talking about. That's integral, of course. But what also matters significantly is the choice of theme, treatment, and many other factors that make a huge difference in the local market such as pricing, payment options, and even the size of the app. In India, all of this will count, so don't take anything for granted.
Comments