The Customer Experience Revolution: What Does It Mean for Globalization Practices?
A significant focus of my career has been studying language industry practices in the context of broader world trends.
Recently, I've become obsessed by one emerging trend which I see having profound implications for the language industry, not to mention other disciplines, including sales, marketing, content management, customer support, and even product design: the "centricization" of personal customer experience (CX).
The idea is this: if you're a company doing business, it's now your prime directive to serve your customers as unique individuals driven by their experiences—whether you have two customers or two billion. Thinking about the market in terms of "segments" is both insufficiently granular and totally lacking in the requisite human touch.
It's the offspring of several once-radical ideas: the assertion that the customer is king/queen, the practice of "user experience" as an architectural focus, and the recognition of parallels between marketing and classic, narrative-driven storytelling.
For me, one of the clearest examples of the seeds of the phenomenon are the assertions Martha Rogers, PhD, was making over twenty years ago.
Figure 1 – Martha's revolutionary book from 1993, courtesy of CXSpeakers.com. But is one of these silhouettes actually a replicant?
Like other foundationally radical ideas (including artificial intelligence), the proposition of extreme focus on customer experience has only recently moved from theory to practice, thanks in large part to the progress of technology. Mobile devices in particular have been instrumental to both the delivery of personalization and the collection of data required to more deeply understand an individual.
Implications of CX Centricism
We're surrounded by the evidence of CX's rise and influence: Google Trends shows the interest in the term "CX" at nearly an all-time high, rising steadily since 2010. Schools are starting to offer classes and even degree programs in the subject. Not only are we starting to see an increase in the number of dedicated CX conferences, but digital marketing, brand management, product design, and content management conferences are also starting to feature CX's core themes of customer journeys and customer relationship engagement.
What does the rise of CX mean for these previously independent disciplines? I see a few significant implications:
Firstly, disciplines can no longer act independently. Within a company, all functions of the entire operation must now practice close collaboration toward the common objective: optimizing the user experience. This also means that processes that were designed using traditional divisions of labor may no longer be relevant or effective.
The creation of value throughout all phases of the user experience cycle requires that companies develop composable capabilities—the ability to create novel things through the assembly of standard, reusable components. Whether you're talking about product features themselves or content delivery, a company's operations must be ready to flexibly and instantly serve up unique experiences. They need an experience delivery system that's supported by their org structure, their processes, and their technology—and this requires composability.
The organization must be able to practice empathy at scale. To serve anyone at a deeply personal level, one must first have a full understanding of that person. Not only in terms of how that person maps to some predefined demographic, but in terms of what makes them unique: their personal interests, desires, concerns, and needs at any given moment.

To do this across a population, the organization must be capable of having "conversations" with customers during all phases of engagement. For example, when the customer becomes a user, they must be able to ask things like "how is this working for you?" and "what would make this experience better?"

These may likely not be actual conversations, but virtual conversations supported by things like micro-surveys, management of user forums, and customer behavior observations. It is, therefore, a capability that requires solid methods for data collection and analysis. The bigger the population, the more these methods need to be rooted in technology.
So, what do these universal implications have to do with globalization?
The Global Dimension
I'm skeptical about the current relevance and usefulness of many traditional localization practices; today's landscape is just very different from that of the late 1980s when these practices were born. Just like the CX revolution has been putting pressure on the traditional models for sales, marketing, customer support, content management, and product design, the localization industry also needs to evolve toward a more CX-centric paradigm.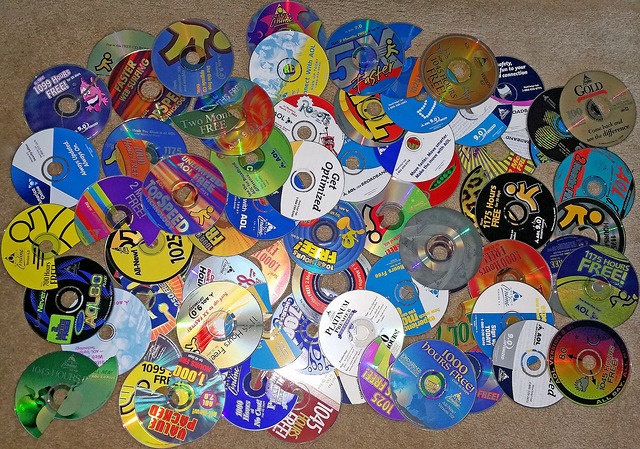 Figure 2 – AOL Discs, the epitome of "digital delivery" during localization's formative years.
Let's start with my view that great CX depends on cross-functional collaboration. For localization to serve the greater mission of optimized user experience, it can't exist as an independent function from sales, marketing, product design, and customer support. Localization must be a core practice of all these things, which are themselves core practices of the new shared function of user experience design and management.
For many years, the traditional way of bringing a product to a world market has been to develop for a single culturally and linguistically homogenous audience (like a subset of the US market), then hand off to the standalone localization process where the finished product, campaign, or content is "made to work" in the real world, which is linguistically and culturally diverse.
This approach is fundamentally broken in the context of a CX-centric model; it's too serial, too monolithic, and insufficiently data-centric. And it brings up several questions: in a CX-centric world, is there even such a thing as a "finished product"? And are products even what should be focused on?
In my article Is There Such a Thing a "Foreign Market?" I offer an alternative way of looking at localization that is more compatible with a CX-centric worldview, beginning with the assertion that language and culture are personalization factors, not product characteristics to be adapted in order to enter new markets.
Thinking about it this way makes it easier to envision how localization will evolve given the customer experience revolution. Localization will bring value to all stages of the customer-centric process: during content development, during product development, and even during business model ideation. It will contribute to the big picture objective of serving customers as individual humans with changing demands, and will address a significant challenge in the quest for global hyper-personalization: resolving language and culture barriers.
Wharton marketing professor Barbara Kahn created a "Customer Centricity Maturity" model that may be useful as we ask how the localization industry is doing. My assessment: we (LSPs) have been pretty good about serving our direct customers (the businesses who buy localization services) in a customer-centric way, but need to evolve toward being able to serve our customers' customers in this way (the people for whom the localization services are being bought).
We have yet to get to the stage where we're able to, as James Douglas describes it, "deliver tailored experiences that drive increased usage through increased local relevancy," but we're starting to ask some of the right questions, including "what should this look like?" and "how do we get there from here?"
I see this as an ongoing, collective conversation, and would love to hear your thoughts. How do you see globalization practices being impacted by the customer experience revolution?
Comments