3 Rules for Social Media Marketing, as told by Global Brands at #Engage2015
Engage Prague 2015, the world's largest marketing summit happened in Prague in late May. We at Moravia had a chance to attend and to listen to some of our favorite speakers talk on the power (and limits) of social media engagement in the growth of global brands. Thanks to the fast work of the Engage 2015 team, videos of the presentations are already online to share. Here are some of our favorites.
Empower Your Customers to Elevate Your Brand
With a launch in Singapore in October 2014, Obi Mobile announced that it was pursuing a specific corner of the world's smartphone market: namely, youth in markets underserved by the regions incumbent companies and larger brands. Whether in parts of Southeast Asia, Eastern Europe, Africa, or Latin America, these are the consumers left behind by mature and saturated markets abroad — young, with too little disposable income for any of the globally-marketed smartphones, and wanting a brand that gives them choice.
Obi Mobile is the latest game changer of former Apple CEO John Sculley, who, as the mastermind of the Pepsi Challenge back in the 1970s, knows a thing or two about understanding, catering to, and shaping local tastes. Far earlier than social media players like Facebook and Twitter, Pepsi built a case for how rising stars can enjoy explosive growth largely through personal stories and social networks. "This was just unheard of in advertising back in those days," said Sculley in an Engage 2015 interview. "Typically, people would stand there and a spokesperson would brag about the product. In this case we said, no, the customer's got to speak about the product. It added authenticity."
Place Customer Service First
Consider it all: Web pages. Toll-free numbers. Online forums. Social media channels. Whether in one language or in many, the number of contact points that a brand has with its customers creates impressive opportunities for success … and failure.
KLM Royal Dutch Airlines handles some 70,000 messages from passengers each week worldwide, said Social Media Hub Manager Gert Wim ter Haar in his presentation. To make it a positive experience, the company's target is "one-stop customer service" — one that especially excels at providing the right answers, quickly, within the channel of the customer's choosing.
KLM acknowledges what that they call the "Suitcase Principle." As ter Haar summed it up: "You can do all the cool stuff in the world, but if you don't have the basics right, you're lost."
Speaking of "lost," the company's video on just how far they will go to return items misplaced by passengers earned them more than 20 million YouTube views.
Go "Glocal"
Of course, conversations with brand consumers are not happening on the global level but locally, making engagement about understanding and adapting to local needs on the platforms known and loved by the locals themselves.
As a global and multilingual company, Nestlé is used to creating content that honors both its brand and the communities it serves. For the company's Engage 2015 workshop, Digital & Social Media Manager Mohamed Abo El Fotouh focused on just that — on how savvy social media players have to push content that is deeply relevant to local buyers.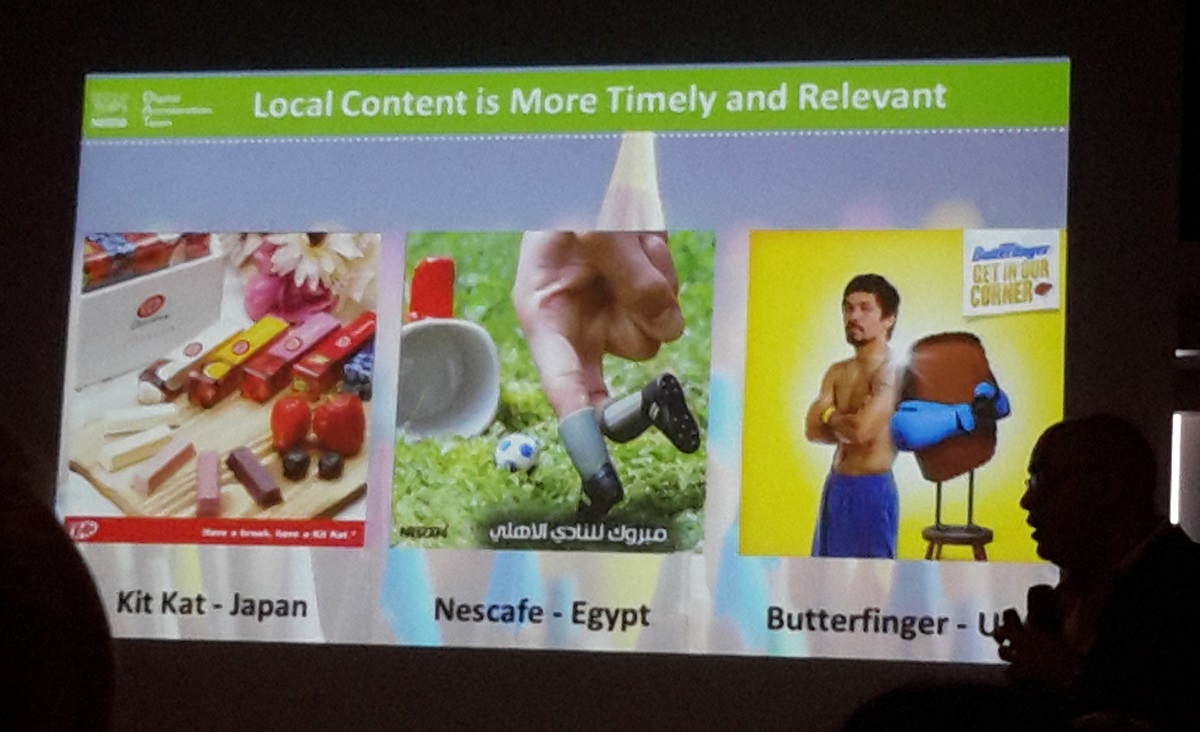 In an article on Nestlé's multimedia content, Socialbakers wrote, "While Nestlé's content-type mix is almost identical between global and local pages, they post to local pages twice as often as to global pages (a local page will post around 20 times per month, a global – only 10). This means the bulk of their fans is on their global centralized pages, while the conversations that they have with fans are regional."
Did you attend Engage Prague 2015? Share with us your favorite presentations and comments!