To Localize or Not Localize Your Slogan for Japan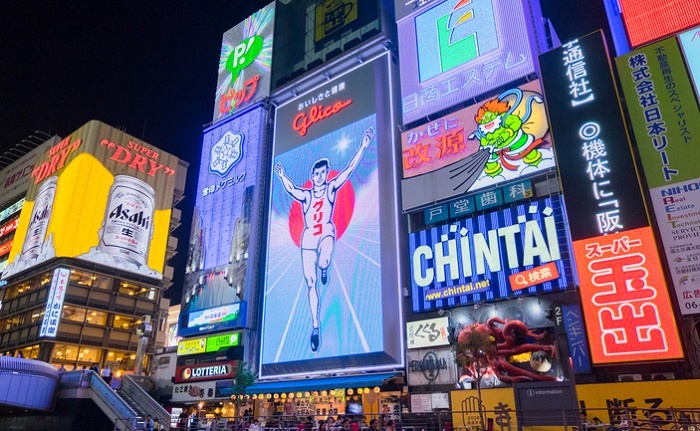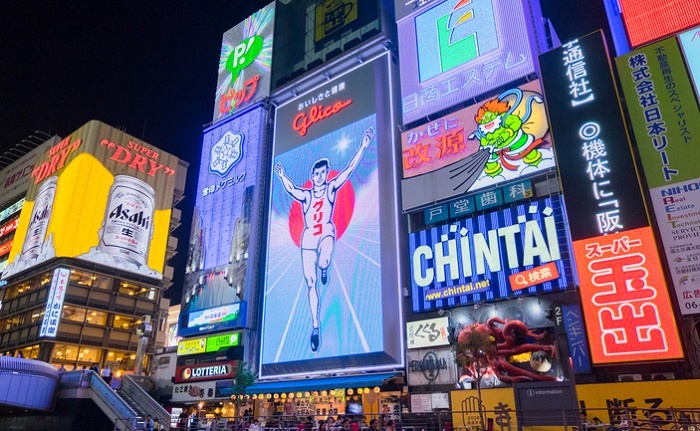 We previously published a post on what companies can do with their corporate names when entering China. When entering Japan, corporate names are pretty straightforward—either keep them in English or render them in katakana. But when it comes to slogans and taglines, it's not as simple. Do you keep them in English or localize them into Japanese?
In this post we give you several examples of global and Japanese companies and their slogans or taglines. Let's start with the tagline journey of some well-established foreign brands in Japan.
What's cookin' at McDonald's
Although McDonald's currently uses their global tagline "i'm lovin' it" in Japan, they've had a long history of using market-specific taglines in this country. Here's a quick rundown of what they've been saying in the US and Japan.
US

Japan

'70s

You Deserve a Break Today

Get Down with Something Good

Two All-Beef Patties

味なことやる マクドナルド
(Doing it with taste, McDonald's)

'80s

Mac Tonight

世界のことば マクドナルド
(The world's language, McDonald's)

おいしい笑顔 マクドナルド
(Tasty smile, McDonald's)

だから・・・ マクドナルド
(Just because…McDonald's)

'90s

Did Somebody Say McDonald's?

おいしいね、マクドナルド
(Tastes good, McDonald's)

いつでもそこに マクドナルド
(Always there, McDonald's)

'00s

We Love to See You Smile

i'm lovin' it

スマイルそして スマイル
(Smile and smile)

i'm lovin' it
As you can see, they developed in-market taglines for over three decades until, in September 2003, McDonald's finally adopted the one that we're all familiar with today. Why is that? Actually, it's no mystery. By 1971, when McDonald's opened their first store in Japan, their US business was already mature and their brand message switched its focus to making people's lives easier.
By contrast, in their earliest commercials for Japan, McDonald's makes the case that the Japanese person's average beef consumption is a mere 6 grams a day, implying that eating McDonald's burgers will help kids grow stronger by supplying 45g of beef per patty. Another message promoted McDonald's as a cost-effective way for bosses to treat their subordinates to lunch.
I'm not writing about Japanese eating habits per se, so let's not dwell on this point too much. But this chart shows that beef has come a long way in Japan over the decades, growing from 1kg to 6kg per person per year (red bars), while seafood consumption (blue line) has been on a downward slide ever since 2003 (pork and chicken are the other two sets of bars).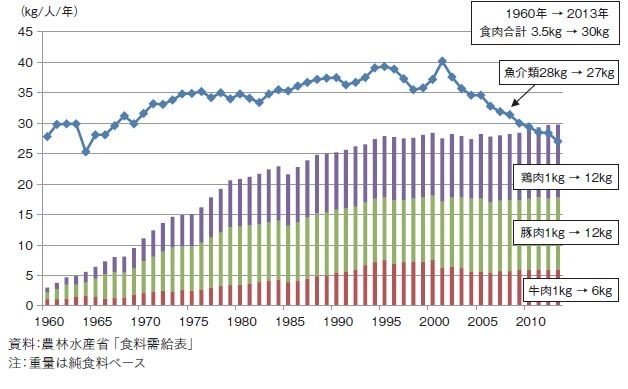 Source: Japan Ministry of Agriculture data by Agriculture & Livestock Industries Corporation
Today in Japan, the average daily beef consumption is closer to 17 grams. And McDonald's is doing its fair share of contributing to that.
Before moving on, it's worth noting that just a handful of McDonald's locales have localized slogans; the iconic "i'm lovin' it" is used in English across many markets, including Japan and even China.
In forty-some years, the McDonald's tagline in Japan has swung from localized to globalized. The takeaway from this is that there is no one-size-fits-all answer; rather there's a spectrum of possibilities depending on the maturity of your target market and the goals you've set for your brand.
Is using an English tagline really an option in Japan?
The short answer to that question is "yes."
Does that mean Japanese people understand these non-Japanese taglines? The answer to that would be "no." The Japanese tend to treat foreign languages as a decoration, so while English may not be understood, it is trendy—so much so that you'll see English taglines being used not only by global brands in Japan, but also by Japanese brands for the local market.
Check out these global brands:
| | |
| --- | --- |
| Company/Brand | Tagline |
| American Express | |
| Kärcher | |
| Renault | |
And these Japanese brands:
| | |
| --- | --- |
| Company/Brand | Tagline |
| Honda | |
| Nissan | |
| Mazda | |
| Daihatsu | |
| Mitsubishi Motors | |
| Hitachi | |
| Toshiba | |
| Canon | |
| Fuji Film | |
| Kyocera | |
| Mitsubishi Electric | |
| NEC | |
| KDDI | |
| Kanebo | |
| Ajinomoto | |
English quality notwithstanding, these are indeed the official taglines used in Japan. They may be English phrases, but some are perhaps more heavily influenced by a Japanese way of thinking than others. Hint: Japanese companies love forward-looking buzzwords like 新 (new), 革新 (innovation), and 未来 (future).
Another interesting example is Audi, who localized their native tagline "Vorsprung durch Technik" (Advancement Through Technology) into Japanese as 技術による先進, a literal translation. What's intriguing is that they hardly ever use the Japanese version, opting instead for the original German. This may save them some money, but it's more likely an intentional marketing move because the German text gives a positive impression in the market—German technology is very highly regarded in Japan just as it is elsewhere.
There are also companies that have dual taglines. Maruchan, a brand of instant noodles, uses "Smiles for All. すべては、笑顔のために。" What's interesting about this one is that the two taglines are sort of opposite, as the Japanese text translates to "It's all for (your) smile(s)." in English.
Any examples of foreign firms using Japan-localized taglines successfully?
Although not that great in number, some foreign brands have successfully developed Japan-specific taglines or slogans. A notable success story is Red Bull, where "Red Bull gives you wings" is rendered as レッドブル翼をさずける (Reddo buru, tsubasa wo sazukeru; lit. Red Bull gives you wings).
Rhyming is generally not that important in Japanese, but here the "buru" and "sazukeru" give the phrase a catchy ring and rhythm that work well in advertising.
In other Red Bull markets, their slogan "Red Bull gives you wiiings" was localized rather literally, complete with the playfulness of the triple-vowel (German: Red Bull verleiht Flüüügel. French: Red Bull donne des aiiiles. Spanish: Red Bull te da aaalas.). Instead of being a phrase tagged onto the brand, Red Bull's slogan is front and center as their marketing campaign, so localization was essential for it to get airborne (pun intended). The result is an iconic message that continues to grow to this day.
Other examples of localized taglines include Mastercard's [人生を選ぼう。pricelessを選ぼう。] which leverages the keyword "priceless" in a Japan-specific way. Pronounced Jinsei wo erabou. Priceless wo erabou. (lit. Choose life. Choose (what's) priceless.), this phrase also features a repetitive sound.
Then there's BMW Japan's 駆けぬける歓び (Kakenukeru yorokobi; lit. The joy of driving/running). This seems rather tame compared to "The Ultimate Driving Machine" in the US, so why the difference? It's because this Japanese tagline is linked to the slogan "Sheer Driving Pleasure" (Freude am Fahren), which was adopted in many other parts of the world, Japan included. This sits better than a translated version of the iconic "ultimate" tagline—which would be something like 究極のドライビングマシン(Kyuukyoku no doraibingu mashin)—that ends up being clunky due to all the katakana characters, and tells a message that may be considered way too boastful in Japan.
In more recent news, the travel and tourism service Booking.com began airing a series of TV commercials in Japan where their name morphs into "Booking.ヤッター". Look familiar?
It should. It's the Japanese version of Booking.com's campaign, "Booking.yeah" which kicked off in the US market in 2013.
The official tagline for Booking.com is "Hotels, homes and everything in between", and in Japan they use ホテルも旅館も一軒家も予約 (Hoteru mo ryokan mo ikkenya mo yoyaku; lit. Reserve a hotel, ryokan, or even a home) to tweak the message and incorporate the ryokan lodges and onsen hot springs that Japanese people love (onsen is not stated, but implied from ryokan). On their Japanese website however, you'll find 世界最大の宿泊予約サイト (Sekai saidai no shukuhaku yoyaku saito; lit. The world's largest lodging reservation site)—a straightforward descriptive message to let people know what the site is all about.
Look at Japanese taglines for inspiration
There are a lot of nice and effective Japanese taglines for Japanese companies out there, so you might want to study them to see what works in Japan. In general, Japanese taglines are a lot "softer" than those of western companies.
Case in point, the Cosmo Energy Group. Their ココロも満タンに コスモ石油 (Kokoro mo mantan ni, Kosumo sekiyu; lit. Fill up your heart too, Cosmo oil) doesn't cut it when translated into English, but you do get the nuance that their service fills your heart with warm feelings while you're filling up your tank at the pump.
Banks don't talk about money. Here are the taglines of three major banks.
Mizuho Bank: 未来へ。お客さまとともに。(Mirai e. Okyakusama to tomoni.; lit. To the future. Together with our customers.)
Resona Bank: 想いをつなぐ、未来を形に。(Omoi wo tsunagu, mirai wo katachini.; lit. Linking our thoughts, giving shape to the future.)
MUFG (Bank of Tokyo-Mitsubishi UFJ): Quality for You 確かなクオリティを、明日へ。世界へ。(Tashikana quality wo, ashita e. Sekai e.; lit. Assured quality, to tomorrow. To the world.) They condensed the long Japanese message down to "Quality for You" in English, and use it as part of their domestic-market tagline.
As you can see, the messaging is rather "soft" and roundabout, with lots of emphasis on the "future."
Magic also comes in three parts. Just as the MUFG example above consisted of a three-part phrase (確かなクオリティを、明日へ。世界へ。), so do many other taglines in Japan.
The beverage company Kagome says 自然を、おいしく、楽しく (Shizen wo, oishiku, tanoshiku; lit. Nature, deliciously, enjoyably). A major convenience store chain says あなたと、コンビニ、ファミリーマート (Anatato, kombini, Famiriimaato; lit. You, and convenience store, FamilyMart). The musical instrument and motor sports manufacturer Yamaha uses the corporate slogan 感動を・ともに・創る (Kandou wo, tomoni, tsukuru; lit. Moving experiences, together, we make). This three-part structure seems to go over well in Japan, so you might want to consider using it.
Wherever you plan to take your business, your company's tagline will serve as an initial contact point. Make sure it's saying what it needs to say in each target market. And if that target market is Japan, you can localize your message for the local audience, or you can globalize and bring your global message and presence into play. The choice is yours, but it's an important one, so be sure to consult experts in the field. You don't want a "Got Milk?" situation happening on your watch.
Comments