Who's Up for Localization Class? Google's Asking
We're beginning to see a lot of content coming up around the localization industry. In the past, we reviewed a book on globalization, and now there's a massive open online course (MOOC) on localization. It can't be anything but good news for the industry—we need as much attention as we can get.
Localization Essentials has a lot going for it, given that it's offered by Google. Its celebrity status aside, the course, hosted on Udacity, has many nice touches, light humor, insider insight, and some hands-on learning, too. Overall, this student enjoyed it and learned quite a few new things.
Learning material for newbies
The course's primary audience is those in search of a career in localization. But going by its forum discussions, some of those taking the course are already working in the industry on the supplier or buyer sides. One manager was taking the course to evaluate whether it would be suitable training material for new employees in his organization.
For companies on the buying side, the course is a great starter for newbies to get to know the big picture and receive an overview of processes and tools. But global marketing managers can also benefit from the course, given the low level of awareness among their tribe on what it takes to translate and localize.
On the supply side, though, the course may require more meat before it can be thought of as adequate basic training. But then again, Google is a buyer of localization services, and it has designed the course from that perspective. It's up to Language Service Providers (LSPs) to come up with an equivalent course that's more aligned with their functions.
The course may also be useful to developers to help them understand what happens after they hand over a product for localization. The hope is that this leads to greater respect for localization and brings about better collaboration with the people responsible for it.
Hands-on training and real-life examples
How can too much subtitling text on the screen spoil the video experience for your international audiences? Google would rather show than tell: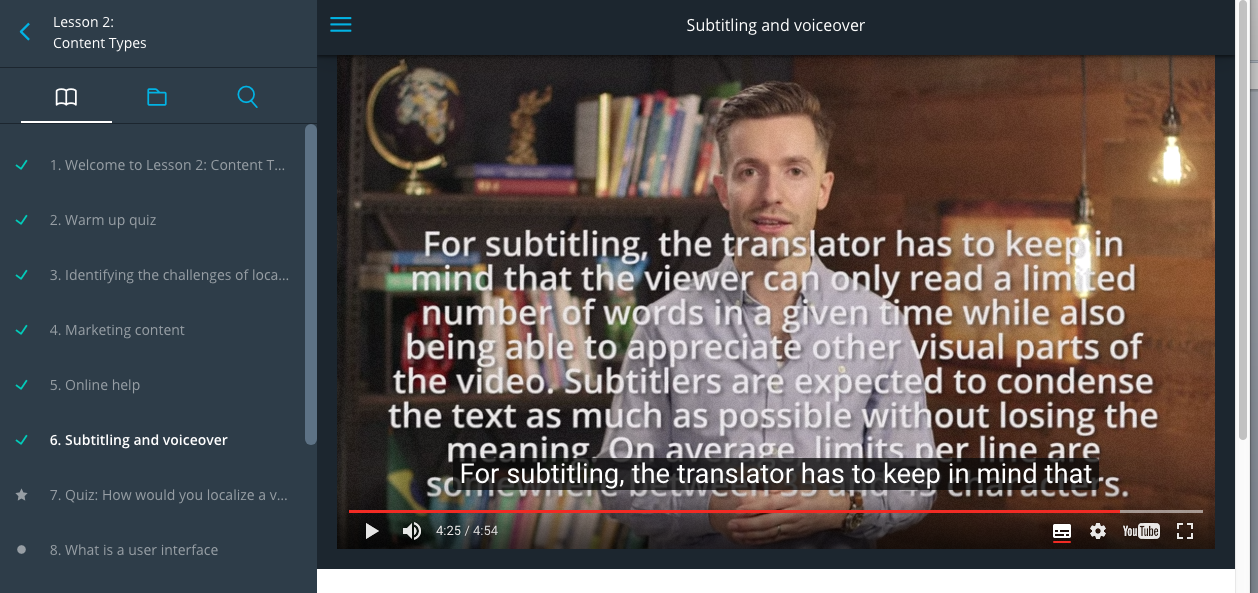 Similarly, the overlap between dubbed voice and lip movement is actually shown in the tutorial video.
The interviews with Google's localization professionals not only add a human touch, they give us a behind-the-scenes peek into how Google localizes.
Speaking of human touch, if you've been using Google Translate as a substitute for human, professional translation, you would do well to see that Google itself gets its content translated professionally and manually.
Somewhere mid-course you actually get to translate, which is very hands-on, I believe, for a course claiming to be just the basics. You also get a taste of how video subtitling works, and it looks like fun.
What it takes to be a localization professional
Being able to understand different cultures is the number one requirement for localization project managers, according to the course. Another win, in my eyes. A lesser course would have perhaps started with multitasking.
The next required skill is influencing people—like when teams need to be convinced of the importance of localization to their product. Oh, we have so much to say on that.
And the perks of being a localization professional? There are many, including the power to coin new terms—especially when you work on Google's localization team—or the power to impact people's daily lives. Google's language manager for Turkish even talks of how she saw for herself the way her team's work on Google Maps helped her own family members familiarize themselves with a part of Turkey they hadn't been to.
The nice touches
That the presenters of the course are Swedish and Lebanese can't be a coincidence. It reflects the global nature of the language service industry and shows off not only the industry's diversity, but also that of Google.
By talking about the challenges of localization and the many tasks and processes involved in making a quality localized product, the course gets students interested in the material and the industry. But more than that, it speaks about how critical language services are in taking a product global.
The entire course can also be regarded as an excellent piece of content marketing, as it showcases Google as a passionate localizer.
So don't wait—go ahead and take your first steps into one of the fastest-growing industries in the world. We'll be waiting for you
Comments