Why Moravia Launched a Japanese Blog (and Maybe Why You Should Too)
When considering a new Asian market to enter, it seems all eyes bypass Japan and focus directly on China. With its double-digit growth and rising incomes, it makes sense, right? But let us remember that Japan still remains the third largest economy in the world, with some major buying power bolstered by a resilient currency that refuses to stay down. So if you have something interesting to sell, looking at Japan can be well worth your while.
When entering the Japanese market, be prepared to think and do things a little differently. There are business rules and sensibilities that need to be addressed. It's important to network with peers in the same industry, so you don't become the outsider. Obviously, you'll need to localize your content into Japanese. And the high cost of advertising could bankrupt your business before it even gets off the ground.
Businesses are bound for inbound
Just as inbound marketing is changing the way companies do business in the rest of the world, it is also making its mark in Japan with the arrival of HubSpot, Salesforce, Marketo, Oracle Eloqua, and others, beginning in 2014. HubSpot wrote the book on inbound methodology, which leverages blogging as an essential tool for establishing authority, developing brand identity, and ultimately converting leads into customers by offering them useful content.
HubSpot CEO Brian Halligan, whose relationship with Japan goes back to 1998, is not satisfied with what he's seeing. At the Grow with HubSpot event in Tokyo earlier this year, and later in an interview with ZDNet Japan, he expressed much dismay over the fact that "all the big companies from 18 years ago are still the big companies, and all the small companies from 18 years ago are still the small companies."
During the last 10 years, 41% of the Fortune 500 was replaced, while only 12.4% of the Nikkei 225 changed in Japan. One could put a positive spin on this and view the lack of disruption as a sign of stability, but the fact remains that Japan is years behind the US in its shift towards inbound marketing. And that's the beauty of it.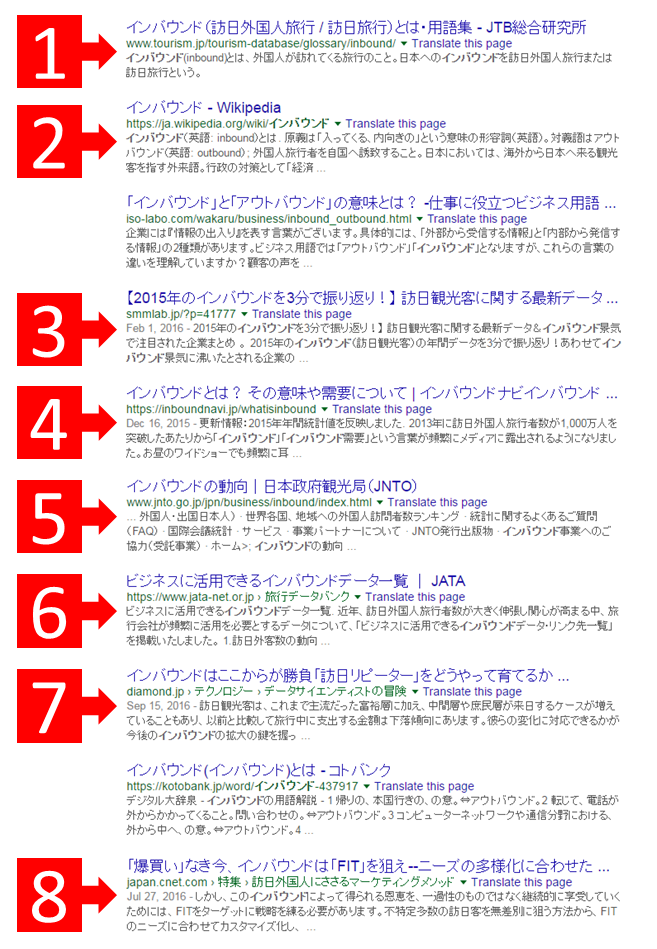 It means inbound marketing is still new to Japan, so if you're thinking of entering the country using inbound tactics, now is a prime time to do it. Just to give you an idea, when this article was published, 8 of the top 10 organic hits displayed when Googling the term インバウンド (inbound in Japanese) were about "inbound tourism". For Japan, that refers mainly to visiting Chinese tourists — totally different inbound. So to avoid getting buried under a pile of tourism info, marketers need to use the compound word インバウンドマーケティング ("inbound marketing" without a space in between) for their SEO. But I digress.
Localizing for exposure and to gain insight
Staying in front of your customers will require a constant flow of content. And there are a number of ways to do this. If you already have a substantial amount of legacy content, you could localize it into Japanese. You might supplement that with natively-written Japanese articles. Or instead of translating from your source language into Japanese, you might reverse-engineer an article into bullet points and let a Japanese content writer transcreate the article from scratch.
All of these methods will have their advantages and disadvantages in terms of turnaround time, SEO, and readability. And somewhere in the mix, there is a balance between effectiveness and cost. Presumably the relationship between the two will look something like this theoretical graph, and which area of the spectrum offers the "best value" for you will depend on your company's goals.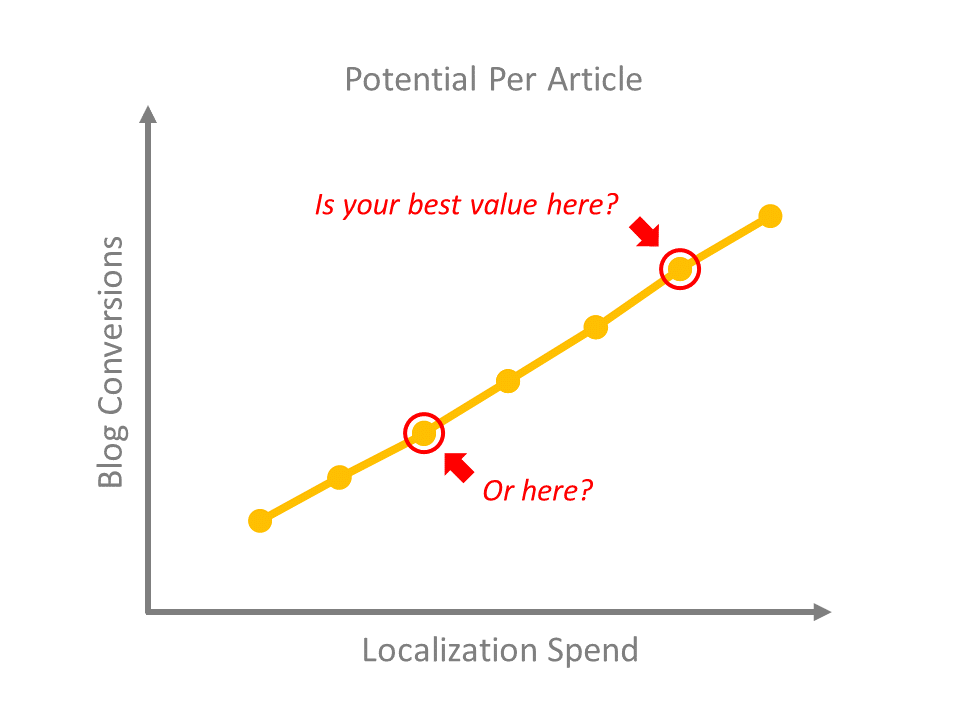 The challenge is to get the most bang out of your localization buck. Although your gut instinct may be to put all the emphasis on quality (after all, blog posts are your own real estate), you will eventually have to justify the performance versus the cost. Is the added in-house reviewer bringing in higher conversion rates? Are the natively-written blogs, which cost three times more than localized blogs, getting more shares and likes? If you have not tested and tracked a variety of ways to get your source content and your message into Japanese, it's highly unlikely that you'll be able to make a sensible, metrics-driven decision.
To let you in on a little secret, Moravia's Japanese blog has two purposes. One is obvious — to offer meaningful content to our prospects and customers in Japan. And the other is to test different content localization and content creation workflows in order to gain the data and insight necessary to develop more effective localization strategies for our customers.
Japan. It's the third largest economy with the third highest advertising spend in the world: USD $39.3 billion. Far from dead. But to access it, you can either rely on old school localization and outdated outbound marketing strategies, or start something new.
Top 10 Advertising Markets % Share of Global Ad Spend, Source: Strategy Analytics, 2015 Global Advertising Forecast
The Moravia Japan Blog is a work in progress. It's where you can keep an eye on how Moravia is approaching the market, and take away some hints for yourself too (especially if you can read Japanese!). So check out the Moravia Japan Blog here, or better yet…

Comments