Fundamental shift in content consumption is driving the need for structured content and semantic AI
Recently RWS' Tridion held a webinar, which Jan Benedictus hosted from RWS's Fonto division (Founder and Managing Director) to enlighten us about the need for 'Structured Content Authoring and Semantic AI'. 
Jan brings about 30 years of experience in the online and digital publishing domain. He founded Fonto in 2014 to make structured content authoring available to everyone. At the same time, RWS acquired Fonto in March 2022 to bring its expertise and user-friendly structured content creation, editing, and review tools to RWS and Tridion customers. 
Why structured content and the role of semantic AI? 
Before we delve into the specifics of the webinar, let's understand the need for structured content. Today we operate in a fast-paced ultra-digital world, where information needs to be available at our fingertips no matter where we are or which device we use. Traditional unstructured information is highly inefficient and not tailored to serve the needs of today's fast-paced world. 
If one were to find content from unstructured data, then in high likelihood, it would take a significant amount of time, or in the worst case, one would not be able to find it at all. For a business, this leads to a substantial loss in revenue because the prospect or existing customer might switch to a competitor that provides relevant information quickly. 
This also leads to an increase in cost as employees and other stakeholders must spend significant time and effort finding or rewriting content that has already been written but is not easily accessible or available. In short, today's businesses cannot survive without structured content in today's modern digital world.
Semantic AI takes structured content to the next level. It takes the users' (stakeholders') experience to the next level. Ideally, any business would want to provide expert advice to their users at every stage of the journey where they interact with the company's digital content. 
But that is practically impossible; when built optimally, semantic AI serves as a subject matter expert by first understanding the user's intent/context and then guiding them to the right set of information to facilitate their decision-making. 
This is the future of content. This first series of three blogs on this webinar explains why businesses need to move from traditional and structured data along with nuances of structured data such as tagging, metadata, taxonomy, ontology, and semantics. 
Marydee Ojala, Conference Project Director at Information Today, Inc., served as the moderator for the webinar. 
How structured content works? – contrasting traditional vs. structured content 
Jan spoke about the transition from document to data. Traditionally businesses were creating documents that were at times structured (e.g., with section headings and titles) and at times free-flowing (without using sections). 
Jan explained that even in the case of structured documents, when it came to responding to a user query and delivering the relevant documents over different devices, the structure in this format didn't help. This is because the search engine cannot read such section headings. In the case of unstructured documents, the task was further complicated due to the lack of section headings. 
Since the users cannot search or find the relevant data, they cannot use or reuse it. This leads to inefficiencies and an inability to serve users with the right or most pertinent information. 
This is where terms such as tagging, metadata, taxonomy and ontology (more on these in the second blog of this series) come in to picture. These add structure to the content so search engines can read and access it. The documents or any particular content is transformed into queryable data. 
What has been accelerating this paradigm shift to structured data? 
Several factors are driving this shift towards structured data; some of these are all-encompassing, while some are sector-specific. Jan mentioned some of these factors: 
M2M 
Jan mentioned that much information today happens from machine to machine (M2M), which is impossible in the traditional format. Structured content makes such information possible. When M2M interaction occurs, the data is processed further before making it available for human consumption. 
Speaking about M2M, Jan shared an image to show how content is evolving to enable communication in industry 4.0 
Emergence of content to serve the needs of industry 4.0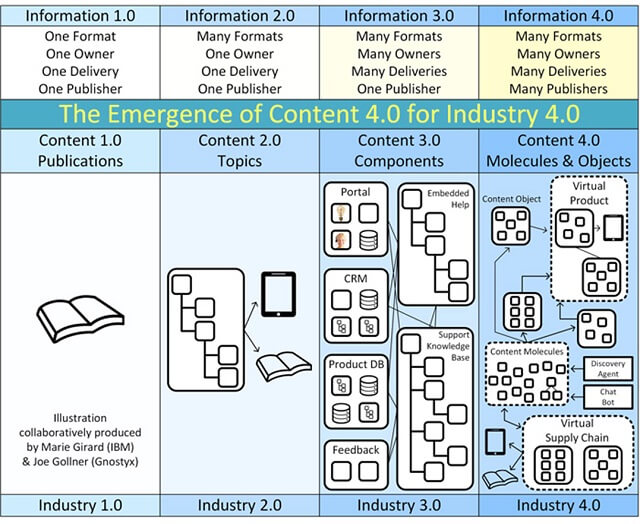 Sectors where publishing plays a key role (education, science, media, and manufacturing) 
Given their heavy reliance on information, these sectors were the first ones back in the 1990s to rethink how they fundamentally manage their content. This was driven by increasing competition in the digital world and the need to serve digital content to various devices quickly. 
Government 
Governments are also the first movers to structure content. It is driven by consumers' demand for transparency and prompt responses in multiple formats across multiple devices. 
Regulated sectors 
Sectors such as healthcare and financial services involve a lot of documentation, e.g., when a pharma company wants to introduce a new medicine or a financial services firm wants to introduce a new investment scheme or needs to report information to regulatory authorities regularly. Jan mentioned that while these sectors have been the first movers, structured content has become essential for businesses across all industries as today's digital consumers, by default, expect quick responses and instant access to the information they need to enable decision-making. 
To further emphasize the importance of structured content, Jan brought our attention to a Forrester study titled The Future of Documents: Content Creation Is Ripe for Its Own Digital Disruption published in December 2020. The study concludes that by 2027, a mainstream paradigm shift will have already occurred in how documents are consumed and produced. 
For businesses to stay relevant in the future, the time to act is now! 
For further details shared during the webinar, watch the recording.