Five Things to Know Before Entering the Russian Market
145 million people. Thirty percent of the world's natural resources. Eleven time zones!
Safe to say Russia covers more ground than most markets targeted for expanding global business. Yet it's often viewed by Western companies as a Tier 3 market at best. All this we hear in the news about sanctions on trade and economic underdevelopment has earned Russia an unfortunate reputation: not good for international business.
There's some truth to it. But for most types of business, there are plenty of reasons to think of Russia as a shining beacon of opportunity—evidenced by its recent steady growth of:
interest in foreign goods. Western brands are considered trendier or more trustworthy than domestic counterparts in some verticals.
e-commerce. Russia boasts the largest online audience in Europe and eighth largest in the world. At last count, e-commerce in Russia had reached a volume of $18 billion and is projected to nearly triple by 2023.
Need we say more? Keep reading for five things you should know if you want to enter the Russian market successfully.
1. Don't rely on English
Only 3% of Russians speak English fluently. As is well known, if people can't read it they won't buy it; in fact people are 3 times more likely to buy when addressed in their own language. So to reach them, you need to localize your content into Russian, the most widely spoken among Slavic languages and in Europe at large.
But translate carefully: You'll need Russian translators—ideally native speakers—who understand these nuances and how to leverage them for effective marketing. For example, word variations are nuanced: the term blue takes two forms: dark синий and light голубой and its clause structure is challenging (word order may vary from the standard subject-verb-object).
2. Take advantage of popular products
Russian consumers tend to choose foreign products over domestic in a number of product categories. For example:
Kids' clothes and toys: often imported from the EU and US, as considered better quality
Health and wellness: now all the rage among Russians, who turn to North America as the dominant force in the wellness market
Luxury: the most stable segment in Russia's fashion market
Should you adapt your product for these preferences? Not necessarily, but if your product or service exudes qualities of excellence, luxury or wellbeing, you'd want to amplify them for this market. If product adaptation is viable for you, you could also create high-end versions of your product specifically for the market.
And don't worry about price being a barrier. Russian consumers tend to look at quality ahead of price because, in lower-income households, product longevity is key.
3. Leverage social media
In the West, the vast majority of us Google things and connect with friends over Facebook. In Russia, Google and Facebook capture a much smaller 35% and 10% of the market, respectively. Russians prefer the search engine Yandex (not yet a verb but ranked Russia's top media property) and to connect with friends over VK or Odnoklassniki.
Fun fact: Russians spend more time on social media than users in any other country.
VK looks a lot like Facebook, though, doesn't it?
But these platforms have their own sets of rules to keep in mind for reaching consumers. For example, Yandex places a higher priority than Google on geo-targeting. Unlike Google users, who see more or less the same (non-targeted) results no matter their location, Yandex users might see completely different results from one city to the next. That makes it easier to promote a local business, but not to promote a business that spans multiple regions—unless you're working with experts in global SEO, of course.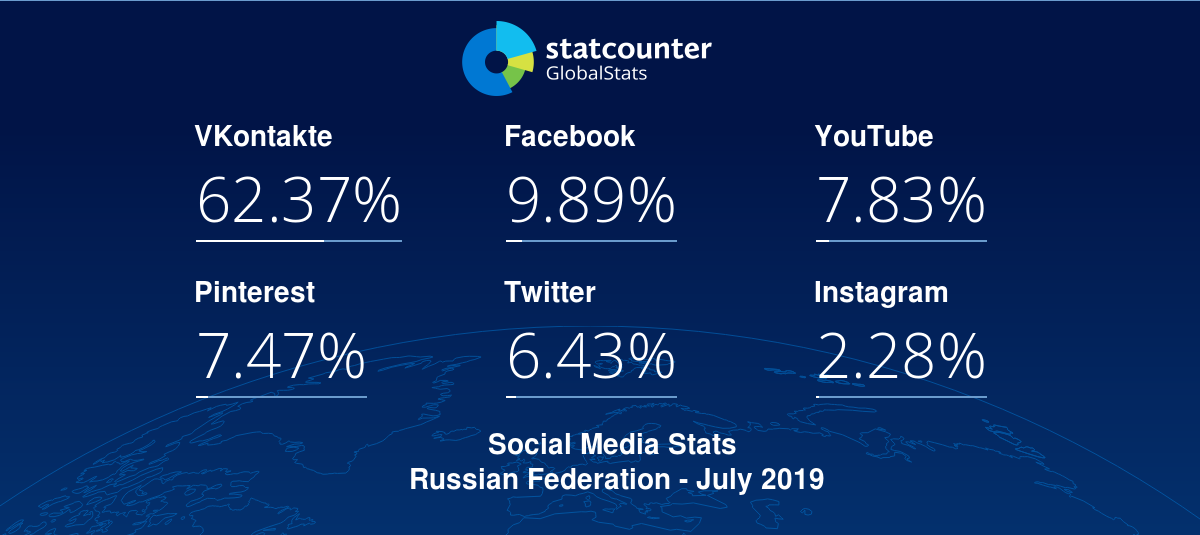 Social media market share in Russia. [Source]
4. Don't overlook mobile
Russia boasts the fifth largest app market in the world, and counting. One of the biggest drivers of growth for app owners and publishers that launch in Russia is that the cost of user acquisition is lower than in Tier 1 markets, yet large swaths of the market remain untapped.
Could your app get featured on Russian app stores? Things for you to note:
The market is dominated by Android, whose devices account for 72% of mobile traffic in Russia. But Yandex.Store is the primary alternative to Google Play. As well as localizing your app, expanding into local stores is critical to your app's performance.
Trending categories to consider for Russian localization or in-app advertising are social networks, games and e-commerce. Games especially—half of Russia's population are gamers.
Design your user interface with text expansion in mind. In Cyrillic languages, words and phrases tend to be longer than in English.
(The Android Developers blog has a helpful guide on localizing apps for Russian.)
Allow for text expansion. [Source]
5. Cater to purchasing preferences
As recently as a few years ago, Russians were still hesitant to buy from foreign websites. But trust in cross-border transactions is growing thanks to a rise in financial literacy and the relative sophistication of Russia's banking industry, says Katerina Mikheeva, head of business development at Yandex.Money.
For comparison, you still need a physical security token to buy online in the Netherlands, and cash to buy offline in non-touristy areas of Germany. Elsewhere in Europe, PayPal is the only choice besides credit or debit cards. But Russia takes advantage of a wide variety of payment options—contactless, e-wallets, carrier billing, mobile banking—all of which you should consider integrating on your site.
In conclusion… forget the stereotypes
Russia is a unique country indeed. But there's enormous potential for companies who make the effort to understand its consumers' buying preferences. Given the current market conditions and potential for growth, we'd sooner count Russia among the top emerging markets for international expansion.
So what do you need to know about working with Russian translators, SEO specialists and other local partners? Contact us to pick our brains on how Russian localization gets done.
Comments