The Rise of "New Retail" Brings New Challenges for Marketers
Malls have been dying a slow death in America since the so-called retail apocalypse of 2017, when 9,000 stores closed their doors for good. In 2018, another 12,000 followed suit. But these mass closures don't tell the full story of worldwide retail. In fact, the fate of brick-and-mortar shopping in other countries might surprise you.
For a good sense of where retail is headed, let's travel east, where the retail industry is booming at twice the rate of the rest of the world—both online and in-store.
The changing face of retail
If you were to visit a shopping center in China, the world's largest market for retail (and ecommerce), you might feel like you'd stepped back in time to the mall heyday of the '80s. Every floor is packed—with people, events, adventure playgrounds for kids and in some malls, even zoos. Far from dead, the in-store experience is on solid ground, but the new trend is that online and offline experiences are merging. It now looks more like this: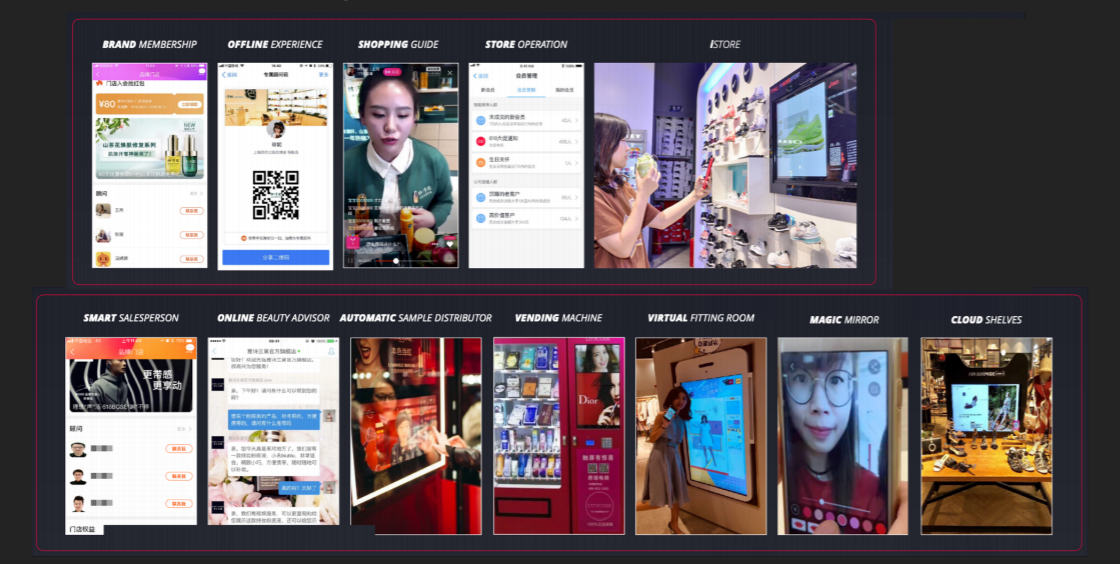 Smartphone-powered experiences at retail stores in China. [Source: "Tmall New Retail: Empowering Digital Transformation for Brand Retail" by Rick Zhuang, Director at Alibaba Group]
Jack Ma, the former CEO of Alibaba (the internet giant at the helm of China's and the world's largest ecommerce platforms) wrote in 2017 of this new online/offline buying journey:
"Commerce as we know it is changing in front of our eyes. 'Ecommerce' is rapidly evolving into 'New Retail.' The boundary between offline and online commerce disappears as we focus on fulfilling the personalized needs of each customer."
As this boundary fades, the buyer's experience has come to the forefront as the real differentiator for brands. So, what types of experiences are brands already—or very soon—offering their customers?
What does the New Retail experience look like?
Picture the following scenarios:
In-store, you pick out a backpack you like, but the color isn't quite right. You scan a QR code on the shelf to scroll through all available colors for a better one. Your chosen backpack is delivered to your home the next day, along with an article about how to pack it efficiently for the three-day trip you bought it for.
You want to see the latest deals from your favorite brand before heading to the store, so you use the brand's app to connect with Sara, a store associate you've met twice before who is now familiar with your tastes. She sends you a discount code for a new product she thinks you'll like—and for good measure, a video she thinks will make you laugh.
At a sporting goods store, the sales associate adds you to a chat group for hiking enthusiasts who shop at the same store as you, and who can recommend the best gear and local trails for your next hike. The store even hosts a private party where you get to meet the group in-person and make a few new friends.
As identified by Alibaba, these are some of the very dreams from which New Retail was born. The concept promises consumers the chance to shop as they like, anytime and anywhere, and be rewarded for their loyalty with exclusive shopping privileges and personalized content.
To make good on that promise, retailers are shifting their store associates from labor costs to brand partners. They dress in brand clothes, represent brand values, and build brand loyalty through personalized interactions with shoppers. One of the most effective ways New Retailers have enabled these interactions is with QR codes. As you walk into a store and scan a sales associate's custom QR code, that associate becomes your own personal shopping assistant who can enroll you as a brand member, book you for a personalized service appointment, notify you of "hot product launch" events, connect you to like-minded shoppers and more.
The customer data gathered along the way can be used not only to optimize in-store offerings, but to engage buyers now and convert them later through precision marketing and personalized content offerings. Think Apple, whose goal isn't to sell you something today, but rather to help you explore your individual needs so you're better informed to buy tomorrow.
New Retail is already being rolled out in China, where 98% of a total 800 million internet users are mobile, and where smartphone use is integral to the buying journey and a key driver of data collection. According to PwC, "Chinese consumers are much more willing to share data and have high expectations [and] they will receive a personalized experience because of it."
But we will soon see this level of demand for personalization in the West. Global brands might not be far behind as they adapt their strategies in China and bring key learnings home.
Keeping the brand consistent across all these new channels
Channeling the voice, tone and style of a brand is more important in New Retail than ever. And so is consistency. Even if store associates "perform" perfectly in-store, will brands transition those conversations seamlessly to chatbots and web content?
This is where localization teams come in.
At a basic level, localization organizations can provide marketers the specialized resources they need to manage their content globally. But localization teams also understand that the culmination of content across all touchpoints is what your customer perceives as your brand. Who owns the brand as a whole and makes sure that cross-channel interactions are consistent?
At RWS Moravia, we recommend adding Brand Champions to a client's global team for each local market. These hybrid resources (with backgrounds in marketing and translation) can understand your products, online content and offline experiences just as marketers do, but they also bring much-needed attention to brand voice and the processes that help brands manage it across countries—by, for example:
creating guides, building processes, hosting trainings and generally acting as consultants for marketing, sales, content creators and translators to ensure a consistent brand voice.
assessing which language will help make the biggest impact with a target audience as part of their overall customer experience.
helping manage multiple brands or products in competitive markets, where they can track the language used by your competitors to inform how best to differentiate.
There's a reason these resources are called brand "champions." They understand the brand extremely well—often because localization organizations look for resources who are already fans. Regardless of your team structure and whether you choose to outsource your brand championship, bear this in mind: with the rise of New Retail, we're seeing a growing demand for roles like this and an opportunity for localization organizations to take an even more strategic seat at the retail table.
A huge thank you to Morgan Gallup, Director of Client Acquisition, for this post.
Want to learn more about strategies for maintaining your brand voice across markets and customer experiences? Get in touch.
What other topics would you like us to cover in our blog? Use the comments feature below to let us know.
Comments