FDA announces new recommendation for COAs and PROs for medical devices. What manufacturers need to know.
With the January 2022 announcement from the FDA around incorporating Clinical Outcome Assessments (COA) and Patient-Reported Outcome (PRO) assessments into the process for medical device manufacturers one can ask, what needs to happen? If medical device companies are required to capture patient input, reliably and efficiently as an integral part of the product life cycle, where do they begin? For many medical device companies, the
FDA's recommendation
of incorporating Linguistic Validation into their processes may be unchartered territory.
"COA and PRO assessments are an integral part of capturing patient perspectives in alignment with FDA guidance, but they require specific and complex methodologies to license, translate and utilize which may be unfamiliar to some medical device manufacturers."
Shawn McKown
, Vice President of Clinical Outcome Assessments, RWS.
What is a Clinical Outcome Assessment (COA)?
The
FDA defines a clinical outcome assessment
(COA) as an instrument used to describe or reflect how a person feels, functions, or survives and can be reported by a health-care provider, a patient, a non-clinical observer (such as a parent), or through performance of an activity or task. There are four types of COAs:
Patient-reported outcomes (PROs) - Provide information on the patient's health condition as directly reported by the patient 
Clinician-reported outcomes (ClinROs) - Reports from health-care professionals regarding their interpretation of signs or behaviors observed relating to a patient's disease or condition
Observer-reported outcomes (ObsROs) - Assessments of observable signs, events, or behaviors relating to a patient's health condition, reported by individuals who observe the patient in daily life, like parents or caregivers
Performance outcomes (PerfOs) - Measurements collected when a patient is asked to complete a well-defined, repeatable, and standardized task, such as reading an eye chart.
How are COAs implemented and what are the key considerations?
To start the COA implementation, you need to establish and define the concept of interest (COI).  The COI is the "thing" you are trying to measure through the survey – for example, quality of life, pain, fatigue or energy, appetite, etc.
You have to clearly identify the role of the COA (e.g., primary, secondary, ancillary, effectiveness, safety) in the clinical study protocol and statistical analysis plan. Then you select a COA that addresses your chosen COI. As part of your submission, you will have to provide evidence that the COA reliably measures your COI.
One important thing to know - COA and PRO instruments are often copyrighted, owned by the original creator of the survey. You must receive appropriate copyright approval to use your chosen instrument in a clinical study or trial.  You also need to follow the correct translation process to ensure global patient understanding and conceptual equivalency. So here are the steps you need to follow after selecting an instrument:
Instrument licensing: if the COA of choice is copyrighted, you have to make sure the appropriate agreements are put in place to allow permission for use
Linguistic Validation: As COAs are used to gather key trial data, the FDA and Copyright Holders recommend that the Linguistic Validation methodology is followed. This is a complex and rigorous translation process involving multiple linguists and cognitive debriefing on patients from the target patient population
eCOA administration: the majority of global studies administer patient questionnaires on electronic devices, either at a study site or in the patients' homes. eCOAs provide many benefits including enhanced data collection. In order to administer the translated COAs electronically, the translations must be migrated into the device software and checked to ensure they are correctly displayed.
The need for Linguistic Validation
The complex nature of creating localized COAs for inclusion in multinational clinical trials requires you to translate and linguistically validate the COAs with a high level of precision. The linguistic validation (LV) process is designed to ensure the COAs translations are linguistically accurate and culturally and conceptually equivalent to the source instrument. The accuracy ensures that trial sponsors can use them to demonstrate the patient's response as accurately as possible. Improper translation methodologies can lead to multiple negative outcomes for trial sponsors including rejection by ethics committees or regulatory authorities, retractions of copyright holders and permission for use, and duplicate commissioning of new translations.
What is the Linguistic Validation process?
The Linguistic Validation process includes the following key steps: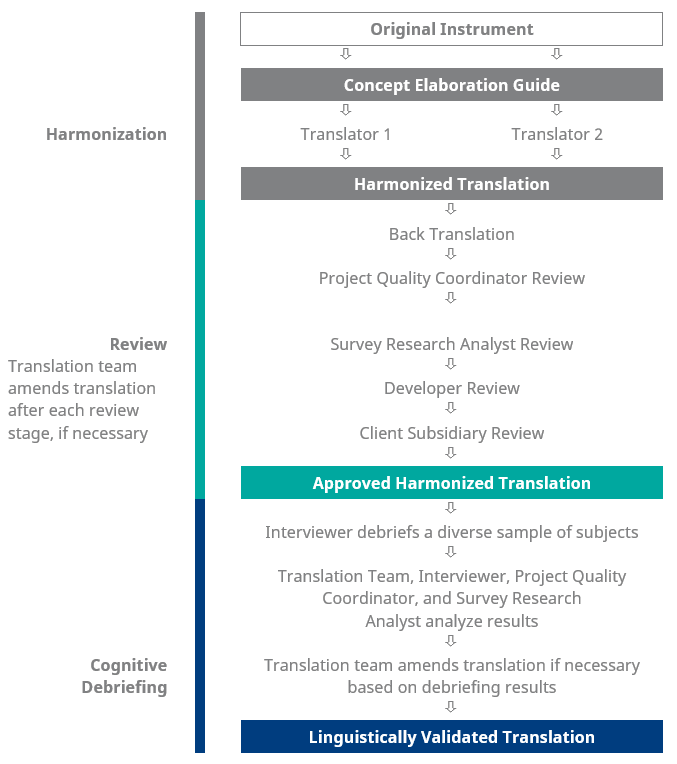 Dedicated Linguistic Validation licensing teams support the COA licensing process by contacting developers and copyright owners and handling the organization and purchasing of the relevant licensing required for the study COAs.  Multiple translators produce forward translations, which are then harmonized into a single, best possible translation. A new set of translators then review through back-translations (back-translate the harmonized translation into its source language), followed by analysis and reconciliation between the source and back-translated documents. The reconciled translation is tested for conceptual accuracy and cultural appropriateness by 5 – 8 native-speaking subjects or patients in the target location.
Linguistic Validation takes control of every step of this process, from conceptual elaboration to recruitment of cognitive debriefing subjects to production of validation reports and certificates.
How can we help guide you through this process?
As an industry leader in the management of COAs and the Linguistic Validation process, our expert team can help you navigate this process and establish a tailored approach specific to medical device needs. We provide a full suite of services to meet all of your COAs and Linguistic Validation needs. We understand the complexity around licensing, patient recruiting and eCOA administration of COAs and can help simplify the process for you, while ensuring your COA data meets approval requirements.
RWS Consultants can expertly lead medical device companies through the full process from protocol consultation of instrument selection, to ensure that suitable and reliable instruments are chosen, through the full translation process and finalization with eCOA administration.
We can help you manage the complexities of Linguistic Validation for medical devices and ensure timely submissions, allowing you to get your products to market faster.
Contact us to learn more
.