IP Research: AOP Connect
Our leading-edge
IP research
platform provides you with transparency and efficiency while ensuring that your investment remains accessible long after the search concludes.
Enquire today
The world's leading IP research platform
AOP Connect is the leading intellectual property platform for organizing, storing and controlling the flow of references and 'prior art' related to IP searches. It supports both traditional and crowd-based searching, harnessing our in-house search team as well as our global network of more than 43,000 researchers from over 170 countries. 
AOP Connect innovates the way businesses interact with their IP research, enriching the value of your studies and turning your research expense into a true research investment.
Fast, efficient, transparent and secure IP research
| | |
| --- | --- |
| Centralizes your research efforts in one location | Provides you with access controls for in-house and outside counsel |
| Serves as a searchable repository of intellectual property assets | Automatically uploads search results in near real-time |
| Presents the best references matching your requirements quickly and efficiently | Online interface is easy to use, and reports are available in your format of choice |
| Helps you quickly assess and annotate references | Dedicated Study Manager is assigned to refine active studies |

With AOP Connect, you have a complete picture of your research project, from start to finish.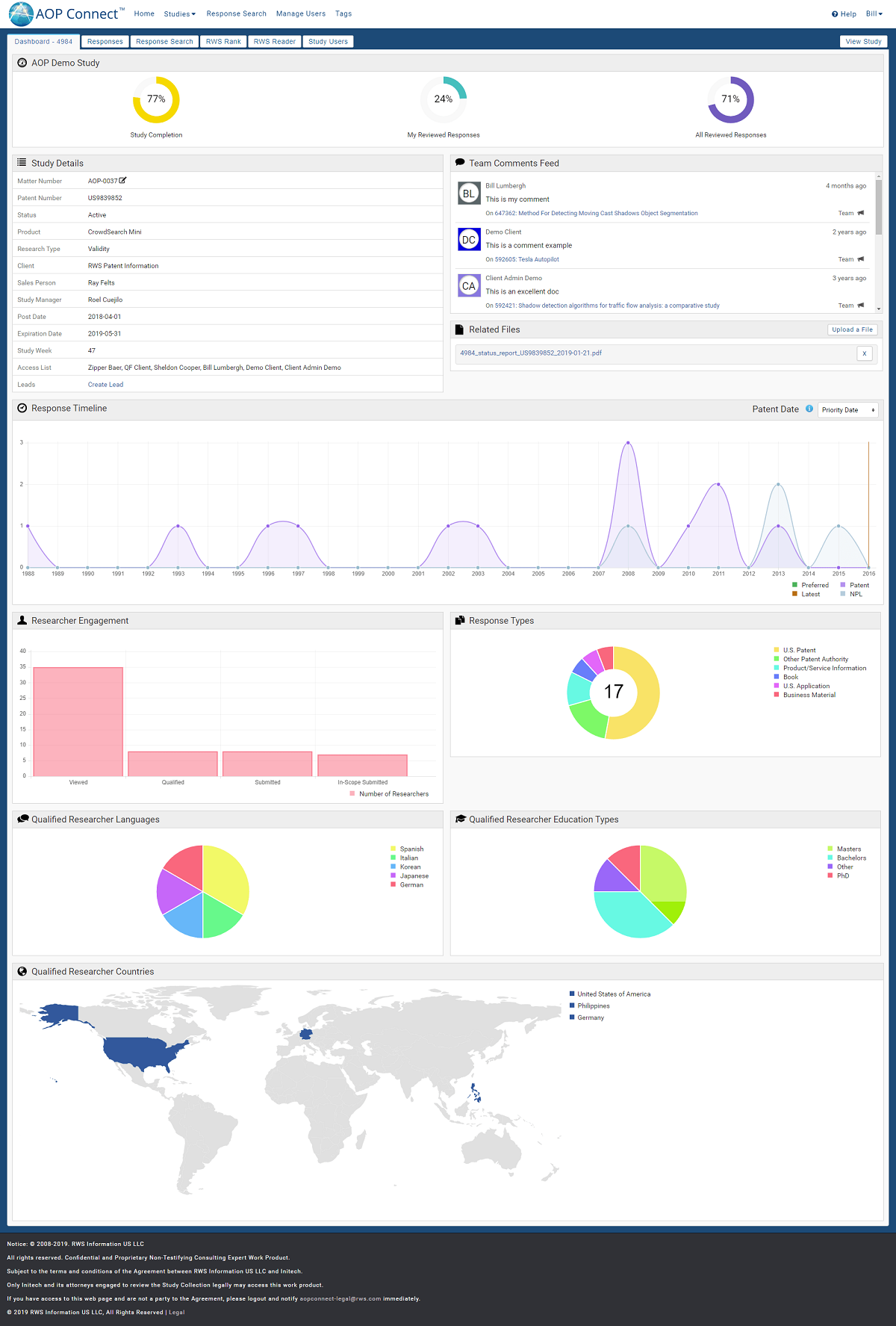 With AOP Connect, we filter and guide you to the references that are most relevant to your business needs and the directives that you choose. Researcher-level highlighting linked to the research requirements provides you with a mini-claim chart, completely navigable within the document by simply clicking on the requirement, to quickly assess which documents deserve your time.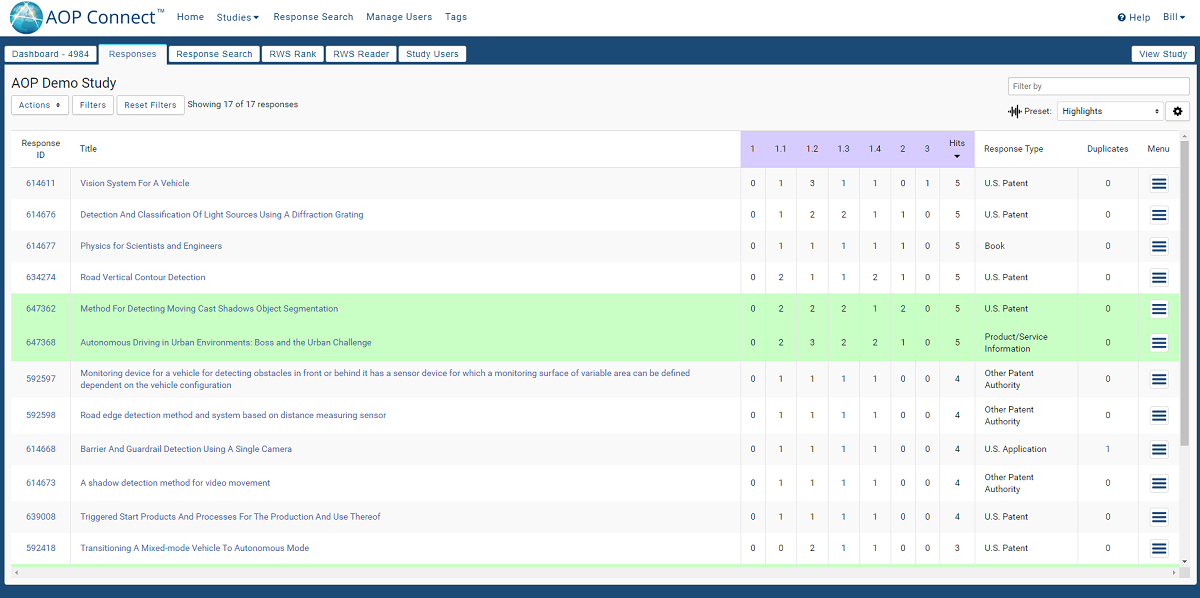 Your research is a significant investment – can you access it later on when you need it? With AOP Connect, it's always at your fingertips.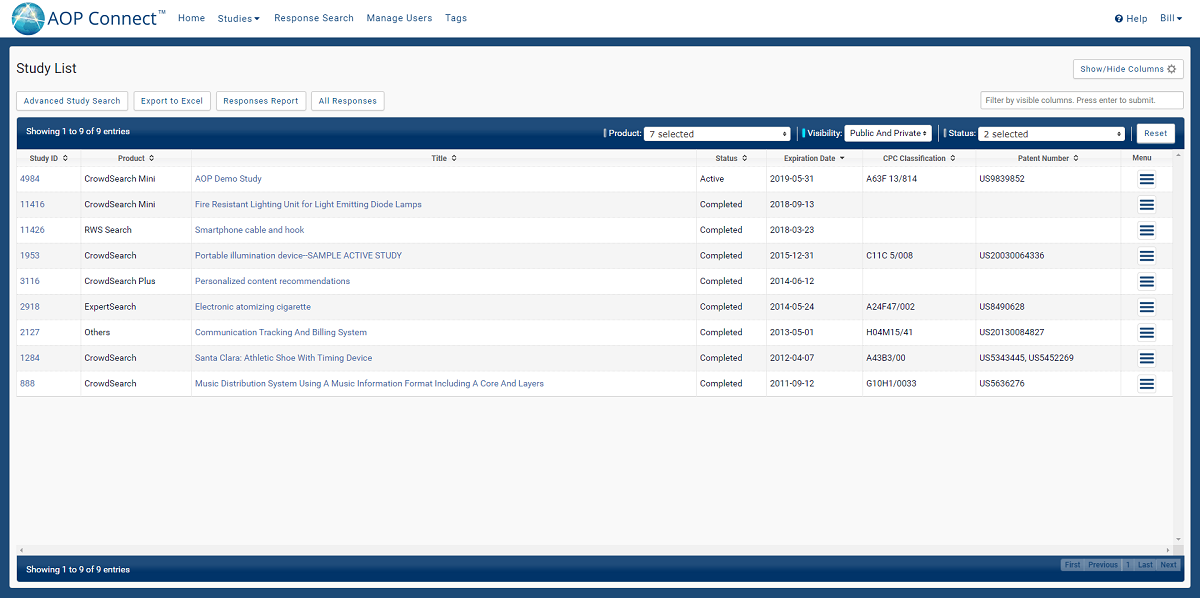 You might also be interested in our other proprietary IP tools:
We are RWS, the world leader in intellectual property services.
With rigorous search protocols certified to ISO 9001 and industry-leading, innovative technology, we are the preferred
IP services
partner for companies, law firms, licensing organizations and tech transfer offices worldwide. We also offer high-quality legal translation, foreign patent filing, research and database services. We have helped more than 10,000 clients protect and enforce their IP rights around the world and can do the same for you. Contact us for customized search proposals and details of other RWS search and information services.